Pulling Up Roots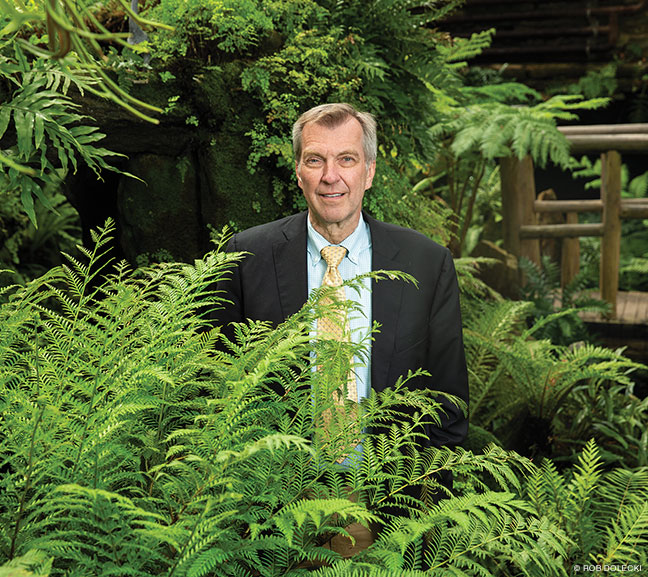 After 43 years of cultivating plants, donors, and visitors at Morris Arboretum, Paul Meyer hands over the reins.
---
Walking around the home he kept with his wife for the last four decades, Paul Meyer checks off the names of each tree and its origin as if listing his children's names and birthdays. "This was a beech tree we collected in the Republic of Georgia in 2005. It was a seed in 2005. These are Chinese dogwoods that were collected in South Korea in 1980. This one is a paperbark maple, collected in 1994 as a seedling."
If he sounds wistful, that's because he is. Retiring from his post as Morris Arboretum's F. Otto Haas executive director also means moving out of the director's residence where he has lived since 1976. But along with his plants, Meyer—whose last day was March 31—also leaves a great legacy of stewardship. For the past 43 years—28 as executive director—he has helped transform the Arboretum from a sleepy, little garden into a world-class institution.
When Meyer first arrived as a young plant curator, the Arboretum was a small operation run by the University's botany department, with an operating budget of less than $1 million and an annual attendance of fewer than 25,000. There was no trail to speak of, no public parking lot, and no full-time director. Most of the visitors to the 100-acre Victorian estate, left by the late John and Lydia Morris, were Chestnut Hill locals looking for a wide-open space to walk their dogs. Some of the historic structures were crumbling. The grass was not always cut. Still, it had a "tattered elegance," he says. "It had wonderful bones, a wonderful tree collection, and mature specimens like the big Katsura tree"—a tree with long, low limbs and cotton-candy scented leaves, planted in the 1890s or early 1900s.
Today, with more than 140,000 visitors annually and an operating budget of $9 million, the Arboretum is listed on the National Register of Historic Places, accredited by the American Alliance of Museums, and is the official arboretum of the Commonwealth of Pennsylvania.
Working under the late William M. Klein Jr., who was hired as the Arboretum's first full-time director in 1977, Arboretum staff came up with "a master plan to take this old, rundown estate and transform it into a significant public institution," Meyer says. Key parts of the plan were the creation of a driveway and public parking lot, a path system, and restoration and preservation of the estate's many historic features. "We naively thought it was a 10-year plan," he remembers with a laugh. But it essentially established a direction for the institution's next 40 years.
One major goal was to rebuild the Arboretum's aging plant collection with wild-collected, documented plants, a divergence from the traditional process of sourcing plants from nurseries. In 1981, Meyer led the Arboretum's first plant collecting trip to China. In subsequent years, he completed 11 more expeditions to countries such as South Korea, Taiwan, Armenia, and the Republic of Georgia. Today, one-third of the Arboretum's plants are collected this way, and their origins are known and replicable. "If we were to go into our records, we could see what day and where" each plant was collected, right down to its GPS coordinates, he says. "So we could go back to the site within a few feet and find the parent plant."
Meyer's interest in gardens sprouted at a young age, when, as a boy growing up in Cincinnati, he and his brother would play in their grandparents' garden. The one-acre property had fruit trees, vegetables, flowers, and shrubs. "Growing up in that environment was undoubtedly very formative for me," he says. By the time he was an adolescent, he was earning pocket money by cutting lawns, pruning hedges, and planting annuals for his neighbors. "I was a rank amateur," he admits, "although even then, we would get garden magazines in the house and I would devour them."
At Ohio State University, he discovered the study of horticulture by happenstance. A friend of a friend was majoring in horticulture, and Meyer was in need of a summer job. "He gave me the name of a professor to visit, and in the spring I went to see him. I wound up coming away from that meeting with a part-time job in the university arboretum."
After college, Meyer worked at Sir Harold Hillier Gardens in England, and also spent some time in Germany. He attended the University of Delaware's Longwood Graduate Program before landing at Morris Arboretum.
Meyer, who took the helm as director in 1991, says small, plodding steps with an eye on the big picture keyed the Arboretum's most successful years. That, and endowments. In his tenure as director, Meyer helped raise more than $60 million for fountains, walkways, and endowed internships and chairs to help pay for restoration and upkeep.
One example is the Dorrance H. Hamilton Fernery, originally built in 1899. Thanks to this endowment, the fernery did not crumble into disrepair. A $1.2 million renovation included restoring the roof, replacing old heating and electrical systems, and steadying the original stonework. It carries the honor of being the only remaining freestanding Victorian fernery in North America. "In the wintertime, it's like a trip to the tropics," Meyer says.
Another small step toward the bigger vision was the Garden Railway. This miniature display features a quarter-mile of track surrounded by tiny, handcrafted replicas of Philadelphia's City Hall, Independence Hall, the Betsy Ross House, and other historic buildings. Attendance more than doubled from 30,000 to 70,000 visitors per year when it was unveiled in 1997. "It was really transformational," Meyer says. "And it changed the whole demographics of our visitorship to include families."
Another jump in attendance came with the addition of the Tree Adventure exhibit, which includes a 50-foot high walkway, a giant walk-in bird's nest, and a mesh floor made of rope netting, for those without a fear of heights. Completed in 2009, it was a hit with the kids, who often lead their parents and caretakers straight to that exhibit first ["Gazetteer," Sept|Oct 2009].
But "the biggest project we've accomplished," Meyer says, is the Horticulture Center. The $13 million cluster of buildings, finished in 2010, is the first LEED Platinum certified structure at Penn, and only the second in Pennsylvania. Environmentally friendly design features include a green roof, underground cisterns to collect storm water, photovoltaic cells to generate renewable energy, a solar hot water heater, geothermal wells, and a ground-source heat pump that provides heat and air conditioning for the building.
Meyer estimates, "We've accomplished maybe 90 percent of the original vision, but there's still more work to be done." A state-of-the-art education and research center had been planned next to the Horticulture Center, but "the numbers sort of got off the charts, and we were only able to build half, with the idea that we'd build the other half later." In 10 years, he says, he'd love to come back and see the center finished and active with classes.
Leading Morris Arboretum into the future will be William Cullina, former president and CEO of Coastal Maine Botanical Gardens. Cullina, who begins his new role on July 8, will also be moving into the director's residence at the Arboretum, assuming care of the plant "children" Meyer leaves behind.
Meyer, who turns 67 in August, admits it is sad saying goodbye to some of the plants that he's nurtured since they were seedlings, "but the nice thing is, with a lot of the herbaceous plants, I was able to divide and take pieces of them."
He and his wife Debbie Rodgers have bought a home in Chestnut Hill with a comparatively smaller garden—just a quarter of an acre. "It's small but intense," he says. "It will be a long time before the garden is the way I want it. I'm definitely a hands-on gardener." —NP