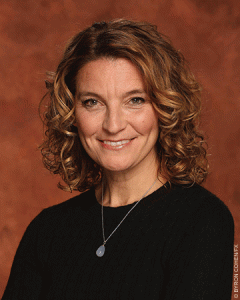 Class of '90 | Meredith Stiehm C'90 wasn't sure what to do when her friend Chip Johannessen called two years ago and asked her to join him on the writing staff of a new television show.
Stiehm, already an acclaimed TV writer who had created the long-running CBS series Cold Case, wasn't looking for a new job. And given that she was serving on a jury, gearing up for a playwriting conference in Indiana, and developing other programs on her own, she didn't know if she even had time for a new job.
But then she watched the pilot—and knew she had to be a part of it.
Which is how, last September, she found herself standing on the stage at the 2012 Emmy Awards as the show in question—the wildly popular Showtime drama Homeland—picked up the coveted trophy for Outstanding Drama Series.
"I didn't even know I needed Homeland," Stiehm says. "But once I saw it, I was like, 'I have to write for this.'"
The first few episodes of Season One had already been written by the time Stiehm joined what she calls a "Murderer's Row of writers." Homeland boasted a very strong cast as well as a captivating premise—based on the Israeli series Hatufim—of a CIA officer (Carrie Mathison, played by Claire Danes) who believes that a Marine (played by Damian Lewis) who had been held captive by al-Qaeda has been turned into a terrorist by his captors.
But there was something that the show was missing: a female writer who could help capture the complexities of Danes' strong-willed but bipolar character. Which is why the producers turned to Stiehm, a well-respected voice for powerful female protagonists (such as Philadelphia detective Lily Rush, the main character on Cold Case). Stiehm was familiar with the experience of being the only woman on a show's writing staff, having been in that role on NYPD Blue in the late 1990s (which she calls her "first really great job").
"I'm really interested in how women navigate traditionally male worlds," Stiehm says. "And I find myself doing that navigating quite a lot, too."
Stiehm's journey through that world dates back even further. Shortly after graduating from Penn, where she majored in English with a focus on playwriting, Stiehm returned to her native California and wrote a musical with Lisa Zwerling, with whom she grew up in Santa Monica. Neither of the childhood friends were trained musicians and, Zwerling recalls, there was a time when they "kind of didn't know what we were doing." But the play—Rules for Girls—ended up being produced, and during that production Stiehm got her first official TV gig, as a writer with Beverly Hills 90210.
"From such an early age, she's had this sensibility that if you wanted to do something, you could do it," says Zwerling, who's also a veteran television writer. "It's not like she doesn't write about men well. But I do think she had this sense early on—a desire to reflect her own voice in female characters."
The marriage between Stiehm and Homeland proved to be beneficial in other ways, too. Her sister, Jamie, suffers from bipolar disorder, which helped Stiehm relate to the Carrie Mathison character. And even though some critics have argued that Season Two of Homeland morphed from a psychological thriller into something more far-fetched—Stiehm acknowledges having heard some "backlash and unhappiness" on that subject—she was proud of Carrie's redemption and recovery from her breakdown at the end of the first season.
"I was mostly interested in Carrie's journey with her illness," she says. "So that's the stuff I was focused on the most and was put in charge with, as the one staff member who was female and who kind of knew a lot about this stuff. So I really enjoyed showing a person who had this illness but was also an effective person in her professional life—someone who coped with the problems she had but was not sidelined because of them."
Stiehm, who has enjoyed a very good relationship with Danes, was overwhelmed by the success of the series, calling it the first show she had ever been on where "almost everyone" she knew watched it and talked to her about it. All of those feelings and relationships made it especially hard to leave—but, in the end, she had to go.
"I call it a 'high-class problem,'" says Stiehm. "Homeland is one of the best jobs I ever had. I loved those guys and I loved writing those characters. But you sort of have to go to a new show."
That would be The Bridge, the pilot for which she had been developing (with her friend Elwood Reid) while on the Homeland staff. Three months ago, the show got picked up by the cable station FX for a full season—at which point Stiehm left Homeland and moved over to The Bridge full time.
Like Homeland, The Bridge was adapted from a foreign show—the successful Danish/Swedish series Bron, which was set on the border of Denmark and Sweden. Stiehm's American version takes place on the border between the United States and Mexico and centers on two detectives trying to hunt down a serial killer operating in both countries. The show began filming in April and is scheduled to premiere in July.
"You just pick up The New York Times and there's a new border story every day," says Stiehm with palpable excitement. "There's so much drama going on there that I just feel like we have endless stories to tell."
At the same time, she knows that the "odds are always against you" in the cutthroat TV business, given that shows are frequently cancelled because of low ratings. So before she packed up her things and left the best job she ever had, she made sure to ask her fellow Homeland writers one thing.
"I made them promise I could come back," says Stiehm. "I didn't feel like I was finished there."
—Dave Zeitlin C'03