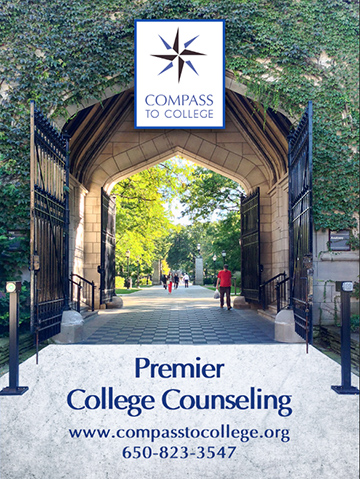 BE AN ALLURING APPLICANT TO THE MOST ELITE COLLEGES IN THE WORLD Let our insider expertise from Penn alums and Stanford admissions make all the difference. Students receive individualized guidance to spawn unique initiatives and engage in extracurriculars that spark intellectual and personal growth. Applications become sumptuous statements that uniquely reveal their principles and promise. www.compasstocollege.org
STAND OUT FOR YOUR TOP ELITE COLLEGE IN THE WORLD Let Dr. Legatt mentor you using her Ivy League admissions committee experience and all-around college expertise. With Dr. Legatt's support, students will complete meaningful extracurricular activities, manage time effectively, and create the best application strategy to get admitted to their top choice college. Contact Dr. Aviva Legatt directly: aviva@avivalegatt.com
EXECUTIVE AND PERSONAL ASSISTANT , NEW YORK We are currently seeking a seasoned personal assistant with experience supporting senior-level executives to join our elite staff of support professionals. Responsibilities will include managing day-to-day operations including, but not limited to: calendar management, coordinating complex schedules, arranging travel, event planning, working with contractors and outside vendors, general research, and acting as the primary point-of-contact with outside parties. Superior communication and project management skills required. This role is responsible for producing frequent detail-driven reports for the principals giving them up-to-date information on where numerous projects stand. This role is also responsible for managing incoming and outgoing communication on behalf of the principals. This is a full-time position in New York, NY with excellent compensation and full benefits. Please email your resume and cover letter to tpasearch2@gmail.com
PERSONALIZED ENGRAVED GIFTS Custom Engraved Decanters, Bowls & Wine Bottles. 407-331-3070 www.personalized-engraved-gifts.com
BLUESMATCH.COM Where Ivy League and Oxbridge people find love. A decade of successful matchmaking.
COMPLIMENTARY MEMBERSHIP OFFER! NYC MATCHMAKER looking for eligible bachelors for our exceptional female clients. 212-877-5151 fay@meaningfulconnections.com
DYNAMIC MATCHMAKING DC area based boutique matchmaking firm, catering to Ivy educated professionals, ages 50-75, seeks single/divorced/widowed men and women interested in opportunities to meet quality candidates for discreet, personal introductions. Leora Hoffman, Penn Alum, with 30 years of matchmaking experience and success, offers highly personalized executive search programs. Bio and photo in confidence to Leora@leorahoffman.com, (301) 537-5266, www.leorahoffman.com
PRETTY, FINANCIALLY SECURE WIDOW Mid-60's, seeks gentleman of similar age and situation. Skipainter@gmail.com
CENTRAL PARIS Elegant spacious 2 bedroom apartment off Le Marais. www.Parischezhadia.com. 215-715-2095. Hadialefavre@gmail.com
GLORIOUS SOUTHERN FRANCE (Alumni rates—please call to book early). Beautiful, spacious home in lively, enchanting village—voted France's "most beautiful village"—restaurants, markets, vineyards, bicycling, swimming. maisonsouthernfrance.com. 617-608-1404
PARIS—Left Bank Elegant apartment off Seine in 6th. Near Louvre, Notre Dame. gam1@comcast.net or 609-924-7520
ROME Bright, Elegant Apartment. Marvelous beamed ceilings. Antiques. Walk to Spanish Steps, Trevi Fountain. 609-683-3813 gam1@comcast.net
2019 MASTERS GOLF TOURNAMENT Badges, Tickets, Rooms, Guide to local area, playing golf, directions and tours. Roger Brownback, Penn ChE'66 for details: rogerofwilm@comcast.net or 302-545-1916.
STONE HARBOR, NJ On beach. Outstanding home. Great on/off Season Rental. Call (570) 287-0595. Or email: RAdams150@aol.com