When the Answer Is C) None of the Above
Eighteen-year old high-school senior Kristin Lattimer has it all: brains, beauty, popularity, athleticism, and a hottie boyfriend. But she is about to find out that she has something else: testicles.
It will take a difficult medical journey, prompted by a painful back-seat attempt at sex, to reveal the fictional Kristin's biological truth. Though genetically male, she has androgen insensitivity syndrome. Because of an embryonic hormonal glitch, she developed female genitalia—or some of them. The male genitalia she does have are tucked deep inside her body, so that from the outside, Kristin looks, even to herself, like a girl. But what is she, really?
None of the Above (Balzer + Bray / HarperCollins, 2015) is the answer presented by urologist-turned-author Ilene Wong C'98. Her debut young-adult novel, which she wrote under the pen name I.W. Gregorio, was called "provocative and enlightening" by Publisher's Weekly, while Kirkus Reviews described it as "sensitive, informative, and a valuable resource for teens in Kristin's shoes." After being heralded by such pop-culture outlets as MTV.com, Teen Vogue, and USA Today, the book was optioned for a possible TV series.
Although Wong wrote it as medical fiction, None of the Above pulls the hospital gown off a very real subject. Kristin is intersex, an umbrella term for more than 30 medical syndromes.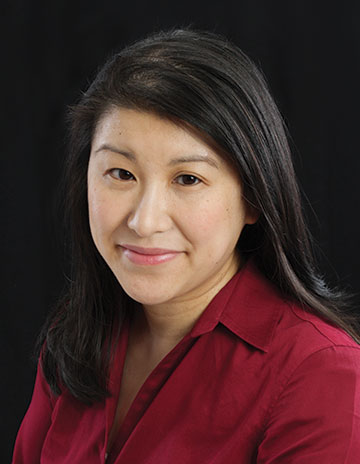 "People who are intersex have chromosomes and/or genitalia that do not fall into typical male or female categories," explains Wong. "It's incredibly common. Some studies say that as many as one in 2,000 people are intersex."
But most people have never heard of the category. There's never been an intersex pride parade; no celebrity has come out as intersex. Yet intersex people have been around for centuries. They were once called hermaphrodites, a term now regarded by the intersex community as a somewhat offensive throwback to the era of unflattering labels and stigmas. It's also medically limited. People who are intersex don't necessarily have genitalia from two genders.
Actually, says Wong, there aren't just two genders.
"What I've learned is that gender is a spectrum," she says. "Gender is not binary." Many in the intersex community use the pronoun they, instead of he or she, while the term describing that spectrum is gender fluid.
As Wong points out, many teens are growing up in a world where diversity is widely accepted. Yet she doesn't present that world in None of the Above. Her heroine goes from teen queen to bullied outcast almost instantly when her former BFFs leak the news that she is genetically male. Kristin's boyfriend also turns on her, leaving her even more alone with her serious quandaries, one of which revolves around the revelation that she is infertile. Although Wong bills the book as "Middlesex meets Mean Girls," Kristin's friends flip to the Dark Side with an ease some may find implausible. Her descriptions of some of Kristin's medical procedures are also quite grisly. Yet many readers were moved by the tough truths in Wong's book.
"It calls to light some of the ugliest parts of people: homophobia, transphobia, intolerance, bigotry, cruelty, relentlessness," book bloggers Breanna & Lacey wrote in an Amazon review. "The subject matter sounds heavy because it is. Hidden within the simplistic prose of this book is a powerful message about the silent suffering of human beings across the world."
---
Writing was Wong's first love — after reading, that is. "I read as a child because I didn't want to feel alone," she says. "Books made me laugh and cry, and showed me compassion and empathy that I didn't see in real life."
Some of that loneliness may have come from the fact that Wong was raised by her grandparents, since her parents divorced when she was 2 years old and more or less disappeared from her life.
Wong's love of reading easily segued into a passion for writing, though she never dreamed of being a professional writer.
"My grandparents didn't approve of writing as a career," Wong says. "Also, there was a point at which I realized my fiction-writing lacked experience."
Yet at Penn, where she double-majored in English and biochemistry, she won multiple awards for her essays, and was accepted at Johns Hopkins University's creative-nonfiction master's program. There, after a year and a half, Wong changed course and decided to go to medical school.
"I realized that I like working with people," she says, "and writing is a solitary endeavor."
Wong's inspiration for None of the Above came from a 17-year-old intersex girl she met in 2009 during the fifth year of her residency at Stanford University Hospital. The patient was the first intersex teen Wong had met; the others were infants. That's usually when surgery is done on ambiguous genitalia to make them look stereotypically male or female. The procedures, classified as sexual-assignment surgeries, have been done routinely for decades. Parents, distraught when told that their babies have genital abnormalities, did what they thought was best for their children based on advice from physicians.
Many in the intersex community are now questioning that advice, as is Wong. "Are these surgeries really necessary?" she asks. "Or are physicians trying to make patients look 'normal' because of our preconceived notion of what normal is?"
That was the situation faced by Wong's Stanford patient. Her testicles were tucked into her abdomen, forming a small, nearly invisible bump. Because she didn't have ovaries, removing the testicles also removed her only source of hormones. As a result, she and other AIS patients will spend the rest of their lives on hormone-replacement therapy. While that's not a terrible fate, says Wong, "at some point, we have to ask if patients would be better off left as they are."
Wong didn't have that conversation with her Stanford patient, and she doesn't know if anyone did. Yet the girl was at the hospital alone, without family or friends, at what was arguably the most vulnerable point in her young life.
"This girl was struggling with questions about her identity and a whole host of issues that were well beyond my scope or that of any urologist," says Wong. When she searched the internet seeking a support group for intersex people, she found only medical information.
These days, intersex teens can find support through organizations like Inter/Act, as well as in the pages of None of the Above. But Wong firmly believes that her book is not just for intersex readers, and her desire to give readers more books about people who are not like them led her to become vice president of development for We Need Diverse Books, a nonprofit organized by authors of YA and children's books.
"There are diverse books, but their publishers don't give them the time of day," she says. "They just aren't marketed. That's where we can help, through social media and other channels. We want those books to find their audiences."

—Melissa Jacobs C'92