Updating Tradition
Composer David Ludwig creates works that are sophisticated,
accessible, and full of poetic yearning.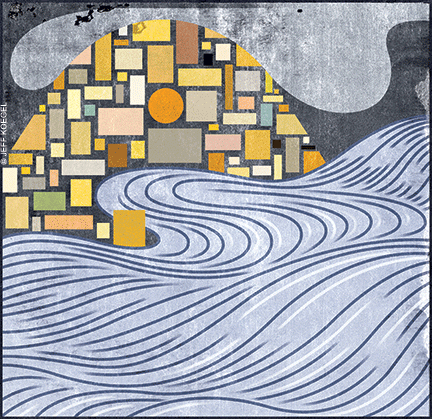 By Diana Burgwyn | When Daniel Matsukawa learned that the Philadelphia Orchestra was planning to commission a concerto for him, he was flattered but hesitant. As principal bassoon of the ensemble, he was bored with much of the music for his instrument, because it focused on comic effects rather than beauty of tone.
"I don't want any bouncy, Humpty Dumpty stuff," he said to then-music director Christoph Eschenbach.
But when the name of composer David Ludwig Gr'09 came up, Matsukawa was delighted. "I admired him as a human being," he says, "and I knew that what he wrote would be soulful and poetic."
Ludwig, in turn, was enamored of Matsukawa's silvery, lyrical sound and envisioned a work that "lived in melodies." That led him to the idea of floating lines, then water, then the concept of floating through life. Matsukawa's Japanese heritage reminded him of Ukiyo-e, the 17th-century woodblock prints that often featured boats and water and influenced the French impressionistic composer Claude Debussy.
With the partnership and the mood of the concerto established, the next step was to turn Ludwig's vision into reality. This coming October his five-movement bassoon concerto, Pictures from the Floating World, will premiere, with Philadelphia Orchestra music director Yannick Nézet Séguin at the podium. ("I feel like a dad outside the delivery room," says Matsukawa, "waiting for it to be born.")
At the ripe old age of 40, Ludwig already has a substantial oeuvre encompassing music for orchestra, chamber groups, chorus, and individual soloists. He has been recognized through grants, commissions, and residencies from such organizations as the American Composers Forum and the National Endowment for the Arts. For three years Ludwig was the "young composer in residence" at the renowned Marlboro School of Music and Festival in Vermont.
Critics have lauded his music for its "expressive directness" (New York Times) and its "yearning, poetic quality" (Baltimore Sun). A reviewer for Fanfare described his Double Concerto for Violin and Cello as combining "the skill and sophistication of a Ravel … and the power and thrills of a John Williams adventure film score." The cellist for whom that work was composed, Sharon Robinson, notes the "lucidity and color of David's sound world," while violinist Jaime Laredo mentions the concerto's accessibility: "It doesn't leave audiences puzzled."
The concept of music appealing to average audiences was anathema to those under the influence of the great 20th-century composer Arnold Schoenberg, whose complex 12-tone music utilizes all the notes of the chromatic scale in specified ways and order. Though some composers, including Milton Babbitt, have extended Schoenberg's legacy in increasingly radical directions, that rigidity began to loosen in the 1980s, and composers living in the 21st century feel free to adopt any style and combinations of style they wish, be that neo-Romantic, minimalist, or serial.
"We write whatever is demanded by the drama, the musical narrative of the piece," says Ludwig. "The best musicians I have met, even those who are heavily invested in a certain kind of music, are accepting and interested in all kinds of music.
"I feel that today the strict separation between so-called art music and so-called pop music has become very blurry," he continues. "The students in my classes at the Curtis Institute [where he is dean of artistic programs and directs the Curtis 20/21 Ensemble] are always on their headphones, listening to pop, Asian music, Renaissance—everything you can imagine that's been recorded and is available to us."
If there is a music gene, Ludwig's family has it.His great-grandfather was Adolf Busch, the German-born violinist who founded the illustrious Busch Quartet, and his grandfather was Rudolf Serkin, a titan among 20th-century pianists whose repertoire focused on the great German classics. Serkin's son Peter is a highly regarded pianist and a strong advocate of 20th- and 21st-century music.
A native of Doylestown, Pennsylvania, Ludwig took up the study of music early, composing tunes at age eight and subsequently learning instruments, singing in choirs, and conducting.
"Music became more and more a part of my bones," he says. "By the time I was 17, it was all I could think about."
Though Ludwig took pride in his family, he hid his pedigree from the outside world for years, not wanting to gain professional validation because of it. (Fortunately, his last name didn't give him away.) Only when he had gained a sense of his own musical identity did Ludwig acknowledge his forebears.
Originally an art-history major at Oberlin College, Ludwig snuck into the conservatory so frequently that he ended up with a degree in music instead. Post-graduate study at the Manhattan School of Music, the Juilliard School, and the Curtis Institute of Music gave him the opportunity to study with such leading composers as Richard Hoffmann, Richard Danielpour, Ned Rorem, and John Corigliano.
Ludwig then enrolled at Penn, where he obtained his PhD. Anna Weesner, professor of music and a composer herself, says she was impressed by "the clarity, directness, and sophisticated simplicity of David's music, which is just as evident in his later and more mature works."
Those years at Penn contributed greatly to his love of tradition.
"I took a fabulous musicology course there that was life-changing for me," he says. "It was taught by a visiting professor, Stephen Blum, who was highly regarded in Central Asian music, and this was a big turning point for me in terms of what I wrote. I became very interested in the communality between cultures. Where do they overlap?"
Ludwig always tries to be respectful of whatever source he is drawing on, be that Ladino songs, haiku, or poems by Omar Khayyham. But every composition is expressed through the lens of his own time and place. This unique synthesis is exemplified by a short symphony of seven movements entitled Book of Hours, a contemporary setting of the illuminated prayer book used in the Middle Ages; the work is influenced by poems of American, German, Persian, and Zen origin as well as the Gospel of St. John.
Another religion-based work is Ludwig's choral Hanukkah Cantata, which combines original music with arrangements of traditional songs and dances and contains both Hebrew and English text. Born Jewish, Ludwig later turned to Quakerism, but now says he has no religious affiliation.
"As I've gotten older," he says, "I think I've abandoned the idea of God. What interests me more is what is beautiful in those traditions, what brings people together."
Philadelphia Inquirer critic David Patrick Stearns, noting Ludwig's deep awareness of today's world, says that his music "promises to speak for the sorrows of his generation."
In May 2012 Ludwig's double violin concerto for small ensemble, Seasons, had its premiere. At that time it was a contemporary approach to baroque musical language and subject matter, notably Vivaldi's Four Seasons. But when the weather turned catastrophic later that year, Ludwig realized that his tidy concept of predictable seasons was no longer valid. He responded by completely revising the work and renaming it Lost Seasons, which The Washington Post called "a global-warming-take on Vivaldi's iconic masterpiece."
After the September 11, 2001 terrorist attack, Ludwig was commissioned by the Todi choral ensemble to create a commemorative piece. Just three minutes long, The New Colossus is an a cappella setting of the famous sonnet by Emma Lazarus ("Give me your tired, your poor, your huddled masses yearning to breathe free …"), which is engraved on a plaque inside the Statue of Liberty.
The New Colossus was selected as the musical work for a more celebratory occasion: the private prayer breakfast for family and important political figures that preceded Barack Obama's 2012 inauguration ["Arts," Mar/Apr]. Ludwig, who wasn't able to get his security clearance in time to attend, was so besieged with media requests that he had to hire a PR firm. He did enjoy the attention, though, particularly when a member of the choir told him she had heard Michelle Obama say to her husband: "That was beautiful!"
---
Diana Burgwyn CW'58 is a Philadelphia-based freelance writer who specializes in music.