Throwing Weight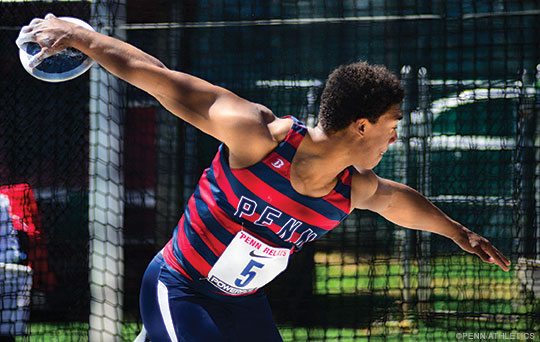 By Dave Zeitlin | Wharton senior Sam Mattis never really meant to get into track and field. As an eighth-grader, he decided to go out for the team for one reason: to stay in shape for football. Maybe, he reasoned, he could pass the time as a sprinter. Or as a hurdler. Anything "cool that attracted girls," his father, Marlon, now says with a laugh.
"But then I tripped over a hurdle," Mattis recalls, "and my coaches were like, 'Okay, you're gonna throw now.'"
That turned out to be a prescient switch. Before long, Mattis had quit the football team and developed into a world-class discus thrower, winning the high school national championship in 2011 and 2012 while at East Brunswick (N.J.) High, and the NCAA national title with Penn in 2015.
This year he has even higher hopes. Mattis aims to lead the Quakers to the Heps (Ivy League) outdoor title in May, defend his NCAA crown in June, and qualify for the Summer Olympics in July.
To accomplish all of that, he trains up to 35 hours per week. He spends the rest of his time studying—he's on pace to graduate in May—and "trying not to collapse" at the end of the day.
"A lot of people out there want to make the Olympic games," he says. "And they only take three [discus throwers]."
Making the 2016 Summer Olympics just a couple of months after graduating college would certainly be a remarkable achievement, considering that most throwers hit their prime in their late 20s or early 30s. At 6-foot-1, Mattis is also undersized compared to many of the behemoths in the field.
But he does have some natural gifts. Marlon remembers Sam walking on the balls of his feet when he was eight months old, which he still does today—a critical component of discus throwing, where your heels should never touch the ground. And when Sam was four, his father asked him to help him throw sticks from the backyard into the woods after a storm. Much to his surprise, Sam applied himself to the task with an uncannily credible discus technique.
More than anything, he has the pedigree. Marlon grew up in track-crazed Jamaica, and after moving to the United States as a teenager became a record-setting weight thrower at William & Mary. He even had dreams of qualifying for the Olympics for his native Jamaica, but says he didn't "have the support system that Sam currently has to be able to make a credible shot at it."
Marlon has been Sam's primary coach for the last eight years, and the two have traveled the country together to find other specialists who can help with his development. For the last three years, Marlon has traveled to Philly every weekend for some extra instruction at Penn Park. They even have a friendly family competition about who hurls various weights the farthest. (Sam holds most of the records, but Marlon is still clinging to the household hammer throw title.)
"You always want to have things you can share with your children," Marlon says. "It kind of cements the bond between him and me."
A self-described "rabid Olympic fan," Marlon knows there's still a lot of work to be done to get to Rio. At some point, Mattis will need to hit the Olympic "A" standard of 213 feet, which he says he's come very close to in practice. (He won the NCAA title last year with a school-record toss of 205 feet.) And he also needs to finish in the top three in the USA Olympic Trials in Eugene, Oregon, in early July.
Last summer, Mattis finished eighth in the country in the same event, a result he was not happy with and partially chalks up to working 15-hour days at an internship with J.P. Morgan before hopping on a flight to Oregon. But this summer, he's made sure that he has no other plans besides training. And the 2020 Olympics are also a possibility; he says he can defer a full-time offer from J.P. Morgan until he retires as an athlete. (The prospect of that kind of career security was one reason he decided to pass up full athletic scholarships from some of the country's biggest track programs to go to Wharton.)
In the meantime, he plans to enjoy his final semester at Penn and, for a few more months, being part of a college team. And with the Quakers returning a lot of talent, including classmate and distance-runner extraordinaire Thomas Awad ["Sports," Jan|Feb 2016], Mattis believes Penn is on the cusp of capturing its first league title in 14 years.
"I think this season is going to be great," Mattis says. "This is the year."
Women's Lacrosse Out For Tiger Vengeance
Without looking at the schedule, senior captain Nina Corcoran can tell you exactly when the women's lacrosse team takes on Princeton this spring.
"April 20th," she quickly says, laughing. "We know when it is. I think it's Lely [DeSimone], the other captain's, birthday. So we've got a good feeling about it already."
It's no mystery why the Quakers have circled that date on their calendar. Last year, Princeton beat Penn in the regular season to snap the Quakers' streak of eight consecutive Ivy League championships—and then handed Penn another loss, in the finals of the Ivy League Tournament.
The rivalry should only grow stronger this season, with Penn ranked 14th nationally in the preseason Intercollegiate Women's Lacrosse Coaches Association poll—two spots behind Princeton. The Quakers will also square off against three teams ranked in the top five—Maryland, Duke, and Northwestern—before trying to regain their perch atop the Ivies and return to the NCAA tournament (where they won an overtime thriller over Albany last year before bowing out to national powerhouse Syracuse in the second round).
"We fell a little short last season," Corcoran says. "But I think those losses are in our minds right now going into the season. We want to come back and beat Princeton—twice, if we play them twice."
The Quakers will count on Corcoran, a preseason All-American who set a Penn record with 40 assists last year. Along with DeSimone, Corcoran knows she'll need to score more this season following the departure of star attacker Tory Bensen C'15, who graduated along with fellow standouts Meg Markham C'15, a defender, and Lucy Ferguson C'15, a goalie.
But while the Quakers lost a lot of talent, Corcoran says the fearless attitude those players fostered will continue to be valuable, adding: "We're on a mission."
Dave Zeitlin C'03 writes frequently for the Gazette.