The Unpainted Word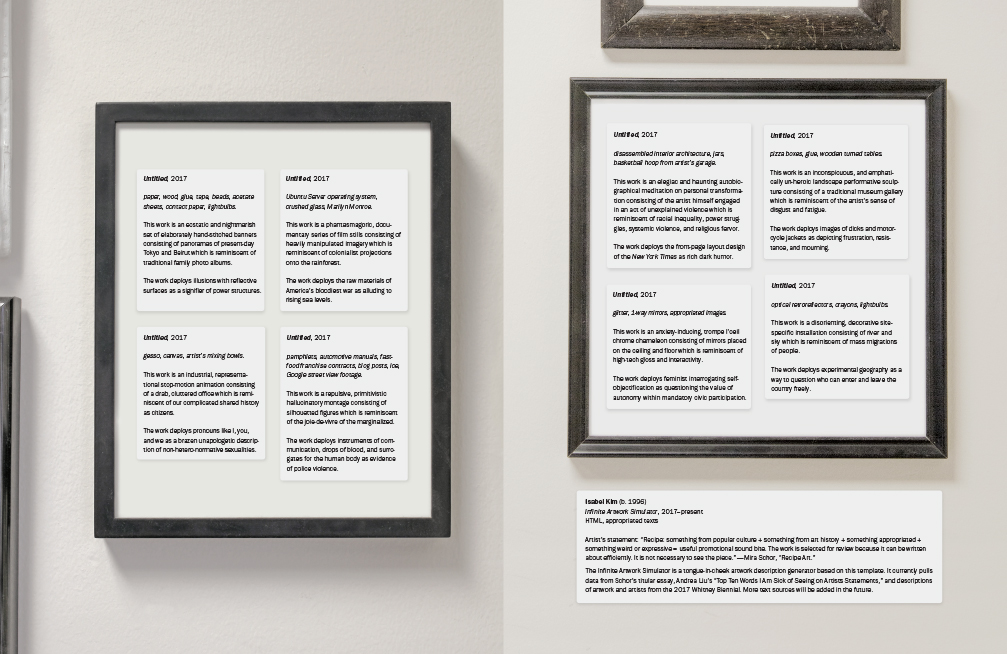 A solo exhibition.
By Isabel Kim
---
Untitled , 2017
paper, wood, glue, tape, beads, acetate sheets, contact paper, lightbulbs.
This work is an ecstatic and nightmarish set of elaborately hand-stitched banners consisting of panoramas of present-day Tokyo and Beirut which is reminiscent of traditional family photo albums.
The work deploys illusions with reflective surfaces as a signifier of power structures.
Untitled , 2017
gesso, canvas, artist's mixing bowls.
This work is an industrial, representational stop-motion animation consisting of a drab, cluttered office which is reminiscent of our complicated shared history as citizens.
The work deploys pronouns like I, you, and we as a brazen unapologetic description of non-hetero-normative sexualities.
Untitled , 2017
optical retroreflectors, crayons, lightbulbs.
This work is a disorienting, decorative site-specific installation consisting of river and sky which is reminiscent of mass migrations of people.
The work deploys experimental geography as a way to question who can enter and leave the country freely.
Untitled , 2017
disassembled interior architecture, jars, basketball hoop from artist's garage.
This work is an elegiac and haunting autobiographical meditation on personal transformation consisting of the artist himself engaged in an act of unexplained violence which is reminiscent of racial inequality, power struggles, systemic violence, and religious fervor.
The work deploys the front-page layout design of the New York Times as rich dark humor.
Untitled , 2017
glitter, 1-way mirrors, appropriated images.
This work is an anxiety-inducing, trompe l'oeil chrome chameleon consisting of mirrors placed on the ceiling and floor which is reminiscent of high-tech gloss and interactivity.
The work deploys feminist interrogating self-objectification as questioning the value of autonomy within mandatory civic participation.
Untitled , 2017
pamphlets, automotive manuals, fast-food franchise contracts, blog posts, ice, Google street view footage.
This work is a repulsive, primitivistic hallucinatory montage consisting of silhouetted figures which is reminiscent of the joie-de-vivre of the marginalized.
The work deploys instruments of communication, drops of blood, and surrogates for the human body as evidence of police violence.
Untitled , 2017
Ubuntu Server operating system, crushed glass, Marilyn Monroe.
This work is a phantasmagoric, documentary series of film stills consisting of heavily manipulated imagery which is reminiscent of colonialist projections onto the rainforest.
The work deploys the raw materials of America's bloodiest war as alluding to rising sea levels.
Untitled , 2017
pizza boxes, glue, wooden turned tables.
This work is an inconspicuous, and emphatically un-heroic landscape performative sculpture consisting of a traditional museum gallery which is reminiscent of the artist's sense of disgust and fatigue.
The work deploys images of dicks and motorcycle jackets as depicting frustration, resistance, and mourning.
Isabel Kim (b. 1996)
Infinite Artwork Simulator, 2017–present
HTML, appropriated texts
Artist's statement: "Recipe: something from popular culture + something from art history + something appropriated + something weird or expressive = useful promotional sound bite. The work is selected for review because it can be written about efficiently. It is not necessary to see the piece." —Mira Schor, "Recipe Art."
The Infinite Artwork Simulator is a tongue-in-cheek artwork description generator based on this template. It currently pulls data from Schor's titular essay, Andrea Liu's "Top Ten Words I Am Sick of Seeing on Artists Statements," and descriptions of artwork and artists from the 2017 Whitney Biennial. More text sources will be added in the future.
Isabel Kim is a College senior. Generate more "art" at isabel.kim/infiniteartwork.