The Purple Passion of Michael Smerconish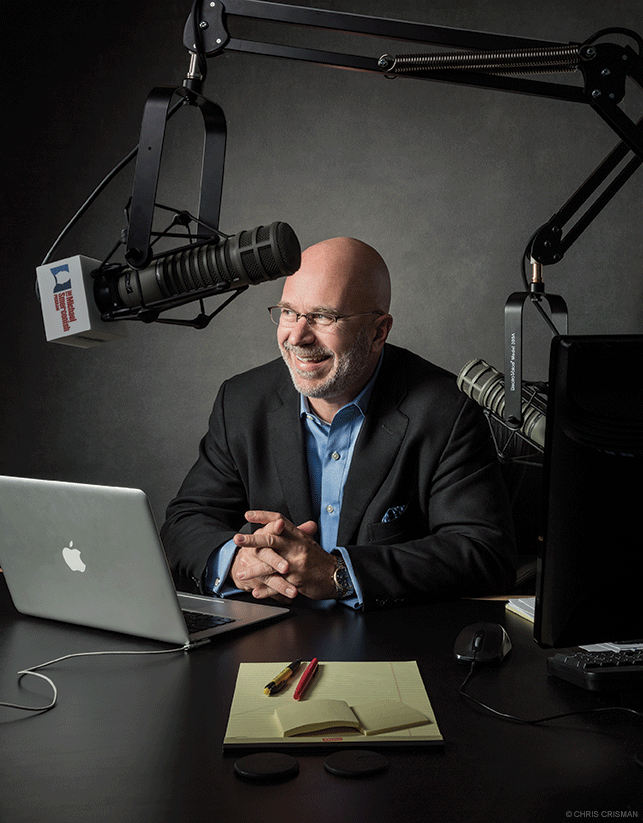 Can an unpredictably centrist talk-show host with a yen for "nothing"
really have an impact on the national discourse?
BY SAMUEL HUGHES | Photography by Chris Crisman C'03 | PDF download
---
Michael Smerconish L'87 is talking to the nation—a satellite-based slice of it, anyway—as I step into the studio. He's leaning into the mic at his corner desk, headphones framing his shiny dome, bantering on-air about the upcoming White House Correspondents Dinner with T.C. Scornavacchi, his dark-maned executive producer, sounding board, and foil. When he sees me he waves me in, talking animatedly all the while, and points to a long table where I can park myself. On it a large map of the United States bristles with pins representing caller locations: 44 states at the beginning of Day 10 on POTUS, which stands for Politics of the United States, a channel on SiriusXM. By the end of the day it will be 45.
Near the door hangs a large framed photo of Larry David, the Seinfeld and Curb Your Enthusiasm creator, with a hand-written inscription: Michael, are you my Caucasian? Smerconish calls David his "radio inspiration," and he frequently interjects irreverent Seinfeld-ian bits of Nothing into his show—though as in Seinfeld, those bits usually have something piquant at the center. David's playful inversion of a politically touchy phrase is also candy for Smerconish, who has written two books about political correctness and once spent part of a show ruminating about the appropriateness of white people using the N-word, somehow without sounding like a scold or an apologist.
Today's three-hour show is a stew of high-protein politics and zesty Nothings. He began by digging into a story that oozed red and blue, both the Penn kind and the political: Frank Luntz C'84, the former adjunct political-science professor and current GOP message-shaper, had just been on campus speaking to a group of College Republicans, and during his talk a student had asked about the causes of political polarization. After requesting that his comments be off the record, at which point the only reporter (from The Daily Pennsylvanian) shut off his recorder, Luntz pointed to conservative talk radio as a major source of political dysfunction and damage to the GOP.Certain right-wing talk-radio hosts get great ratings, Luntz told his student audience, and because they "drive the message," they're driving the party out to the fringe. And, he added, it's a uniquely Republican problem.
Luntz's remarks only caused a firestorm when it turned out that another student (Aakash Abbi C'14) had not shut off his smartphone recorder, and had sent the recording to Mother Jones magazine—at which point they went viral. (Luntz's "request to be taken off the record was never one to which I acquiesced," wrote Abbi in a guest column for the DP, describing himself as a "passionate moderate with a strong conception of what is wrong in politics today.") An incensed Luntz promptly withdrew funding for a scholarship that had paid for Penn students to travel to Washington.
Smerconish, after some indignant prodding by Scornavacchi, agrees that "the kid should have honored [Luntz's] wish" to keep his remarks off the record, adding: "There was plenty of stupidity and blame to go around." But, he adds, his guy-next-door voice rising to a rusty-gate falsetto: "Frank Luntz is a big boy. It's ridiculous to say, 'You're not recording me now, are you?' To college kids? Are you joking? I do a lot of speaking, and I would never say to an audience that has brought me in, 'Now, you're not going to record me on this, are you?' That's ridiculous."
On the content of Luntz's remarks, however, Smerconish agrees whole-heartedly.
"Luntz is saying that the world of terrestrial talk radio is doing a disservice to the GOP—which is straight out of my playbook," he tells his listeners. "But I've taken it much farther. It's not just on the Right; it's on the Left as well. And it's not just the GOP that's being done a disservice. It's the whole country!"
He takes three callers. The first thinks Luntz was "simply acknowledging that the really rabid stuff is on the Right." A caller from Virginia says that he "used to be a liberal and listen to liberal radio," but now, after listening to Mark Levin, he tunes in almost exclusively to conservative talk radio. Finally, a conservative pastor from Illinois suggests the problem is that "oftentimes people don't listen to each other. Labels get in the way."
"Those labels so rarely truly fit," Smerconish agrees. "They apply only to the individuals who are on the air. The ones I meet [in person] are liberal on some things, conservative on some things, and they're not afraid to say, 'Jeez, I don't know' about some issues. But you'd never know that if you just tuned into the usual outlets."
There's a lot more in this morning's show—two interviews with book authors (one being Wharton professor Adam Grant) and another with police commissioner John Timoney (about the Boston Marathon bombing), a dissection of some high-profile tweets, and a discussion of the looming threat to football from parents worried about their kids' brain injuries—but we're getting ahead of ourselves. Now, as the segment winds up, Smerconish's voice gives way to that old Stealers Wheel parody of Bob Dylan: "Clowns to the left of me, jokers to the right—here I am, stuck in the middle with you."