The Next Step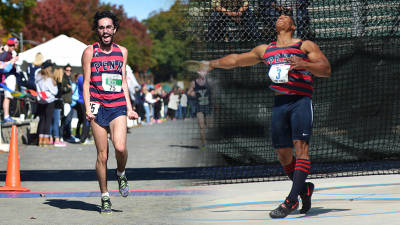 Thomas Awad C'16 didn't get to talk to Sam Mattis W'16 on the trip back to Philadelphia after the two track stars competed in their final collegiate meet this past weekend in Oregon. Awad laughed that he was stuck near the back of the plane, sandwiched between a couple of large individuals, while Mattis got a first-class seat.
But throughout the NCAA Championships in Eugene, Ore. — and again once they returned to Philadelphia — they made sure to speak often about their time at Penn and the memories they made while emerging as arguably two of the most accomplished athletes in the University's recent history.
"It's been an interesting journey," Awad said. "You don't expect this much success when you're 17 or 18 years old. It was kind of cool to see how it all turned out."
Awad and Mattis are two very different kind of athletes — the former a skinny distance runner, the latter a muscular discus thrower. But the fact that they came to Penn at the same time, helped grow the program together, and left as record-breaking All-Americans is a testament to the devotion they've each applied to their own crafts.
And that will continue for at least a couple of more weeks as the two Penn graduates will train in Philly before departing for the U.S. Olympic Trials in Eugene, Ore. from July 1 to July 10.
"I guess it doesn't feel like it's totally over yet because I'm going to keep doing track for the next few years," Mattis said. "But it's definitely strange to be done with NCAA track."
Awad and Mattis closed their college careers in style by qualifying for the NCAA Championships, and then earning All-America honors while they were there. But because of their lofty goals, they were both upset with their final college events as Mattis placed second in the country in the discus final just before Awad placed 22nd in the men's 5K.
"I found out my disappointment," Mattis said, "just a little earlier than he did."
Mattis went on to call NCAAs "probably the most disappointing meet of my life" because he failed to defend the NCAA discus title he won a year earlier. In fact, the Wharton grad said the last couple of months of his Penn career felt like a string of disappointments after he incredibly registered the best throw in the world and surpassed the Olympic A standard in late March.
"I was throwing well until probably early April," he said. "I got kind of sick in April, then coming back from that I was trying to throw hard and far — and that's not how you throw far. You throw far by having good technique. And I wasn't relying on technique. It was a stupid mistake on my part, and I've just got to make sure I don't make that mistake again."
Awad, meanwhile, couldn't stay near the lead pack in his race, finishing well behind 5k champ Edward Cheserek of Oregon.
"Twenty-second was not at all what I was looking for," Awad said. "It definitely wasn't a good day. I don't know, I just don't think I'm in as strong a 5K form as a I really thought.
"But I'm training right now and feeling good. I had a bad day but I'm still excited for the trials."
Awad will run the 1,500 meters at the Olympic Trials — a race he thinks he's better suited for at the moment. Still, considering he hasn't hit the Olympic A standard in that event — he's about one-and-a-half seconds off the pace — he knows it's unrealistic to think he'll qualify for the Olympics and has instead set a goal of simply making it to the finals.
He has far more confidence in his buddy Mattis representing the United States in Rio for the Summer Olympics in August. Mattis has already hit the Olympic A standard, meaning he just needs to finish in the top three in the discus to continue Penn's epic Olympic streak — a difficult but attainable goal.
"I think he has a good shot," Awad said. "He just has to make sure his head's in the right place and he's not thinking about finishing second at NCAAs. If he has a good day, he'll go. He doesn't need the greatest day in his life to qualify. He just needs to have a Sam day and that should get him through."
Despite some recent disappointments, Mattis is confident in himself too. And he's ultra-focused on fixing his technique leading into trials, where he'll compete against 23 of the top discus throwers in the country. He's one of only seven that have already hit the Olympic A standard. Some have been more consistent than others, and Mattis can admit he's on the inconsistent end of the spectrum — which can turn out to be a good thing if he hits his peak in Oregon.
"I'm definitely optimistic," he said. "I think you have to be. If you go in thinking you won't make the [Olympic] team, then you definitely won't."
No matter what happens at trials, Mattis and Awad can both take great pride in all of their achievements from their time at Penn. For Mattis, the pinnacles came when he won the NCAA title last year and then registered his record-breaking throw in March.
For Awad, it came this past April when he anchored the Quakers' 4xmile team to a thrilling come-from-behind win at Penn Relays, marking the first time the home team won a championship relay at the historic meet in 42 years.
For a few days after that, he said every time he went on Facebook "the first seven things on my news feed was me running" as people continued to post the dramatic final lap. Eventually, he got sick of seeing himself — but he'll never get sick of the memory.
"It's probably going to go down as the best running moment of my life," he said. "It was kind of like the culmination of our program becoming a national powerhouse."
Awad believes the upward trajectory of Penn's track program will continue even though he and Mattis have graduated. The biggest concern for both of them is not necessarily leaving behind their college team but transitioning into the world of professional track — a complicated road filled with finding sponsors and agents. And at least for Awad, he's not exactly sure where it will take him after he competes for Team USA's U-23 team in July.
But through it all, the two of them have been trying to lean on each other as they navigate the post-college track world, just as they had throughout their legendary careers at Penn.
"Tom's a great guy," Mattis said. "We had fun just hanging out, discussing our futures a little bit because we're both gonna try to pursue track a little longer. It's nice being in the same boat as someone on your team and being able to share that experience."
"It's great bouncing ideas off each other," Awad said. "With this kind of stuff, you can't just go to anyone for advice because only a handful of people actually go through the process. It's kind of figuring it out as we go along."
Luckily, they can figure it out together.
— Dave Zeitlin C'03