Stuart Gibbs C'91 makes his fiction debut with Belly Up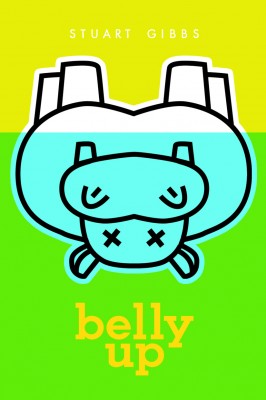 A beloved hippo at FunJungle — "the newest, most family-friendly theme park in the world" — is dead, and 12-year-old Teddy Roosevelt Fitzroy suspects foul play. Joined by Summer McCraken, a sassy girl with her own secrets, Teddy sets out to uncover the truth in Belly Up, Stuart Gibbs' C'91 new young-adult novel. (Simon & Schuster, hardcover, $15.99)
Gibbs has been writing movie and TV scripts in Los Angeles for years — including See Spot Run and Repli-Kate — but Belly Up is his first book. He recently made time to speak with me about his novel, its success, and the experiences that inspired it.
---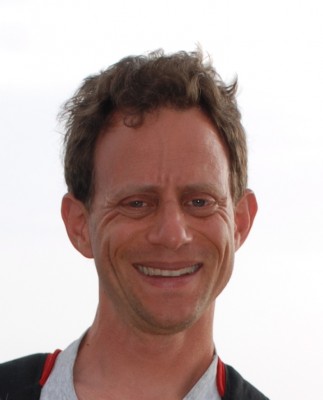 MP: I heard that Belly Up is based loosely on your experiences at the Philadelphia Zoo.
SG: I did a biology project at the zoo when I was at Penn…for a course called Social Ethology. We all picked an animal to research, and I ended up choosing the capybara — the world's largest rodent.
It turned out [the zoo] needed someone to work in their video department, so I ended up working there. I'd ride my bike up after class was done, and I started to meet lots of zookeepers who would  tell me stories that maybe they shouldn't have been telling me.
I started to put together this idea that a zoo is an incredible place to set a story. Things happen there that don't happen in any other business because your main commodity is alive. I had that in the back of my head forever, and then maybe three years ago, during the Writers' Strike, the agencies were all finding ways to keep their writers busy, and I got a call from my agency asking if I'd ever thought about doing a young-adult novel. The moment they asked that, I thought, 'I know exactly the setting to use.'
Any particular reason you settled on a hippo as your murder victim?
Part of the reason for my job [at the Philly zoo] was that two very popular hippos had recently died. All the news stations called the zoo saying they needed footage of the hippos for TV, but the zoo didn't have any, so they wanted to start creating some. I don't know if I'd have picked a hippo if I hadn't been party to the death of that hippo all those years ago.
I was also thinking that when you're creating a mystery, you need a victim who has a lot of enemies. For the most part, a zoo animal is not going to have a lot of enemies, so I was looking for an animal that has surprisingly good PR, for an animal. I thought, 'What's an animal that people assume is cuddly but in reality is foul-tempered?' That's a hippo. On top of that, hippos are very unsanitary. The males have a behavior where they projectile shoot feces at each other. I mentioned that to my book editor, and he said, 'That's exactly the sort of thing you should be writing about in a book for eight- to 12-year-old boys.
How have your children, Dashiell and Violet, responded to Belly Up?
My son is four and a half and my daughter is two, so they're not old enough for it just yet. But I did write the book with them in mind. When we had our son, I had that gut instinct of wanting to do something my kids are going to appreciate, so when this idea arose of writing a young-adult novel, I thought, 'That will be something I can put on the kids' shelf.' Someone had pointed out to me that the books you read when you're a kid tend to be some of the seminal books of your life, the books you really cherish, and I hope that's the case for my kids.
How did you develop the voice for Teddy, your first-person child narrator?
It was a little difficult to think about writing as a 12 year old, and then I just decided I really did not want to write down [to kids]. My lead hero doesn't exactly sound like a 12 year old, but I wanted to create a 12 year old who was unusual, and when I looked back at the books I'd really enjoyed as a kid — The Hardy Boys, Danny Dunn and Encyclopedia Brown — those were always books about kids who were really smart. That's one of the great things about a detective novel: it's a story where the hero is the smartest person in the room, no matter what age he is. I wrote Teddy as a 12 year old who has a very good vocabulary and knows more than the reader does.
Will Teddy return to solve more mysteries in any upcoming sequels?
I would love for Teddy to come back. I loved writing for Teddy, and I barely scratched the surface of all the knowledge I picked up talking to all those zookeepers.
What are you working on right now?
I'm writing another young-adult novel called Spy School. It's based on an idea I had when I was at Penn, and it's about a 14 year old who gets recruited to this top-secret academy of espionage and then discovers that he's not actually qualified to be there — he's only been brought in as bait to catch a mole.
I'm also finalizing a deal for a three-book series, also for young adults. I didn't necessarily expect to end up a young-adult author, but these things tend to snowball. Now I'm going to have four [YA] books coming out in the next two-and-a-half years.