Step Forward, Step Back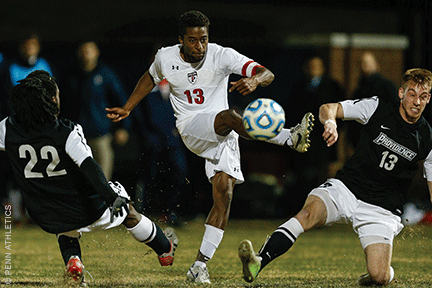 By Dave Zeitlin | Through 90 minutes of regulation play and 20 tense minutes of overtime, Duke Lacroix was too caught up in the moment to listen to the fans who had flooded Rhodes Field for Penn's opening-round game of the 2013 NCAA men's soccer tournament. But when the second of two 10-minute overtime periods ended with the Quakers and Providence still tied at 1-1 heading into the do-or-die penalty kick shootout, Lacroix—the Quakers' star junior forward—finally looked around and took it all in.
What he saw gave him chills: a herd of Penn students walking from one side of River Fields stadium to the other to stand behind the goal where the shootout would take place, the rhythmic thud of their stomps accompanying the chants and heckles they had been dishing out all evening.
"That was really special," Lacroix said later.
Sadly, the festive atmosphere at Rhodes didn't help Penn advance to the next round of the NCAA playoffs. Even though Lacroix, the Ivy League Offensive Player of the Year, buried the first penalty kick for the Quakers right after Penn goalkeeper Max Polkinhorne, a sophomore who'd put in a terrific performance at the net, blocked Providence's opening PK, the Friars made their next three to end Penn's season.
Nevertheless, Penn captured its first outright Ivy League championship since 1972, and the 10th postseason berth in Penn's history—the fourth in head coach Rudy Fuller's 16-year tenure.
"We're starting to have a track record," Fuller says. "We want to be a team that every year is in the mix to win the Ivy League, and every year is in the mix to make the tournament—and hopefully make a deeper run."
Led by an experienced crop of seniors who were freshmen during Penn's last playoff run, the Quakers turned the tables after a dreadful 3-13 season in 2012 and managed to overcome a six-game losing streak early in their 2013 campaign.
The difficult stretch, in fairness, happened in part because Fuller challenged his team with a brutally tough non-conference schedule. That's one reason the Quakers didn't lose confidence heading into October, when they edged Drexel and went 3-0-1 in their first four league contests.
The Quakers took a step back to start November when they lost to Brown in double overtime. At that point, with two games left in the regular season, Fuller told his team that "if we want to be in the NCAA tournament, our NCAA tournament starts right now." The Quakers responded by beating Princeton 2-1 and then winning the program's eighth Ivy League title with a 2-0 triumph over Harvard.
"It was pure jubilation," says Lacroix, who gave Penn a 2-0 lead just 12 minutes into the game at Harvard with his eighth goal of the season.
Led by returning players like Lacroix, Polkinhorne, and freshman Alec Neumann (who scored Penn's goal against Providence), Fuller believes Rhodes Field will be rocking again next November.
"It sounds strange to say when you're graduating seven seniors, the majority of whom played a good deal," the Penn coach says. "But we really feel like, when we look at our team, there were a lot of young impact players for us this year.
"This season was about progress," he adds. "It's just the next step."
Injuries Derail Football Season
If there was ever a team to make Ivy League history, it was this one.
Coming into the 2013 season, the Penn football team had the chance to win their fourth outright conference championship in the last five years, a feat no other Ivy program has ever accomplished. And the Quakers seemed uniquely qualified to handle such a task, bringing back what head coach Al Bagnoli called "the best collection of players since our 2002 and 2003 championship years," a group that included a slew of fifth-year seniors who already had three championship rings in their possession.
But instead of being one of Bagnoli's best teams, the 2013 Quakers turned out to be one of his worst, losing their final four games of the season to finish below .500 for just the second time in the head coach's 22-year tenure.
"What on paper should have been a very explosive, very deep team," Bagnoli laments, "ended up limping down the stretch."
Limping is an appropriate word to describe the season. According to Bagnoli, the Quakers suffered an unprecedented number of injuries, with two of Penn's fifth-year seniors—record-breaking quarterback Billy Ragone and running back Brandon Colavita—among the players affected. And the injury problems ran much deeper, with players at every position getting hurt in seemingly every way imaginable.
"This was an exceptional amount of injuries and I had never been through this in my tenure," says Bagnoli, who plans to meet with the program's strength coaches and medical team to see if they can figure out what went wrong. "If you look at wide receiver, we literally lost seven kids for the year … That's unheard of for a position that's not a high-impact position."
Still, the Quakers managed to win their first three conference games, including a thrilling four-overtime victory over Dartmouth in what was the longest game in Ivy League history. And that probably wasn't even the craziest game of the season, as the Quakers nearly pulled off the greatest comeback in program history against Harvard, which ended up sharing the Ivy crown with Princeton. Trailing 38-0 late in the third quarter, Penn reeled off 30 consecutive points before a potentially game-tying drive stalled just 20 yards short of the end zone.
A week later, the Quakers rallied from a 42-21 deficit before losing 42-41 to Cornell. But if there was a silver lining, it was that freshman quarterback Alek Torgersen, one of a handful of youngsters thrust into the spotlight because of all of the injuries, spearheaded the comeback.
"We have a platform to build on," Bagnoli says. "We obviously need to get our kids healthy. And we need to have a really good offseason, augmented by a really good recruiting class, to try to get things back on track."
---
Dave Zeitlin C'03 writes frequently for the Gazette.