Sleeper Squad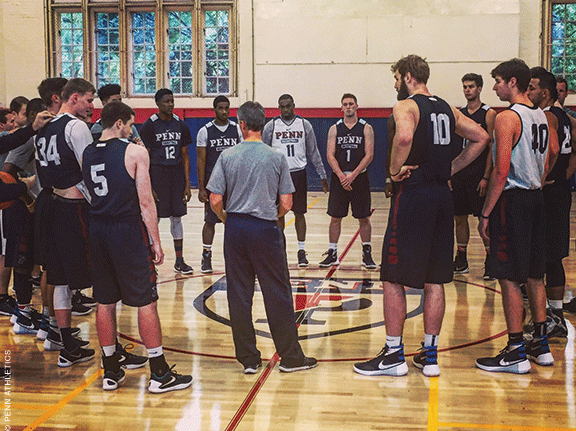 By Dave Zeitlin | As he transitioned from one thought on the biological clock of college students to another on the changing technology behind sports science, first-year Penn men's basketball coach Steve Donahue cut himself off.
"I know too much about sleep," he said with a smile.
After eight mostly disappointing seasons under former coaches Glen Miller and Jerome Allen W'09, the Quakers are hoping to climb back to the top of the Ivy League by using analytics, nutrition, and, well, good sleeping habits during the 2015-16 season, which begins with a home game against Robert Morris on November 13.
"I'm always trying to think of ideas that maybe I'm missing," said Donahue, who has instructed his players to use a smartphone app to track how many hours they sleep every night. "It's a motivating factor that they know they have to go to bed. Most kids don't know why they go to bed at 3 a.m., and they find out they were goofing off. In the back of their minds, now they know the time is going to be read by their coaches."
Insisting on eight hours of shut-eye every night may seem strange to fans who obsess over the finer points of match-up zone defenses, but Donahue credits a professor at Cornell, where he was the head coach from 2000 to 2010, with persuading him about the importance of sleep—as well as the dangers of early-morning workouts, which he eliminated from Penn's schedule.
The Quakers' new coach has even created a competition to see who on the team gets the most sleep—one in which he said sophomore Dan Dwyer, "our sleep guy," is running away with. But senior center Darien Nelson-Henry, the team's top rebounder and second-leading scorer last season, insists he's hot on his teammate's heels.
"I'm up there in the top couple of guys," Nelson-Henry boasted as the fall semester got under way. "I like my sleep, so I think me and [Donahue] are going to get along well with that one."
Donahue has also made a big push on nutrition and injury-prevention by installing a snack bar and hydration station in the locker room. He has equipped players with smart-sensors during practice to monitor things like heart rate and distance traveled, and he plans to tailor the results around his preparation for the grueling Friday/Saturday Ivy League schedule.
Saying that "we all have to keep up with technology," the 53-year-old Donahue has also enlisted the help of Penn math students to keep advanced statistics for his team. And he's made it a priority to reach out to the general student body by trying to drum up basketball interest on his own Twitter account.
Less scientifically, Donahue has also tried to instill a change in his players' mentality, which he sensed from afar was an issue last season as the losses piled up.
"The great thing about playing for Penn is that people really care about Penn basketball," said Donahue, who was an assistant coach for the Quakers from 1990 to 2000, helping the team capture six Ivy League championships during that stretch. "But it's a two-edged sword. When they're down, it can be overwhelming for kids who aren't performing as people would have hoped they would. I thought this group kind of let that get to them."
The two players who've arguably had the hardest time in Quaker uniforms are also the two most talented: Nelson-Henry and fellow senior Tony Hicks. Nelson-Henry has a huge body and soft hands, and Hicks is a dynamic slasher who can get to the rim at will—but neither one has yet to achieve anything close to a winning season.
Donahue—who was hired in March, a year after getting fired from Boston College, where he coached from 2010 to 2014—knew that all the losing had gotten to his two senior leaders. But he was pleased to see that "no one worked harder" after he came on board.
"It's an entirely new feel with a new head coach," Hicks, who led the team in scoring the last two seasons, said. "There's definitely a lot of optimism around and good vibes. We just have to keep that going. Of course there's going to be adversity, and that's when we'll see how things really are."
In the past, Hicks hasn't handled adversity as well as he might have, getting suspended or ejected in each of his first three seasons at Penn. But there's no denying his ability. And he should have more help this season with junior swingman Matt Howard prepared to take on a bigger role.
Both Donahue and Hicks predicted Howard would have a breakout season, in part because the team is changing its offense to run faster sets using three guards plus the 6-foot-4 Howard playing in the "4" position, where the hope is that he'll be able to beat bigger players off the dribble.
"It's more up-tempo but a lot more under control," Hicks said of the team's offense, which ranked last in the Ivies in scoring last season and turned the ball over too frequently. "He wants us to shoot early, and that's nothing I have a problem with. I just really like the pace he wants us to play at. It's a lot more about feel. We won't necessarily be coming down calling sets every time down the court. It will be more free flowing."
There are other reasons for optimism. Mike Auger, Antonio Woods, Sam Jones, and Darnell Foreman all return after freshman campaigns that saw each named Ivy League Rookie of the Week at one point. And freshman Jake Silpe joins the program as a highly touted point guard.
But, more than anything else, Donahue knows a culture change is needed for the Quakers to get back to where they were when he was an assistant in the 1990s. He also knows the Ivy League is much better than it was then, which is why he's focused so much on technology and analytics—anything, really, that can help Penn get a leg up.
"We want to know our history and tradition and appreciate it," Donahue said. "But I want us to create our own future and let the guys know the excitement of where we can go and how great we can be."
An Old Track Gets a New Overhaul
Standing on the track at Franklin Field in early October, C.K. Buddington C'74 held up a glass as if he was making a toast. But the chairman of the Friends of Penn Relays wasn't hoisting any sort of liquid. Instead, his glass was filled with cinder that had been found underneath the historic track, which was dug up and rebuilt this summer.
"Think of all the people that ran on these cinders," said Buddington, estimating that it dated back to 1895 when the first Penn Relays were held. "We don't want to forget that legacy. But we also want to look forward to what this new track is going to bring forth."
It was with that in mind that Buddington and others gathered to unveil the track renovations, which were completed in late September at an estimated cost of $3 million.
According to Steve Dolan, Penn's director of track and field, the track hadn't been redone since the late 1980s, and had become uneven in spots.
"This is more than a resurfacing," Penn Relays director Dave Johnson said. "This is a complete retooling from the bottom up. I expect times we haven't seen on this track."
Dolan praised the "teamwork" needed to get the project completed in time for the 2015-16 school year. The funding came from a variety of different sources but wouldn't have been possible without a $1 million lead gift from Penn track supporters Elliott Rogers C'72 WG'75 and his wife.
"It's always been magic," Dolan said. "But now it's magic with a brand new track. I'd like to think this will not only help our current team but also with recruiting as people realize this is the premier track and field venue on the East Coast."
Dave Zeitlin C'03 writes frequently for the Gazette.