Skimming for Substance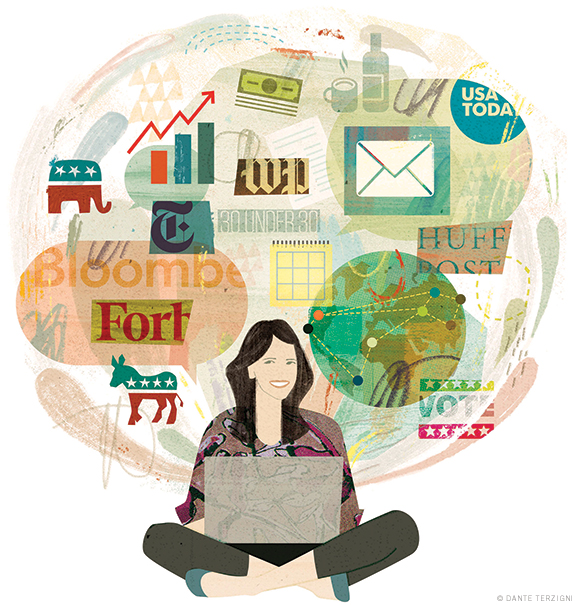 Class of '08 | When Carly Zakin C'08 was five years old and her parents were trying to get her ready for kindergarten, they found her absorbed in another form of education.
"I would be watching the Today show and they would try to get me out the door, but I would start crying," she recalls. "Today was more important to me. I was always obsessed with the news—and I've been lucky enough to make a career out of it."
Zakin and her friend Danielle Weisberg are the co-founders of theSkimm (theskimm.com), an email compilation of the day's news that has quietly become a morning regimen for millions of professional women. Its slogan: "Making it easier for you to be smarter."
That theSkimm's target audience is millennial women is clear from its logo: a stylized silhouette of a slim woman in pearls and heels who's absorbed in the news on her tablet.
While theSkimm's headlines and asides may be sardonic, its hyperlinks are serious. They send the reader to journalistic outlets ranging from The New York Times to The Washington Post to The Wall Street Journal to Bloomberg.
"Studies have shown that women fall behind in current-events knowledge," says Zakin. "We realize that not everyone geeks out on news like we do, but we can be that gateway to what we hope is relevant."
Each day's Skimm leads off with a link-filled, multi-part cluster of pieces about the day's big story, followed by several other items that range from serious to quirky. On February 7, for example, the main item—"COURTING"—started with a quick hit ("President Trump's immigration executive order is still in legal limbo"), followed by "Catch Me Up" (a summary of the previous week's legal back-and-forth), "Where Are We Now?" (what to expect in the day's hearing in the Court of Appeals), and a brief final analysis (about the confusion created by the ban and the fact that "many people think this case will eventually go all the way to the Supremes"). Other items offered for eyeballing included Israel's new settlements in the West Bank and the 65th anniversary of Queen Elizabeth's accession to the throne (with a tangent about Parliament not wanting President Trump to address British lawmakers).
"I don't think there is anything quite like theSkimm," says Kenneth Winneg ASC'85 Gr'07 Gr'09, managing director of survey research at the Annenberg Public Policy Center and a lecturer at the Annenberg School, who teaches New Media and Politics.
"What I like about it is that it is not just telling you what is happening, but if you don't think you know enough about it, theSkimm provides the opportunity to learn more," adds Winneg, who taught Zakin at Penn. "The strength of theSkimm is that they don't assume you know all about something, but want to learn. It will recommend books and other articles for you, which is different from a traditional journalistic set up."
After she graduated from Penn, Zakin did come close to her Today childhood fantasy by working at NBC News. There she reconnected with Weisberg, who (as a Tufts student) had been on a study-abroad program with her in Rome. After four years at NBC, having become Manhattan roommates, they felt restless but still "geeked out" on news. Their vision, that women of their age and temperament could be a market for their view of the news, led them to their idea of Skimming, so to speak, from good journalism and distributing it by email.
They found their audience early, and by the end of 2014, theSkimm had $7.4 million in venture-capital money and a high-profile shout-out from Oprah Winfrey. By 2016, it had four million subscribers. Zakin and Weisberg have made Forbes' list of "30 under 30" and been interviewed by the likes of Trevor Noah on The Daily Show—and, yes, on Today. They've also gone from working by themselves in their apartment to having offices and 38 fulltime employees.
In Winneg's view, theSkimm became successful by creating a brand and maintaining its focus on millennial women: "Not that men can't understand it, but the cultural references are toward that group—for instance, something from Gilmore Girls."
Having created a community of sorts, Zakin and Weisberg now hope to expand it. They've got an army of 16,000 "Skimm'bassadors" to convince others to subscribe and "get swag"—T-shirts and the like—for their efforts, says Zakin.
During the 2016 election season, theSkimm partnered with Google to provide polling and other election information for a program called No Excuses—as in, there are no excuses not to vote. They claim to have helped 110,000 people register.
"The next thing is to move on after the election, no matter how you feel about who was elected," says Zakin. "We feel we are a platform for that. There are now no excuses not to take five minutes out of your day and educate yourself on the issues."
—Robert Strauss