Showing Their Animal Magnetism
Class of '16 | While scrubbing in for surgery on a large bay horse, the renowned equine surgeon interrogates the veterinary student assisting him. Her answers fall short. "I don't understand what on earth you're thinking," booms the voice of Dean Richardson, the Charles W. Raker Professor of Equine Surgery and chief of large-animal surgery.
The student pauses and stammers. Tears well up. "Come on, scrub!" Richardson shouts. "Talk and scrub at the same time."
Anyone who thinks veterinary school is all about comforting big-eyed puppies after their distemper shots will lose that illusion by watching Animal Planet's Life at Vet U, a six-part series that documents veterinary students in their final months of training at Penn's School of Veterinary Medicine. (As of last month, Animal Planet had not announced whether the series, which ran Saturday nights from October 1 through November 6, would return for a second season.) All students received their VMDs last year.
The unscripted show follows six students in their grueling fourth year. Classes and exams now behind them, they apply their hard-earned textbook knowledge to the animals in their clinics. Whether it's extracting rotted teeth from a shelter dog's mouth or a 100-pound calf from a cow's uterus during a C-section, the show follows its stars as they learn—and sometimes err—on real animals.
"It highlights the odyssey," says Richard Ross C'83, group president of Discovery Channel/Animal Planet/Science Channel ["Disney's Channeler," Sep|Oct 2009]. "The ups and downs and the humanity of taking care of animals."
For mixed-animal major Max Emanuel, 27, that humanity comes in caring for a fluffy white pup found roaming the streets of Philadelphia. One of his legs mangled beyond repair, the little dog has the limb amputated in a surgery suite at Penn's Ryan Veterinary Hospital while Emanuel administers anesthesia and monitors his vital signs.
Afterwards, camera crews follow Emanuel into a local pub, where he and his classmates bemoan "depressing" student-loan payments and reminisce over beers about the academic marathon that began in the first year of vet school with anatomy lab: from "going into that room and suffocating in formaldehyde," to "fourth year putting our big-boy pants on to go to work every day."
Student Rebecca Bernstein dons "big-girl pants" for an emotional scene in which she helps deliver a grave diagnosis. A CT scan has revealed that a dog's aggressive bone cancer has spread to his lungs. The 29-year-old Bernstein chokes back tears as the family—husband, wife, and children—embrace the large brown retriever they now learn has just months to live. But, she acknowledges, it was a "really good learning experience for me in how to handle my emotions."
Willingness to show that soft underbelly was key in the selection of Bernstein—whose family often jokes about her childhood dream of appearing on Animal Planet—for the unscripted series. Scott Feeley, senior vice president at High Noon Entertainment, the production company that filmed the show, says the featured students had to be able to open up on camera and share the "roller coaster ride" of vet school.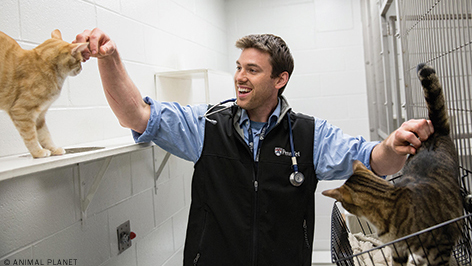 During the Match Day episode, the students wince and fret about the competitive internship selection process. When Melanie Lang, 36, learns she didn't match for her desired internship, she cries freely.
Life at Vet U also features plenty of "ups." Clint Kuban, who turns 30 this month, assists in high-tech cataract surgery on a bichon blinded by hazy lenses. He helps the ophthalmologist aspirate the diseased lenses from the eyes and replace them with clear prosthetics. Afterwards, Kuban brings the excited dog to his owners, whom the dog can finally, and clearly, see. Everyone in the room marvels at the magic.
"In this field, we come across our fair share of sad endings," Kuban tells the camera. "It's refreshing to go home with a smile on my face."
In a stall at New Bolton Center, Penn's rural large-animal hospital, mixed-animal major Lindsay Gallagher, 28, tries to examine a playful chestnut foal while dodging his clumsy advances. Soon the foal, who's recovering from severe pneumonia with his (also sick) mother, will go home. Gallagher, who hopes to open a small-animal behavior practice, revels in the pair's progress and prepares for a bittersweet goodbye.
One thing thrown at the students in their clinical year is a barrage of questions from higher-ups. During a shelter medicine rotation, 26-year-old Morgan Taylor (who also graduated from the College in 2012) steadies her dental tools as she extracts a diseased molar from a dog. She is simultaneously grilled on tooth anatomy by the shelter veterinarian. The pressure is jaw-clenching.
"I try to act like I'm very chill," says Taylor, an equine major and aspiring racetrack vet. "But I think it leaks out—this anxious level I keep."
High Noon's Feeley says one of the network's goals was to convey to audiences how hard it is to become a veterinarian.
Taylor recalls her best friend's reaction to an episode in which she was interrogated during a horse surgery: "She sent me a funny text about how she would hate to be put on the spot like that, and it was crazy the amount of information [vets] are expected to know." She laughs. "Side note—my best friend is attending medical school."
At various times the determined students are shown sedating a zebra for a hoof trim, winding a catheter into a dog's heart for a balloon valvuloplasty, assisting surgery on a standing cow who nonchalantly munches hay while her abdomen is sliced open, ejaculating a valuable stallion to obtain his precious sperm for breeding, and taking a gloved bite from a German shepherd being trained in criminal apprehension at Penn Vet's Working Dog Center, which schools dogs for careers ranging from police work to cancer detection ["Working Like Dogs," Jan|Feb 2013].
Animal Planet's Ross says Penn was the chosen setting from among 30 US veterinary schools partly because of its service to the community.
"For an Ivy League school, it didn't feel elitist," says Ross, who lived down the street from the veterinary school as a college student. Plus, he says, the two campuses—urban and country—provided case diversity and scenic backdrop. Interspersed with hospital scenes are montages of historic Philadelphia and bucolic Chester County.
In the final episode, Lang, now an intern at a small-animal specialty hospital in New Jersey, takes a runs down the city's historic Benjamin Franklin Parkway. At the finish, she and another vet student bound up the famed art museum steps and spring up and down, Rocky-style.
Their jubilation flows into the graduation scene, in which Lang and her colleagues share hugs and tears. Dean Joan Hendricks V'79 Gr'80 expresses her wish that the new grads can "pull together all of the emotions involved in being a veterinarian and the incredible joy of problem-solving." As they receive their diplomas, she adds: "With love and admiration, I send you out into the world to do good."
—Joan Capuzzi C'86 V'98