Seeds of a Quiet Revolution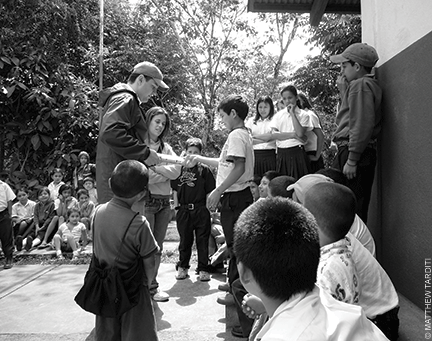 Ernesto Baltodano C'05 and Adriana Chamorro GEd'12 with students at the Buenos Aires school. Adriana, who is now married to Ernesto, first introduced Ravitch to the Baltodanos.
---
Like many children of the elite, Ernesto grew up in exile, in Key Biscayne, Florida. In 1992, with most political violence over and a friendly government in power, Duilio decided it was time for the family to reassemble in Nicaragua. Ernesto, who was 10, couldn't believe it. Why leave an idyllic life in an American suburb for the beaten and fragmented landscape of Managua? "But within six months I realized I was wrong," he says now.
Ernesto returned to the US in 2001 to attend Penn. After graduation, he spent two years in Boston, working for the interactive marketing agency, Digitas. The experience only fed his desires. What if Nicaragua finally capitalized on its immense natural resources? What if Managua became a center for innovation and commerce?
"It became my desire to see a more prosperous, stable country, where the standard of living for the majority of the population is far above the extreme poverty line," he says. "But it was clear that would never be achieved if everyone who had the opportunity to receive a quality education stayed abroad."
In 2007, Ernesto returned to Managua to enter the family business. He is CISA's patient but ambitious visionary, says Ravitch, a quality he brought to Semillas Digitales. "He inspires me," she says. "He may live in a version of the master's house, but every day he's assembling the tools to dismantle it. He will make himself far less comfortable to shift this country's educational reality."
When his father asked on the night of the press presentation if the family ought to reconsider its goals, Ernesto answered. "Our goal should be to change the national education system beyond the coffee region. If we stick to the coffee region," he continued in his deep, grounded voice, with his hands resting behind his head, "it won't be enough, and if it doesn't get into the national agenda, we fail."
And yet the very distances—from digital seed to economic harvest, from academic idealism and kind-hearted paternalism to full-throttle reform, from a walled garden to endless fields of intractable poverty—seem incalculable. Nicaragua is the second poorest nation in the Americas and very nearly its most corrupt. Can it really be possible to affect the national agenda? Exactly how far can love go?
---
Duilio, Tarditi, and I arrived in Jinotega on a Saturday afternoon. The temperature was falling, and just above the tips of the hills a perfect line of pearlescent clouds had formed. Jinotega is a tidy city of colorful one-story buildings that stretch out, like the telephone wires above them, between the hills. At the edges, as the city falls into forest and the bright wind carries away the mud and smoke, the smell of sewage and exhaust, the long lines of buildings dissipate into a clutter of concrete warehouses, beneficios (coffee mills), and offices of the various coffee exporters.
Tarditi, born in 1979, is tall, introspective, and deeply self-aware. He speaks slowly, and then as he gets going the words beat forth in hot little riffs. For 16 years, his father was the mayor of Haddonfield, New Jersey, a wealthy town across the Delaware River from Philadelphia. His father would take him to fundraising events for Senator Frank Lautenberg and former Governor Jim Florio. "Politicians have a way of making you feel valid and comfortable and important, and I didn't care if it was genuine or not," Tarditi says.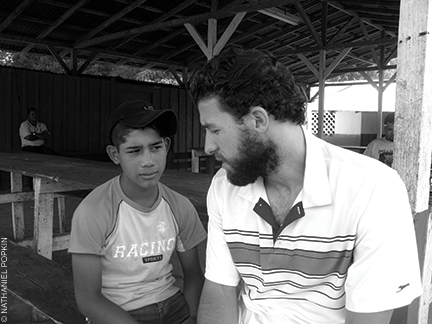 Tarditi, who Ernesto Baltodano calls "the heart of the project," with a student.
---
When Tarditi was 28, his sister Sarah, then 31, died of leukemia. They had been close growing up and Tarditi had taken care of Sarah's toddler-age son while she was in the hospital for treatment and her husband was at work. He emerged from the trauma as the family's therapist, the one most interested in observing the emotional roller-coaster and most capable of helping his parents and other siblings heal.
After Sarah's death, he finished his master's thesis and, in July 2009, returned to Nicaragua to start Semillas Digitales. "I am adaptable," he says, describing the rough conditions of the farm, "but it was not pleasant. I was lonely, unhappy, sad, frustrated, stressed out, and I felt like an outsider." But he soon immersed himself in the community. "The people were so welcoming, endearing, hospitable, and appreciative of what I was doing," he says. "On one of the first visits to their house, a grandmother of one of the kids, Doña Isabel [Castro Lopez], said, 'To think that you came all this distance to help us, the least we can do is treat you as a member of our family'."
Tarditi's ability to ingratiate himself on the farm was invaluable, says Ernesto Baltodano. "He established his leadership, won the support of the CISA team, the farm staff, and most importantly the school and community.  He was the heart of the project, he made sure to take everyone into consideration in order for people to believe in it."
The experience radicalized him politically (on Facebook, he describes his political views as "Radical Liberal Marxist Democrat with a penchant for rebellion and civil disobedience"). At Buenos Aires, he acquired the revolutionary's beard, which gave him the look of a Kibbutz pioneer as much as a Marxist soldier.
"I don't think I did as much for them as they did for me," Tarditi says. "As a young adult, as an activist, they inspired me. I want to get their story out. I want to battle in the trenches with them."