Second Time Around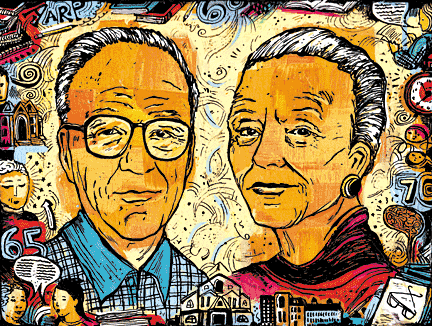 A program offered through the College of General Studies allows retirees—Penn alumni and others—to audit courses in the School of Arts and Sciences.
By Kathryn Levy Feldman | Illustration by Gina Triplett
---
It is 8:45 on the first morning of the fall term. Inside College Hall 200, 102 of the 151 students registered for History 128: Europe Since 1945 are eagerly waiting for class to begin. Most have been there since 8:30. By now, they have uncapped their pens, cracked open their new notebooks, and settled into carefully selected desks toward the front of the impressive gothic chamber. They sit in groups of two or three, taking pains to spread themselves out among the available seats. From the waves and kisses blown across the room, it seems as if everyone knows each other.
Around 8:55, the remaining 48 students shuffle in. Most of them clutch coffee cups and look like they just rolled out of bed. It does not seem to faze them—or perhaps they're not yet awake enough to notice—that the average age of their classmates is 70. They are too busy trying to remember a) what possessed them to register for a 9:00 a.m. class in the first place and b) what happened to summer vacation.
While a) may remain a mystery, any one of the retired professionals already seated in the lecture hall could answer question b): Time flies when you're having fun. They certainly are. In fact, as members of Penn's Senior Associates Program, they're having the time of their lives.
The Senior Associates Program allows people aged 65 and older to audit up to two classes per semester in the School of Arts and Sciences for the fee of $100 per class. It is administered through the College of General Studies, and participants must register with CGS before attending any class at Penn. According to Karen Weidel, assistant dean at CGS, the program has its roots in the late 1970s, when Penn offered retired Philadelphia school teachers the opportunity to audit undergraduate classes for $10 per course. "Not long after its inception, we opened the program up to all retirees, but we never advertised it," she recalls.
"It used to be one of the best kept secrets at the University," agrees Phil Eidelson W'50, head of the program's volunteer steering committee. Long gone are the days when Eidelson posted informational flyers on local condo bulletin boards. This semester, there are 436 Senior Associates enrolled, and they occupy 488 spaces in various SAS courses. "That means 50 people are taking two courses," he explains. "My guess is that this is one of the larger groups we've had," concurs Eleni Litt, assistant dean at CGS and one of two staff coordinators for the program. According to Eidelson, after hovering at around 225 until fairly recently, the program has grown enormously in the last couple of years, strictly by word of mouth.
"How did I find out about it?" newcomer Cal Simon, asks facetiously. "From all these people walking down Walnut Street with big grins on their faces who can't wait to stop and tell you about the incredible courses they're taking at Penn."
While the program is supposed to be for retired professionals, no one asks for credentials, except for valid proof of age. "We are really careful to observe the 65 or older rule, especially since the program has become so popular," says Kristine L. Rabberman, CGS assistant dean/academic advisor and former coordinator of the program.
For the University, the growing demand has been a double-edged sword. "There is no doubt that this is a very important program for us, but our first priority is to protect the undergraduate experience," explains Rabberman. "The Seniors recognize and respect our mission." The program is not restricted to alumni, though many participants have Penn connections. "It's a careful balancing act," she elaborates. "We want to respect and honor the Penn family, but since we are using existing courses, we have limited space."
At the same time, the program provides Penn with "a wonderful opportunity to reach out to the Philadelphia community and provide senior citizens with access to one of the great cultural resources in their midst," Rabberman says. Not to mention that the $100 per course registration fee goes to support undergraduate scholarships at CGS. (That's more than $40,000 this semester alone.) The basic rule of thumb, according to Litt and Rabberman, is that enrollment for Senior Associates is limited to 10 percent of any given class—unless the professor decides to go over the limit (see below).
Since matriculating Penn students continue to register for classes after the registration for Seniors is complete, there is always the possibility that classes that start out as open to Seniors will end up being closed. Certain courses are automatically off-limits: graduate courses, writing courses, fine arts studio courses, freshmen seminars, general honors seminars, seminars for majors only, and language courses, as well as courses in University schools other than SAS.
All of which makes the registration process a bit like Let's Make a Deal, but the Seniors seem to take it all in stride. "It used to be that people would arrive at 7:30 a.m. to make sure they were first in line when registration opened at 10:00, but they put an end to that," explains program veteran Romayne Lieber Sachs CW'52. "Now, they assign numbers, and you can't get your number until 9:30, which is better. Still, I got there at 9:30 last time, and I was number 188." It isn't until registration that Seniors find out which classes are already filled, and as the process continues, volunteers call out additional classes that close ("Which always elicits groans," Sachs says). The wise come armed with a list of alternative choices.
Registering for one's first choice still does not guarantee the Senior a seat. After registration, explains Litt, the coordinators e-mail each professor to ask permission to enroll Seniors in the class. "Most welcome their presence," adds Litt. "But occasionally, especially if the course has been redesigned, professors will let us know they prefer that Seniors not participate." At which point, the coordinators send out notices to the enrolled Seniors and offer to help them make a new selection. "The registration process is very fluid," laughs Rabberman. It is rare that someone is turned away completely.
And sometimes, even a first-choice class turns out to be different than advertised. Last year, Miriam Diamond, whose husband teaches in the General Honors Program, signed up for what she thought was a course on American short stories. "It turned out to be Gender and Race in American Short Fiction," she says with a laugh. It also turned out to be fascinating. "It certainly was a different perspective from when I was in college," she recalls. "I loved reading authors I had never heard of." In fact, the experience was so inspiring that Diamond took a course on the writings of slavery the following semester.
Sachs just finished a course on Gandhi's India that was also not what she expected. "We didn't get to Gandhi until November," she says. "But that's OK. I know so little about India that I learned something anyway."
By and large, that seems to be the motivating force for most Seniors—the desire to learn something new. "We want to do more than just crossword puzzles," jokes longtime participant Lou Gambicini.
For many in the program, the classes are a significant part of their retirement activity, says Eidelson. "It has become incredibly important to a huge number of people."
Edna Green GEd'62, the former head of the science department at Girls High School and a longtime steering-committee member, says that taking classes at Penn for the past decade got her through "the hump of retirement." "It's what retired teachers do for fun," jokes her friend, Rosalie August, who retired as head of Overbrook High School's English department five years ago and immediately started taking classes.
Miriam Diamond says that the program "structures my week. It gives me intellectual stimulation, exposes me to a community of diverse people, and since I live in Center City and walk back and forth, I get my exercise. It's the complete package."
Among the program's staunchest faculty supporters is Jonathan Steinberg, the Walter H. Annenberg Professor of Modern European History and chair of the department. In addition to whatever benefits they gain, he feels that the presence of Seniors in the classroom enriches the undergraduate experience as well. "A university should be, literally, universal," he says. "The current generation of people aged 65-95 is the most numerous, healthy, and active in our history. They were born in the Depression, formed by the Second World War, and many lacked the opportunities that current undergraduates take for granted. Now they have the time to read and think and we should be reaching out to them. I think it's fair to say that the enthusiasm of the Seniors is not matched by the undergraduates."
Steinberg is one of the few professors who disregard the 10 percent rule, and word travels fast. He was the professor for the 9:00 class on Europe Since 1945, which explains the preponderance of seniors in attendance. In fact, Steinberg's classes are so popular that many Seniors have taken them more than once. For others, though, the lure of the program is the opportunity to return to the classroom with Penn undergraduates, not with others like themselves. "I have shied away from Steinberg's classes because it doesn't seem fair to the kids," Diamond says. "In fact, once when I showed up for a class, the undergraduates were out the door [waiting], and I didn't return. The first priority is the undergrads."
Arthur Waldron, the Lauder Professor of International Relations—who, like Steinberg, does not limit participation by Seniors—agrees with this sentiment, but thinks there may be a way to serve both groups. "We should have excellent introductory classes freshmen year that are highly accessible," he says. "But it's nice to have a mixture of ages in a classroom. It take us out of an age ghetto."
John J. DiIulio Jr., the Frederic Fox Leadership Professor of Politics, Religion, and Civil Society, concurs. "I've always thought that one of the nuttiest notions of higher education is to group a bunch of kids, all aged 18-21 years old, together," he says. "Having [older] people on campus who are not faculty is healthy. It is a benefit to our students to have a substantial presence of people who have gone through life. It makes them realize they are not living in some sort of 18-21-year-old Disney World and that someday, they too might walk with a cane and know what AARP stands for."
In a column she wrote for the April 11, 2001, Daily Pennsylvanian, Ariel Horn C'02 called the experience of taking Steinberg's class "one of the highlights" of her undergraduate career. Initially a bit put off by the generational gap in her classroom—"I felt grossly out of place," she wrote—by the end of the semester, after being paired with a Senior Associate with whom she could discuss the history he had actually lived through, she found that the course material had been brought to life.
Eidelson remembers a similar experience in an American-history class he took when he listened to a discussion of the Great Depression fall flat. "The TA would ask questions and there would be dead silence," he recalls. "Finally I couldn't stand it any longer. I raised my hand and suggested that the undergraduates talk to their grandparents about the Depression, and we could take up the discussion the next week." The following week one student reported that his grandfather had worked for the WPA Writers Project, another told how his had worked for the TVA, and still another talked about how his had saved enough money to open a hardware store—the income from which was putting him through Penn—and the Depression became a lot more meaningful to the students. "To tell you the truth, the TA should have thought of it on his own," Eidelson says, "but I was glad to help."
"Educational or generational," Horn concluded, "there is a desperate need at Penn to supercede the gap."
Steinberg, who was the director of studies in history at Trinity Hall, Cambridge University, before coming to Penn and was on the Board of Continuing Education there for years ("That's how I learned to teach," he says), couldn't agree more. "CGS, which is now sort of a poor relative of SAS, should have its own staff and its own faculty, complete with professors and endowed chairs of continuing education," he says. "And we should be out there in the community. This is not an ego trip. What interests me is the educational enterprise. Teaching is a dialogue, and we should be engaging everyone."