Scrum Dreams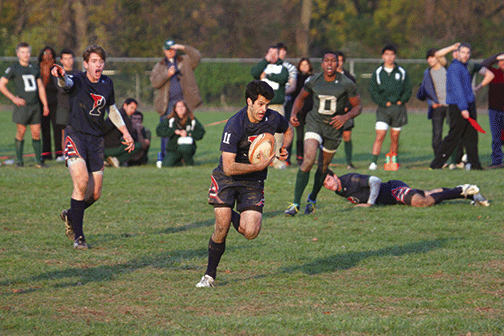 Penn players (left to right): sophomore Doug Swift, junior Christian Collins, and sophomore Bill Barron.
---
At first, it looks like a clumsy cheerleading stunt. Under the lights at Penn Park's Dunning-Cohen Champions Field, on a chilly winter evening, two men are attempting to hoist another man into the air—before all three tumble to the turf. Then they laugh about it, get up, and try the same thing again.
But these men aren't cheerleaders. They're members of Penn's club rugby team, and they're practicing what's called a line-out, which is the equivalent of a throw-in in soccer. The idea is to lift a teammate to the highest possible point so he can be the first to catch the oval-shaped ball when it's played back in after it has gone into touch (or, in American parlance, out of bounds).
It's one of the many peculiarities that dog most Americans' attempts to understand rugby, a sport that's more popular in countries like England, South Africa, and Australia than it is here. But the Penn rugby players have gotten used to that. Often, during their practices at Penn Park, joggers or other curious onlookers stop to try to figure out what they're doing. Sometimes, they even ask questions.
"It's funny trying to explain it to them," says sophomore Doug Swift, the club's president and star player. "What we usually say is that our sport is football that doesn't stop."
"When I'm walking from my house on 40th Street to Penn Park, wearing my short shorts and tossing a rugby ball up in the air, people are like, 'Where's that guy going?'" adds Drew Meyers, a junior on the team. "'What sport is that? Is that Quidditch?'"
No, it's not the fictional game that Harry Potter played at Hogwarts. Rugby is very much real—and, spurred in part by the addition of the sport to the 2016 Summer Olympics, it seems to be growing every day in the United States, particularly at the collegiate level.
One way to measure that growth is to look at Penn. Although the University's rugby squad has a proud tradition on campus that dates back to 1910, it wasn't until 2009 that the Ivy Rugby Conference was formed, giving Penn a more structured and competitive setup to play games against teams from its peer institutions. And the Quakers have taken advantage of that, winning the 2012 Ivy South championship this past fall and traveling across the country in February for the Las Vegas Invitational, a premier amateur tournament for rugby sevens (a variant of the sport in which teams are made up of seven players instead of the usual 15).
The most exciting part of all: on June 1-2, the team will play in the Collegiate Rugby Championship for the first time. The high-profile, 20-team rugby sevens tournament will be held at PPL Park—a state-of-the-art 18,500-seat stadium less than 20 miles from campus, in Chester, Pennsylvania—and televised on NBC and the NBC Sports Network, giving the Quakers the kind of national exposure they've never enjoyed.
"It's a huge step," Meyers says. "When I was a freshman, it would have been huge just to have a winning record. Seeing the way the team is slowly becoming more of an institution, and more of an establishment within the Ivy League rugby culture and even within the school … we're not just another club sport."
There are, of course, limitations that come from operating at the club level. They can't recruit the best players out of high school like varsity programs do, and their head coach, graduate student Omar Foda, is a volunteer. But Foda, who played college rugby at perennial powerhouse Dartmouth, is glad to donate his time to a team that he agrees often doesn't feel like "just another club sport."
One big reason for that is the team's improved facilities. Before Penn Park opened, the team practiced at Hill Field. That was less than ideal; there was too much dust, too many rocks, and not enough room to run. Players would sometimes get hurt because of the field itself, not from the act of getting tackled. And practices were forever being canceled because of snow or rain.
"It's fine for a small-sided soccer game, or playing 2-on-2 Frisbee," Foda said. "When it came to having 30 guys practicing on it, it became an issue."
But now that they practice on the smooth turf that Penn Park offers—and inside the bubble in the winter to stay warm and dry—Foda has noticed a major talent upgrade. Some athletes, like Meyers, are former high school football players who had never played rugby before getting to Penn. Others played lacrosse, hockey, or other contact sports. And some, like Swift and sophomore captain Bill Barron, are international students who grew up playing rugby.
Swift, a London native, estimates that about one-third of the team are international students, hailing from countries that include England, France, India, China, Argentina, Brazil, and Zimbabwe. And for Swift, who's played rugby since he was four years old, it's been fun teaching the rules of the sport and playing a part in its growth here.
"I played rugby seriously back home but I was never going to take it to the next level," Swift says. "So coming out here, I now get a chance to play on a team, for it to be a huge part in my life, and also to spread the word about the sport and to teach ignorant Americans about it."
He laughs as he says the last part. It's all part of the friendly banter that characterizes Penn's melting-pot rugby team. But while many of the players come from different countries and have different athletic backgrounds, they've all become united under one goal: to steal the spotlight on national television at the Collegiate Rugby Championship this June, even though they will come into the tournament as a heavy underdog.
"There's probably a belief among other teams that they can run all over Penn," Foda says. "But that's not really what we think."
—Dave Zeitlin C'03
---
Rugby alumni (men's, women's, and graduate teams) may contact Jim Saksa at james.f.saksa@gmail.com to receive the Penn Rugby Alumni newsletter.