Rites of Fling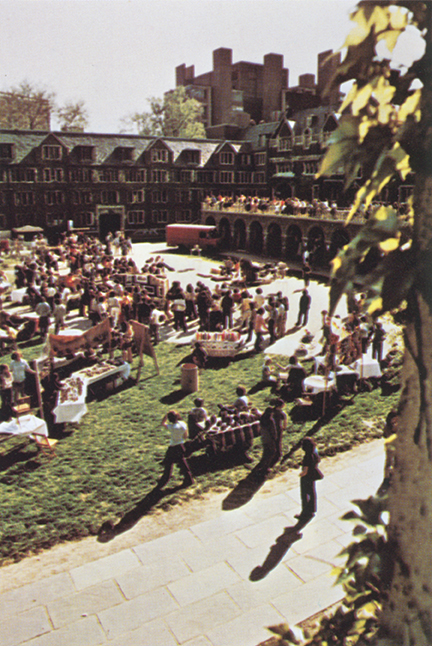 For the first time since its inception 45 years ago, Spring Fling will be moved out of the Quad this year, a schlep away to Penn Park. And it will be pared down to just a single day. These changes give us an occasion to look back upon the origins of an event that has become one of the wildest weekends on campus.
The brainchild of Craig Salvay C'74, Bobbie Haft W'74, and Dave Dibo W'75, the festival known as Spring Fling was a reinvention of Skimmer Day, a waterfront celebration that had declined in relevance to students by the 1970s ["From Skimmer to Fling," May|Jun 2015]. The first Fling flung in 1973 with a budget of $873 and grew into an alcohol-fueled melee that wreaked $7,000 worth of damage in 1988. Throughout the years, it has seen many changes, including a ban on alcohol—and then a lift on that ban. Some say this year's relocation is its biggest change of all.
The images on this page are from the 1974 undergraduate yearbook, which described the second annual Spring Fling, held April 19–21, as "a chance to listen to good music with close friends or peruse the many craft booths for junk." (Emphasis included.)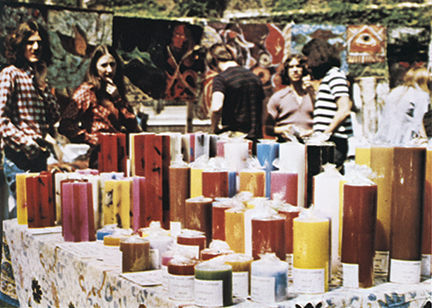 "Back then, bands were really, really important … so I think people very much enjoyed having music there," Cynthia Orr C'77 G'87 WG'91 told The Daily Pennsylvanian last April. Top Billboard hits of 1973 included "Tie a Yellow Ribbon Round the Ole Oak Tree," "Bad, Bad Leroy Brown," and "Let's Get It On." Salvay, who was in charge of music for the first Fling, scheduled a wide range of acts from folk music to hard rock to square dancing in the Lower Quad.
The yearbook deemed the second rendition of Spring Fling a success, saying the event "has helped to make the Quad the center of residential community and perhaps student arts activities at Penn." New organizations such as Quadramics and the Quad Arts Guild exemplified a growing communal spirit in the Quad.
For some, its location in the Quad is "part of the DNA of Spring Fling," as Alex Distell C'08 remarked to The Daily Pennsylvanian. He elaborated, "A lot of people used to live in the Quad; they have a lot of emotional, nostalgic attachment to it." On the other hand, for those who call the Quad home, the noise can be irritating, to say the least, if they're trying to sleep or study.
The change this year is an attempt to appease all, while reinvigorating the event that has seen a decrease in attendance. Just as Spring Fling was originally launched as a reinvention of Skimmer Day, so this change may be just another blip in the evolution of spring festivals at Penn. — NP