Radical Threats, Studied Solutions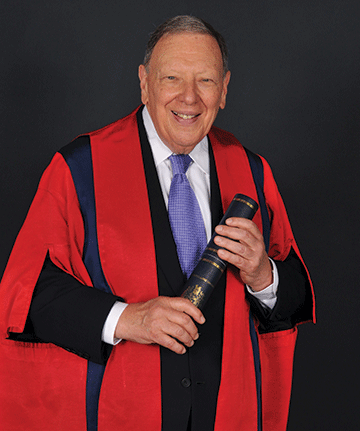 Class of '59 | Shiraz Maher was a middle-class student at the University of Cambridge when he made contact with an extremist imam in the UK. He quickly became radicalized, rising in the leadership of an organization called Hizb ut-Tahrir. But as he matured and began to read the Koran for himself, Maher came to reject the "very radical version of Islam" preached by his associates, says Henry Sweetbaum W'59, founder and trustee of the International Centre for the Study of Radicalisation and Political Violence (ICSR) in London. Not only did Maher gradually pull out of Hizb ut-Tahrir, but he also gave a dossier of information to MI5 that helped to substantially weaken the organization's power in the UK. He is now a senior research associate at the ICSR (icsr.info)as well as an ICSR-sponsored fellowship candidate at King's College London.
Sweetbaum uses Maher's story to illustrate the fact that there isn't a simple nexus between poverty and terrorism. Since 2008 the ICSR has looked beyond widely held assumptions about terrorism—that poverty is a precursor to violent extremism, for example—to identify its sources and possible solutions.
Bringing together experts from diverse backgrounds to counter radicalization around the world has been one of Sweetbaum's chief aims for the center, which he launched with partners from four institutions, including Penn. (A fifth partner, Georgetown University, joined the ICSR in 2010.)
Although the ICSR focuses heavily on Islamic extremism—that being where "today's most significant threat is"—it's not the ICSR's sole reason for being, says Sweetbaum. "We are mandated to look at extremism in all its forms," from religious conflicts in Northern Ireland to emerging far-right movements in Europe and the United States.
Its scholars have examined everything from the radicalization and de-radicalization of prisoners to the ways by which the Internet is used by extremist groups. But Sweetbaum emphasizes that the ultimate goal is results, not papers.
"Just to create a knowledge base isn't sufficient," he says. "Our objective is to ensure that the work we do is impactful and will make our societies safer and help governments to avoid costly and counter-productive mistakes." Sweetbaum was recently given an honorary fellowship at King's College London for his achievements in the fields of conflict prevention and business management.
Two years after graduating from Wharton, Sweetbaum joined his former Penn roommate, the late Saul Steinberg W'59, at Leasco, the computer-leasing company Steinberg had just founded. Sweetbaum served as executive director of Leasco, and when the company acquired Reliance Insurance in 1968, he joined its board. After leaving Leasco in 1969 and moving to London in 1970, Sweetbaum went on to direct several other companies over a four-decade career in business management. He also served on Wharton's Board of Overseers.
While living in London, he became concerned when a British trade union called for university faculty to sever all contact with Israeli academics.
"I believe if there is any group you don't want to ban contact with, it's academia," says Sweetbaum, "because that's probably where the most liberal element of Israeli society is, and second, because the precept of academic life is openness."
Sweetbaum offered funding to the London School of Economics (LSE) and the Interdisciplinary Center (IDC) in Herzliya, Israel, to cooperate on a project that would challenge the boycott. When the LSE faculty turned down his offer, he made a donation to the IDC alone.
Then, in 2005, concerned about the September 11 attacks as well as the London transport-system bombings, Sweetbaum got the idea of holding a conference in London to discuss "how terrorism has ended in different societies and times, and what lessons might be applied in the present." (As an added bonus, the event would provide an opportunity to challenge the academic boycott.) Sweetbaum enlisted the advice and support of Harvey Rubin Gr'74, professor of medicine at Penn and director of its Institute for Strategic Threat Analysis and Response, and Yoram (Jerry) Wind, the Lauder Professor and professor of marketing at Wharton. Then, with the help of Professor Sir Lawrence Freedman, he brought in King's College London (which had refused to recognize the boycott) and the IDC in Israel, which houses the International Policy Institute for Counter-Terrorism.
Finding this mix "somewhat imbalanced," the organizers sought the involvement of an Arab or Islamic institution.
"It took us nine months to find one," Sweetbaum says. "There was a lot of interest among leading schools in the Middle East, but when we mentioned they would publicly be collaborating with an Israeli university, they shied away." Finally the ICSR found a partner in the Institution of Diplomacy in Jordan.
When the ICSR's director, Peter Neumann, and Sweetbaum met with the first four partner institutions, it was "the first time Arab and Israeli institutions collaborated on these issues," he says. Rather than limit their "unique collaboration" to a two-day conference, they decided to form a research center.
The 2008 conference held in London to mark the opening of the ICSR brought together more than 400 people. Attendees included experts in counter-terrorism, several former presidents and prime ministers, the vice president of Colombia, and four former members and/or leaders of extremist groups.
One of the invited speakers was then-US Senator Chuck Hagel (now Secretary of Defense). Rather than slipping out when he finished his talk, Sweetbaum recalls, Hagel told him he would like to stay awhile.
"He said he would probably never be in a room with many of these sorts of people again," Sweetbaum explains. And as long as he was there, he wanted "to get a sense of what makes them tick."
Since 2008, "we have grown very considerably, and the projects and programs we have been involved in are, I think, very impactful and game-changing," Sweetbaum says. "We are, I think, now regarded as one of the leading institutions for countering radicalization in the world."
One of the ICSR's accomplishments has been helping to revise the UK's Prevent strategy for countering homegrown terrorism. According to Sweetbaum, Prevent included the "flawed" approach of providing financial support to extremist groups deemed "less radical" in the hope that "they would learn to love us and be on our side."
"We knew enough of these groups to know they would be very happy to take advantage of the money and turn around and do everything they could to create more young Islamist radicals," says Sweetbaum. With the ICSR's help, the government put together a "holistic and realistic strategy, which has made a significant difference."
Recently the United Nations solicited the ICSR's expertise on the deradicalization of 850 al-Shabaab extremists held in the prisons of Mogadishu, Somalia. (Al-Shabaab was responsible for last year's attack on a Kenyan shopping mall that killed 67 people.)
Prisoner recruitment happens when "they are young and frightened and they really have nowhere to go," Sweetbaum says. "Experienced inmates pat them on the head and give them clean clothes and say, 'Don't worry. We'll protect you. Stay with us and you'll be fine.'" The prisoner is then introduced to other extremists, including the visiting (often radical) imam. On the other hand, he says, "All the things that make it a fertile recruiting ground can also make it a ground for de-radicalization if you run your prisons with that in mind."
To begin with, "prisoners who have committed terrorist acts shouldn't be put in with the general population where they can radicalize others," he says. Prisons must also ensure that imams who work with inmates "are going to be teaching moderate Islam and not the fundamentalist Wahhabi version."
The ICSR came out with a study of prison de-radicalization efforts in 15 countries. In Saudi Arabia, for example, prisoners are given private rooms, Sweetbaum notes. "They teach them trades. They're very respectful of them and they find them wives. Essentially, the Saudi philosophy is, if we encourage extremists back into society and if we give them something of value and they have something to lose, the extremists will be less likely to associate with radical groups."
With a grant from the Canadian government, the ICSR has been studying the foreign fighters in Syria and those who influence and support them. The center has identified two radical imams, including one based in Michigan, whose rhetoric has led people to join Al Qaeda-backed groups in Syria. "ICSR has commented that foreign fighters in Syria are being taught all of the 'wrong skills,' and those who come back into Western societies might well extend the threat of Islamist terrorism by two generations," Sweetbaum says.
He sounds a more optimistic note when he discusses the ISCR's Atkin Fellowship program, which has so far brought together 12 Israelis and 12 Arabs to work and research issues related to conflict resolution.
"What we want to do is create a core of people who are tomorrow's leaders who know each other, who trust each other, and have spent days and nights, weeks and months together, and understand each other's thinking," he says.
After their four-month research fellowships, the participants stay in touch to continue their dialogues. A recent Atkin gathering featured peace talks in which the two groups had to negotiate from each other's positions. One participant, a Syrian reporter living in Jordan, had never met an Israeli until he came to the program. It was "a life-changing experience," he told Sweetbaum.
"This is a senior journalist telling the Arab world about what's going on, who admits he has never spoken to or been exposed to an Israeli before," Sweetbaum says. "The program is designed to break down these walls and create relationships that will be valuable, peacemaking relationships in the years ahead."
—Susan Frith