Postseason Surprises, Hoops and Sabre Edition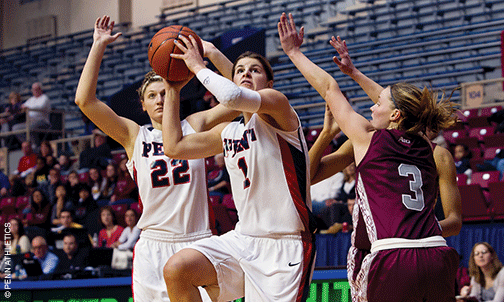 By Dave Zeitlin | When the basketball was in the air, Mike McLaughlin thought it was going in.
It didn't matter that freshman Keiera Ray had to race up the court and heave the ball toward the rim right before time expired, or that she'd let it fly from nearly as close to midcourt as to the three-point line. McLaughlin, the head coach of the Penn women's basketball team, felt confident the ball would find its way through the net and send the Quakers' Women's Basketball Invitational (WBI) semifinal game against the University of Detroit Mercy into overtime. He didn't think the season would end. Not then.
"From my angle, I actually thought it was going to be good," McLaughlin later recalled. "It was straight on from about 23 feet and I thought, 'Oh, here it goes to overtime…'
"Unfortunately that one didn't go our way."
He paused.
"It would have made the story even bigger, I guess."
Even so, the story was still pretty big. For just the third time in Penn women's basketball history, the Quakers played in the postseason. The team received an invitation to the WBI, a relatively new tournament for teams that don't qualify for the NCAA tournament or the WNIT. The Quakers responded by winning the program's first two postseason games, beating Howard in the opening round at the Palestra and then nipping Fairfield by one point on the most dramatic play of the season.
With Penn trailing by two in the final seconds of the March 23rd contest versus Fairfield, junior guard Alyssa Baron—the team's leading scorer and a unanimous first-team All-Ivy selection—dribbled down the Palestra court, created her own shot with a nifty step-back move, and drilled a clutch three-pointer right before the buzzer sounded to send the Quakers into the WBI semifinals. The shot made SportsCenter's Top 10 Plays and was one reason McLaughlin thought Ray's buzzer-beater would also go in just a couple of days later; his team just seemed to have a little bit of magic on its side.
"I think they'll remember that for a long time," McLaughlin said of Baron's game-winner. "I think that's just the value of the postseason. To feel that is what's special about sports. Just to watch them jump around and feel that moment, it's a validation of a lot of things."
While the women's postseason accomplishments were both memorable and historic, the Quakers still came up short in their ultimate goal of winning the Ivy League, with rival Princeton capturing the crown for the fourth straight year and advancing to the NCAA tournament. By finishing in third place, Penn (18-13 overall, 9-5 Ivy League) also just missed out on an automatic berth to the WNIT, which goes to the Ivy's second-place team (Harvard).
But there was never any trepidation about accepting an invitation to the lesser- known and less-prestigious WBI, in part because of where the Quakers had been. Just three years ago, in McLaughlin's first season at the helm, Penn went 2-26 overall and finished last in the Ivy League. Since then, with McLaughlin reeling in big-time recruits like Baron, Ray, and sophomore Kara Boneberger, the team has steadily climbed up the Ivy standings. And buoyed by their postseason success and growing confidence, the Quakers believe they might finally be in position to unseat powerhouse Princeton in 2013-14 and win their first Ivy League championship since 2004.
"Coach was just saying in the locker room that a couple of years ago, we were at the bottom of the league and now we're close to seeing the top," Baron said following the Quakers' 60-44 loss to Princeton in the regular-season finale—a game in which Penn erased an 18-point deficit before losing to the rival Tigers for the ninth straight time. "That's definitely something to look forward to next year. They've been on the top the past four years now. Next year they're going to have to look out for us."
Seeing all the way to the top is considerably more straining on the eyes for the men's basketball team, which finished in fifth place in the Ivies with a 6-8 record (9-22 overall), failing to capture the league title for the sixth straight year after winning five titles in the six years before that.
But following the Quakers' season-ending loss to Princeton on March 12—in the nightcap of a men's/women's hoops doubleheader at the Palestra—there seemed to be a sense of hope and optimism, similar to that of the women's team.
"I thought toward the end of the season, for the most part, the guys improved defensively," head coach Jerome Allen W'09 said, between bites of a peanut butter sandwich. "I think, as the season progressed, the team itself started to take its shape as far as who were going to be our primary scorers and who were going to be the catalysts defensively to set the tempo.
"But, at the end of the day, the standard here is to win championships," he added, as he often has throughout his four-year tenure. "One thing I'm not looking to rest my hat on is progress."
While Allen is the kind of coach who hates the term "moral victory" and, as he later noted, "refuses to allow anyone to put limitations on what we can accomplish," the truth was that these Quakers were expected to take a step back this season after graduating most of their top players from their 2011-12 team, including Ivy League Player of the Year Zack Rosen W'12. And they certainly met those expectations, beating only lightweights UMBC, Binghamton, and NJIT in the non-conference portion of their schedule, before splitting every Ivy League weekend and losing twice to Princeton.
But the Quakers, who had no seniors and fielded one of the youngest teams in the country, did show glimpses of potential, most notably with their upset of Harvard on March 2, just a couple of weeks before the Crimson won the Ivy League and then a game in the NCAA tournament. And two of Penn's freshmen—guard Tony Hicks and center Darien Nelson-Henry—emerged as the team's top scorers behind juniors Miles Cartwright and Fran Dougherty (who was limited to just 13 games because of mononucleosis and a dislocated elbow). A nucleus made up of those four players next season, along with other now-seasoned players and a highly touted recruiting class, could mean, just perhaps, that the Penn men's team is on the way back up.
"It never feels good to lose, but this season kind of gives me a little bit of hope, seeing the potential that we have," Nelson-Henry said. "We had some good wins and we've had some close games. Seeing what we can do does give me confidence going into next season, considering that we'll have the same team."
Penn Junior Captures Fencing National Championship
In the semifinal bout of the men's sabre competition at the 2013 NCAA Fencing Championships, Penn junior Michael Mills fell behind, 14-12, to Penn State's Adrian Bak. That meant that one more touch from Bak would eliminate Mills from title contention and cause him to leave San Antonio on March 22 with a gut-wrenching loss.
What was going through the Penn fencer's mind at that point?
"There was a moment when I was a little bit worried, because I wasn't 100 percent sure what to do," Mills said. "But then I looked at [Penn head coach Andy Ma], and took a deep breath, and decided."
What he decided was to be more aggressive and make a few riskier decisions. And what followed were three straight touches, a thrilling 15-14 victory, and a spot in the national finals, where he defeated Shaul Gordon, also of Penn State, 15-9, to become an NCAA champion.
The individual national title was the first for a Penn fencer since Olympian Cliff Bayer W'03 WG'03 did it in 1997, and the first in sabre (one of the three fencing weapons, along with épée and foil) since Paul Freidberg W'81 ChE'81, a member of the inaugural class of the Penn Athletics Hall of Fame, captured back-to-back crowns in 1980 and 1981.
"I can't even put it into words," an overwhelmed Mills said a week later. "My team was so happy for me. My coaches were happy. I went to my phone and everyone was texting me and sending me Facebook messages. It kind of hit me how big of a deal it was."
Mills said he was surprised so many people he knew watched his NCAA bouts, which were streamed live on ESPN.com. He later found out his Zeta Beta Tau fraternity brothers gathered in the chapter house for a watch party and even shot their own video of everyone celebrating Mills' championship.
Mills was also partially surprised he made it that far because, he noted, there's "a bit of randomness" to national tournaments. And despite having the advantage of being 6-foot-5 ("My reach makes a big difference," he said) and boasting a strong fencing pedigree (his father fenced at Columbia and his older brother at Princeton), he failed to finish in the top 15 in either of his first two seasons at Penn.
Next season, as he prepares to defend his national title as a senior, he knows he won't be able to come out of nowhere again.
"This year in general people underestimated me because I hadn't shown the results in the past few years," Mills said. "I hadn't reached my potential. This year I was taking things more seriously. I had a mental change. I got into a little better shape. People didn't realize I was fencing at a much higher level this year, and I think that gave me a little bit of an advantage. But I guess next year coming in, I'll have a bull's-eye on my back."
---
Dave Zeitlin C'03 writes frequently for the Gazette and oversees the magazine's sports blog.