Postlandia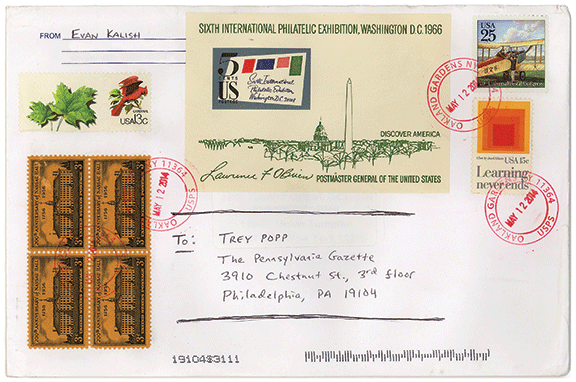 By Evan Kalish | What do a former leper colony in Hawaii, the community of Supai on the floor of the Grand Canyon, and 580 Fifth Avenue—a building packed with jewelers in the heart of Manhattan's Diamond District—have in common? Each possesses a United States Post Office. With roughly as many post offices as there are domestic Starbucks, McDonald's, and Walmart locations combined, the US Postal Service is everywhere.
And that's just the way it should be.
America's postal system is older than the Declaration of Independence. Benjamin Franklin established our first non-imperial post office in Philadelphia in 1775, with the blessing of the Continental Congress. Our founding fathers recognized the value of a postal network that enabled the unobstructed exchange of ideas. This belief is enshrined in Article I of the Constitution, which places the tax-financed establishment of "Post Offices and post Roads" right alongside Congress's authority to coin money, issue patents, and declare war.
Despite frequent reports to the contrary, the Postal Service's operations are not hemorrhaging money. The Postal Accountability and Enhancement Act of 2006 ordered that the USPS pre-fund 75 years of pension obligations and worker's compensation over a 10-year span, resulting in a crushing annual liability of $5.5 billion that no other comparable institution must bear. In fact, if not for that singular burden, the USPS would have had a net income of slightly more than $1 billion in the first two fiscal quarters of 2014—which is surely proof of the vitality of its core function.
Since 2008, I've photographed and obtained postmarks from nearly 6,000 post offices in 49 states. I've found them to be great windows into the communities I've visited. Many post office buildings are historic and photogenic unto themselves. Inside, long-serving postmasters can often tell you a great deal about the communities they serve. A postmark from these places is an inexpensive souvenir, documenting where you were and when you were there, and it takes up far less space than a T-shirt.
Pennsylvania has more active post offices than any other state aside from New York (which has just two more), owing to the early development of the state's urban centers, clusters of Appalachian coal mines, strings of inland river communities, and comparatively dense regions of farmland. The diversity of these backgrounds led to an immense variety of post offices: everything from the old Philadelphia General Post Office—whose location by the Schuylkill River enabled the processing of mail arriving by truck, train, boat, and even aircraft that landed on the roof—to a room in the side of a postmaster's home.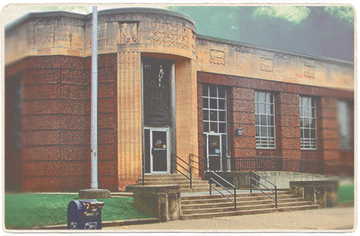 One of my favorites is in Milton, Pennsylvania. Every detail that makes this 1934 building a standout had to be meticulously fought for by local officials determined to honor their town by building it a post office that would be "superior to that of any town in the country comparable in size to Milton."
According to an information display across the road, architect Henry Sternfield specified the use of "custom made bricks, a quarter inch larger in all dimensions" throughout the building to enhance its grandeur. The P.O. Department balked at that, but gave in to several other design requests—such as the hand-carved stones on the parapet depicting the history of the postal service (personally paid for by local civic leader Walter Wilson), and a monumental plaque over the entrance featuring a map of Milton and the west branch of the Susquehanna River. It's an exemplary illustration of what post office branches have meant to communities since our nation's founding.
Hye, Texas, is an unincorporated community an hour west of Austin by car, and its post office is as historic as the community is small. Lyndon B. Johnson was recorded as having mailed his first letter here at the age of four. The future President would later hold P.O. Box number 276. Less of a national household name, but certainly a local one, was Postmaster Levi A. Deike, whose 62-year tenure here (1934 to 1996) placed him among the longest-serving postmasters in US history.
You need not be historically inclined to enjoy the post office in Hye; the recently restored 1904 false front is truly stunning. Skid marks testify to the sudden desire of passing drivers to stop short and whip out their smartphones for a snapshot of the red, white, and blue Bavarian metalwork façade.

Once an established logging community, the blink-and-you'll-miss-it town of Bridal Veil, Oregon, is situated just three miles down the Columbia River from the state's most popular tourist attraction: Multnomah Falls. Its sawmill gone and its historic houses demolished, the only remnants of Bridal Veil today are its cemetery and rustic wood-paneled post office. But it's the Bridal Veil postmark that continues to keep the town's identity alive: every year, couples submit their wedding invitations specifically to the Bridal Veil post office to receive its special pictorial postmark.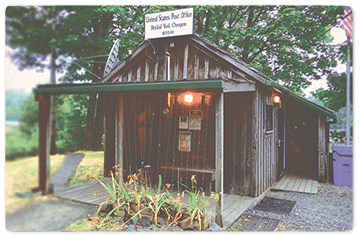 The Post Office helped to establish the identities of tens of thousands of communities across America. They continue to serve not just as repositories for mail, but as nexuses of their communities' social fabrics. When a town loses its post office, its identity often vanishes with it. And when this occurs its residents must cope with the revelation that their beloved century-old community has been relegated to a geographic footnote.
---