Playing at High Speed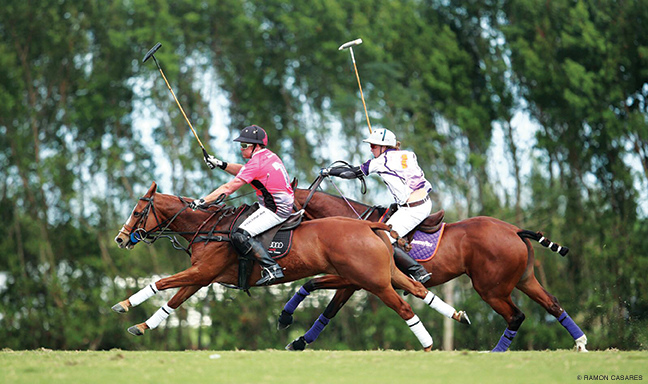 Class of '93 | It was back when he was building his early companies in mobile-communications infrastructure that Marc Ganzi W'93 first fell for polo. But it took a while for that infatuation to become a full-blown passion.
In those days—the late '90s, when he was in his mid-20s—he didn't have time for a hobby, especially one that required buying and transporting horses, flying around the world to play in tournaments, and hobnobbing with the British royal family. Having just taken his first company public—Apex Site Management, which built cell phone antennas—he was already working on his next project: Eureka Broadband Corporation, which brought high-speed internet to office buildings in major cities across America. In the next decade he would start four more companies, including Global Tower Partners and DB Capital Partners, that did everything from building cell towers to acquiring highly secured data centers, all operations that made mobile phones operate more efficiently.
But then a friend introduced Ganzi and his wife, Melissa Potamkin Ganzi C'91, to polo. Soon they were putting together their own collection of ponies and playing as often as they could get to a polo field. Before long they were getting invitations to play alongside British royals Prince William and Prince Harry, captain Team USA, and compete in the most prestigious tournaments around the globe. They also started two of the largest and most renowned polo clubs in the United States: the Aspen Valley Polo Club and the Grand Champions Polo Club in Wellington, Florida.
Ganzi "can't do anything halfway," says David Blitzer W'91, a Blackstone executive and friend who has known him since the early days of his polo passion. "He has beyond-boundless energy. He's a force of nature."
Thirty years later, with his businesses going strong, Ganzi shows no sign of slowing down.
"I've had so much fun starting businesses, and I've had so much fun playing polo," he says. "I instantly fell in love and knew that's where I wanted to be."
Growing up, Ganzi was surrounded by entrepreneurship and horses. He watched his father, Wally Ganzi, take one restaurant and turn it into The Palm, a chain of 27 high-end steakhouses. "I got to sit front and center to my dad going from 100 employees to 2,600 employees," he says, "and from $5 million in revenues to over $150 million in revenues."
His father used some of his profits to buy a dude ranch near Aspen, where the family raised horses and ran a couple hundred head of cattle. He also sent his son to Thatcher Boarding School, where every student had to care for horses. "The connection to horses kind of continued from there."
During his four years at Penn, Ganzi tried to indulge his father's dream of his son taking over the restaurant business by working at The Palm in Philadelphia.
"I was pretty good as a bus boy," he says. "I was not that great in the kitchen. I was a horrible bartender."
What excited him as an undergraduate was the prospect of starting his own empire. He remembers a management class he took with the late Myles Bass where the professor wrote the word JOB on the drawing board in big, capital letters and declared it the enemy of the entrepreneur.
His own entrepreneurial journey began when he joined Apex Site Management, then a tiny startup. What excited Ganzi wasn't the antennas it manufactured but the opportunity to build infrastructure around a new product with unlimited potential: cell phones.
"Once I got my mind around mobile communications and how it was going to change the economy, I knew for the rest of my life I would want to be involved." In 1999 he became president of the company and took it public.
By then his next company, Eureka Broadband, was installing high-speed internet in skyscrapers in New York, Philadelphia, Boston, and Los Angeles. In 2003 he moved to cell phone towers, starting Global Tower Partners, which sold for a cool $5 billion. In 2013 he launched similar operations in Mexico, Colombia, and Peru. Two years later, drawing on his new investment company (Digital Bridge Holdings), he oversaw the building of 18,000 tiny cell phone towers that could be placed on city streets and in casinos, airports, and shopping malls.
Digital Bridge recently added data centers to its portfolio.
"The only thing we were missing was the place where the internet was stored, so we started acquiring highly secured data centers," he says. "It's incredibly exciting. Every day is different. How do you keep Google happy? How do you keep Verizon happy? Where is Facebook going to grow its real estate footprint? Where is Amazon going?"
With capital to spare, the Ganzis started getting involved in the pricier aspects of polo. Instead of buying or renting polo ponies to use during games, they bought a farm to breed 15 to 20 horses a year. They acquired large pieces of land in Aspen and Wellington to set up their own polo clubs—which have proved to be good investments.
"These polo clubs require a lot of land, and it's a good place to park capital," says Ganzi. They also allowed the couple to control the quality of polo in their hometowns.
It was important to the couple that their polo clubs were family-friendly and inclusive. Their two teenage children love the sport, and the Ganzis wanted to provide the same opportunity to others. Both clubs offer free clinics and scholarships, and each time they host a championship, they raise money for charities like the YMCA in Wellington and the Aspen Valley Education Foundation in Colorado.
The Ganzis also participate in the flashier side of the sport, using their clubs to host prestigious events and flying to places like St. Moritz to cavort with the likes of Nacho Figueras (the face of Ralph Lauren), his model wife Delfina Blaquier, and Malcolm Borwick, captain of Prince Harry's polo team.
Ganzi also secured the rights to host the World Snow Polo Championship at his Aspen Club. For the past five years, players from all over the world come to this picturesque town to compete with each other on a snow-covered field, while a well-dressed crowd, huddled in stadiums and drinking Scotch for warmth, cheers them on. The after-parties are the stuff of legend.
Ganzi cheerfully admits that he revels in this scene.
"It's kind of fun because it's the last stop on the tour, and it's a great way to end the season, and all the top players come," he says. "Because why not? It's a week in Aspen, and it's very magical. We have a great time."
—Alyson Krueger C'06