Peter Whinnery Is Packing Up Shop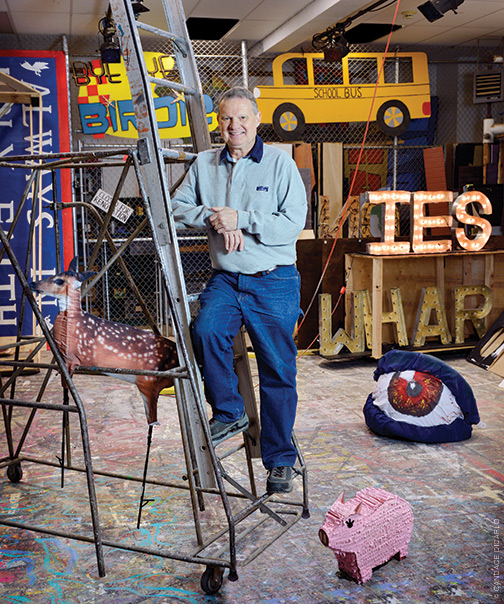 Curtain call for the set-building guru behind hundreds of student productions.
---
It's one o'clock in the morning on a Saturday in November, and Peter Whinnery is watching students rip aluminum tape off a makeshift coffin. The students, all 30-plus of whom have spent the semester working on the Penn Players' production of Heathers: The Musical, are incredulous that they've finally arrived at every production's mortuary ritual: striking the set. In sleep-deprived, post-show giddiness, they drill out screws, unhinge wood flats, throw out scraps, fold up costumes, shelve props, and maybe keep a stray memento. Whinnery is overseeing it all but lets the producer and tech director—students as well—take charge. It's only a matter of time before they start redirecting questions to him.
"Ask Peter," someone will inevitably say. "Peter knows."
"It's one of the things that's gonna be hard for the next person that has this job," says Whinnery, who's retiring from his position as technical advisor for Student Performing Arts in the spring. "I just know. I mean, I've been here for 36 years, so when someone says, 'Do you have X, Y, or Z?' it's like— 'God, we used to, let me see if I can find that thing.'"
The Performing Arts Council wood shop can be an overwhelming space to navigate. lt occupies the second floor of a building whose ground level serves as an apparel store for the Restaurant School at Walnut Hill College, on 4lst Street between Locust and Walnut. Whinnery helped design the space after the previous shop in Irvine Auditorium was closed in 1997, and he thought of everything. The shop has a ramp and an elevator to bring set pieces up and down. There's also a props closet, two costume rooms, a furniture room, a tool shed, and a wide, paint-splattered floor.
Whinnery has been working with his hands since childhood. His father owned a small woodworking factory in Michigan, and he learned how to use tools early. Whinnery was introduced to theater through an elective course while majoring in math at Albion College. The following summer, his professor called him up from Interlochen Arts Camp. The entire staff had gotten mononucleosis, and they badly needed someone to work at the shop: Would he be willing to take the job?
"It was room and board and 150 bucks for a month," Whinnery recalls. He was working in his father's factory at the time. "I said, 'You betcha, I'll be there tomorrow."
In 1982, after a master's program in Technical Theatre and Design at the University of Michigan, he came to Penn. Whinnery assumed he would stay in his first job until something better came along. "And the better came along here," he says.
What started as a nine-month gig supervising the shop in Irvine would turn into a 36-year career. Whinnery has aided student productions, taught three classes as a lecturer in theater arts (on lighting, scene, and costume design), and built relationships along the way. In particular, Whinnery is a close friend of InterAct Theatre founder Seth Rozin C'86 ["Profiles," Jan|Feb 2003], with whom he has worked on 46 productions.
Thanks to InterAct, Whinnery says he's enjoyed being able to pursue his original aspirations as a professional designer. That was one of the things he missed the most in the early days of his job, when he realized that being a supervisor wouldn't allow him to design on behalf of the students. Nowadays, Whinnery works as a designer across the Philadelphia area while staying busy with the demands of his Penn position, which are considerable: this Fall semester alone, there have been 21 PAC-funded productions, eight of which required a fully built set. In the Spring, there are usually even more.
Whinnery says the performing arts community has exploded in the time he's been here. Somewhat at variance with his own philosophy—"just do one or two things well, instead of a dozen things half-assed"—Penn students keep ramping up the number of shows they do every year. So the demand for tech keeps expanding, and Whinnery helps students to stay afloat.
Their ambitions sometimes meet with the crusty skepticism of one well-versed in the gulf between dreams and practicality, but Whinnery likes the enthusiasm. He understands why newer undergraduates are so eager to try their hands at everything. As a professional designer, he's familiar with the pressure of looming deadlines and tries to pass on the modus operandi taught to him by his father: "Make it good enough for who it's for." In other words, if the group you're designing for doesn't care what it looks like, there's no need to sweat the details—it'll be gone in a week. Whinnery observes that this is something students tend to figure out themselves over their four undergraduate years, as they narrow their focus and learn how to manage their projects. And groups that put their souls into their productions can count on Whinnery to respond. He takes some pride watching "tenderfoots" who come in stressed and clueless emerge knowledgeable and self-assured, ready to wield a circular saw and teach others how to do it too.
So Whinnery never says no. Joshua Slatko C'00, the business manager of Mask and Wig Alumni, was a member of the stage crew during his undergrad days. He remembers a set he designed senior year, which featured a ship that looked like it had crashed into a rock. The final set spanned Iron Gate Theatre's entire stage. "A lot of people would've said, 'You're out of your mind," says Slatko. "Peter said, 'It's a great idea, and here's how you do it.'"
"It really is learn by doing," says Whinnery. "You're not gonna know what it looks like until you actually put it together, and paint it, and put it on stage.' Behind-the-scenes work offers opportunities for personal growth, and for things to go wrong. Whinnery calls it "community building by disaster"— like when a set is too big and the production staff has to try to tetris the unwieldy pieces through the door, or when the paint isn't delivered on time and it's all-hands-on-deck to get the set done by opening night.
"You can talk about big concepts—he certainly understands it," says Rozin of InterAct. "But what he wants to know is: What does it look like? It really comes down to something simple."
Whinnery jokes that his whole life has followed the theater cycle: you build something up, you strike it down, and then you start all over again the next semester. So in that way, he's been practicing retirement every summer—and this time, as usual, he's planning to keep things simple. But Slatko, who's helping to organize Whinnery's retirement party during Alumni Weekend, is planning to "make as big a deal of Peter as he'll let us." After all, it should be good enough for who it's for.
—Meerabelle Jesuthasan C'19