Penn Masala Nails Perfect Pitch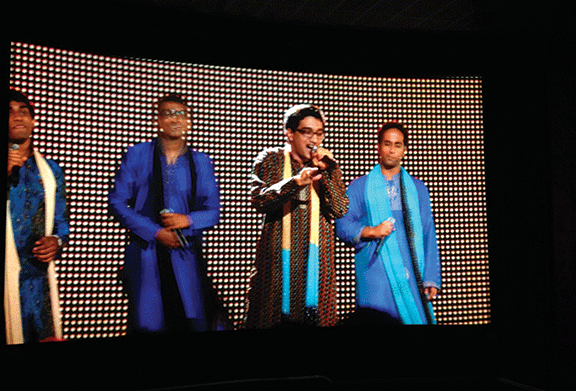 Weeks before it hit movie theaters, Pitch Perfect 2 hit Penn.
First the Social Planning and Events Committee held a screening for students. Then there was another preview—a suit-and-tie affair with Comcast CEO Brian Roberts W'81, Penn President Amy Gutmann, and Elizabeth Banks C'96, the film's director/producer. Both audiences had the same reaction when a familiar campus group appeared on screen: they screamed, clapped, and cheered. They had spotted Penn Masala—the University's all-male Hindi a cappella group.
By mid-May, thanks to Banks and her husband (and co-producer) Max Handelman C'95, the student a cappella singers found themselves appearing in the country's No. 1 film and singing on Billboard's No. 1 album.
"We're just really happy and humbled that we got this chance," says Chetan Khanna C'16, Penn Masala's current president.
"It's all pretty surreal," adds Prashant Ramesh EAS'16, the group's music director. "But obviously it's been an amazing ride."
The ride began in the spring of 2014, jumpstarted by a Facebook message from Deke Sharon, the arranger and music director for the first Pitch Perfect movie and for The Sing-Off. Given his legendary status in the a cappella world—he's been called the "father of contemporary a cappella," among other plaudits—the Penn Masala members at first thought it must be a joke. They couldn't imagine Big Hollywood People using Facebook to cast a movie. But it was indeed a serious offer. Sharon told The Daily Pennsylvanian that he had recommended them because they were "the biggest, best American South Asian a cappella group," and Handelman told People magazine that he and Banks thought Penn Masala "would be great to feature" in the sequel. So the singers grabbed their pitch pipes and got to work.
They would play a singing group from India, one of several international teams competing in the film's a cappella world championship. They would also be the only real-life college a cappella group in a movie about college a cappella groups.
That May, in the middle of final exams, the group recorded in a Philly studio with Sharon. Though Penn Masala usually sings Western/South Asian mash-ups, for Pitch Perfect 2 they belted out Journey's "Any Way You Want It"—entirely in Hindi. On top of translating the lyrics, Sharon asked them to add a few of their own twists.
"We tried to put in sounds and elements of a cappella that American audiences might easily recognize as Indian," Khanna says. Much of that came from Hariharan Ravi W'17, who sang lead on the track and turned a wailing guitar solo into a sky-high vocal feature.
With the recording complete, 11 guys from the group headed to Baton Rouge last June to join the Pitch Perfect 2 set for a few days—er, nights. (Filming started at 5 p.m. and continued through sunrise.) In front of cheering extras, they stood on stage and performed their song over and over—between 10 and 15 times, according to Ramesh.
"We were honestly just on an adrenaline rush any time we were on that stage," he adds. "The extras made it feel like we were at an actual competition, performing on a real stage for a real crowd."
As director, Banks offered advice and encouragement. "She said, 'This is what we're trying to do; don't be stressed, don't be nervous, just go on stage and do your thing,'" Khanna remembers. "She knows what she wants and clearly has a great eye for scenes."
Almost a year later, as he sat in the Rave theater at 40th and Walnut streets, Khanna was nervous. What if Penn Masala's moment had been cut from the movie? What if they flashed across the screen so quickly that no one even recognized them?
As he waited for the world-championship scene, his heart was "racing," he remembers. "I was getting real worked up." Finally, the "Any Way You Want It" montage started, stitching together several groups' renditions of the song. No sign of Penn Masala at first—then suddenly there they were. "I was super happy, super excited," Khanna says.
They'd hoped to hear their actual group name in the movie, but instead were introduced as the punnier Naan Stops. But when the credits rolled, Penn Masala was among them, as was each member's name—which means they'll all have IMDB credits for what turned out to be a very respectable film. On its opening weekend in May (with a number of Penn Masala members on hand for the world premiere in Los Angeles), Pitch Perfect 2 made $70 million—well above predictions, and $25 million more than the No. 2 release that week. It was a rare case of a sequel out-performing its original, and of an offbeat film besting the usual summer action fare. Given its success, predictions for a Pitch Perfect 3 are already flying.
—Molly Petrilla C'06