On Top of the Baseball World
On November 1, the Houston Astros defeated the Los Angeles Dodgers in Game 7 of the World Series to conclude one of the most thrilling Fall Classics of all time.
It was the first-ever championship for the Astros, who got to that point thanks to the shrewd rebuilding efforts of general manager Jeff Luhnow W'89 EAS'89, who was profiled by the Gazette back in 2013 when the club was coming off its second straight season in which it owned the worst record in the Majors.
But there were a couple of other Penn alumni in the Astros organization that got to celebrate the unlikely title. One of them, Derek Vigoa C'12, came to the Astros prior to the 2016 season as their Spanish translator before becoming their manager of team operations this year.
Recently, the Gazette spoke with Vigoa about what it was like to be part of a World Series champion and how playing baseball at Penn — he was the Big 5 Rookie of the Year in 2009 — helped set him on his career path. Here's the interview, condensed slightly:
So how does it feel to be a World Series champion?
It's kind of a weird thing. First of all, it's great. Second of all, you play baseball your whole life and you kind of envision a World Series and you dream about it as a kid. And I got to experience it in a totally different way that I ever dreamed of. But it was very special nonetheless. It feels wonderful — a little different than I dreamed of as a kid but very special.
Take me through the playoffs. What were some of the most memorable moments from your vantage point?
My vantage point is always a little interesting because I'm bouncing around everywhere. I'll be in the stands for a little bit, then I'll be in the clubhouse, then I'll be running around either with our owner or our GM in their suites or their seats.
I remember being in the clubhouse when Alex Bregman hit the home run against the Red Sox, off of Chris Sale. We were all watching, the pitchers who had thrown in the game already, guys who weren't in the game, all huddling in the small Fenway Park clubhouse, watching the game on the screens. And as soon as he hit it, we all erupted. After that game is actually when I had my first champagne shower experience, which was something else. You're with these guys the whole year and in that special moment when we beat the Red Sox at their place, and came back from being down, we celebrated with champagne. Those are memories I'll never forget.
I'll never forget Game 5 of the World Series when we were facing Kenley Jansen in extra innings and the whole game instead of being in my office in the clubhouse here in Houston, I was walking around. I even went to my car in the parking garage. I closed the door and I couldn't watch. I was too nervous. I finally decided to walk around the concourse a couple of times and I was right behind home when Bregman hit that walk-off hit against Jansen to win Game 5.
Were you right down there getting a champagne shower in the clubhouse after the World Series win?
The World Series win was a little bit unique. Yes, I definitely got involved in the champagne and the celebration because it's essentially a culmination of nine months leading up to that day. I was part of it but it was also very hectic because all of our minority owners, our owner Jim Crane, all of our executives were there. I was kind of worried about making sure everyone gets on the field for the broadcast, making sure the family members of players can make it down, making sure the owners can make it down to the field, and making sure we can get back to the hotel for the celebration there. So it was a mix between celebrating and planning all the logistics around it.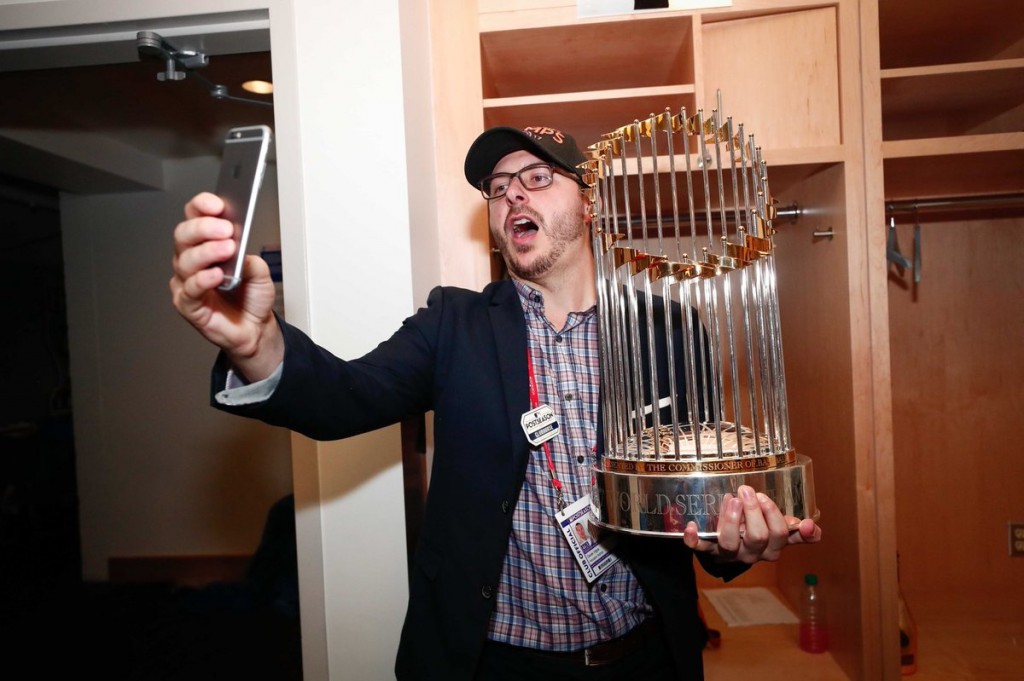 So I guess you kind of just touched on this but as the manager of team operations, what's your day-to-day role with the club?
It's multi-faceted. Essentially I oversee anything that has to do with our travel and day-to-day operations. Making sure all of our charter flights, all of our buses, all of our trucks, all of our equipment, individual players, get from place to place. With each roster transaction we do, it's making sure our players get to the stadium on time. It's a little bit of a unique situation since in baseball there's a game essentially every day. If you have an injury or something happens to a guy, you need to get the next guy to the next city or wherever we are as quickly as possible.
And it got a little more hectic in the playoffs because it expanded to not only players, coaches and staff but basically making sure all of our ownership is squared away and they can be there and they're traveling with us, as well as the family members of players.
The Astros general manager, Jeff Luhnow, is a fellow Penn grad of course. Is one of the reasons you're there with the club or is that just a nice coincidence?
I'd like to say it helped me get in here. When I decided I wanted to get back into baseball, I had a teammate from Penn who was working in the Astros organization [2011 Ivy League Pitcher of the Year Paul Cusick C'11, who's no longer with the club], and he told me they had this role as a Spanish translator. And one of the things I did to interview for that role was fly all the way from a business trip in Nashville to Kissimmee, Florida to Spring Training to meet Jeff Luhnow. I had a breakfast with him. Jeff's fluent in English and Spanish so we had a normal conversation; he asked me a few questions about my background and my experience at Penn. He has a daughter who goes to Penn right now. So the connection is strong. When you experience something that's similar that we both recall with such fond memories, it's definitely something you can bond over. I'd like to think having a similar experience and also understanding how hard the education is there and what you have to do to go through, it was kind of a barrier of entry in Jeff's eyes in hiring me. Well if you can get through Penn, you're not gonna screw this up too bad.
And I noticed there's another Penn grad with the Astros — Samir Mayur C'02 WG'09, the director of business development?
Yeah he's the other Penn guy within the organization. He's been a little bit of a mentor for me as well. I picked his brain along the way a couple times. When we've had the Penn Club of Houston come to Minute Maid Park to attend a game and talk to Jeff, myself and Samir, we always do a quick presentation of who we are and what we're doing in the organization. It dropped one with Paul leaving but we hope to get some more in here!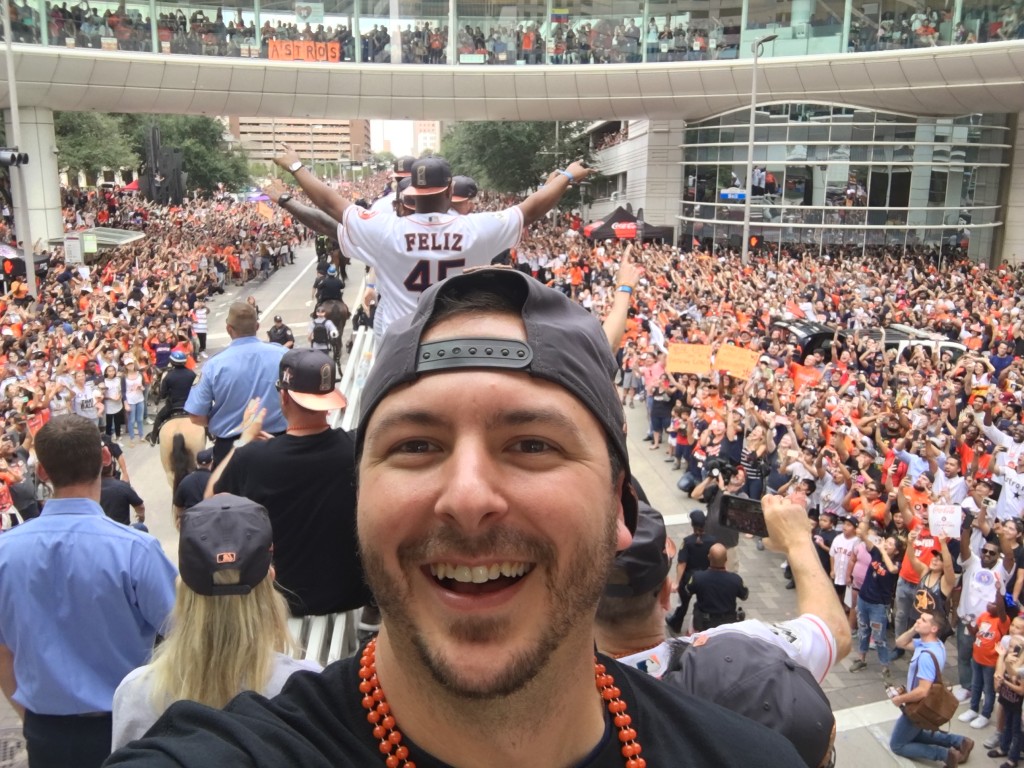 Yeah I was going to say you have a nice little Quaker family down there with the Astros — is that a pretty cool thing?
Yeah, totally. You know what's cool? The Penn Club of Houston, every time we have an event at Minute Maid Park, the turnout is great. We get about 30 or 40 Penn grads to attend the game and talk to Jeff, Samir and myself. That's a common bond that no matter where you are — I'm from Miami and moved to Houston two years ago — you still find people that have shared a similar experience with you.
Jeff Luhnow is someone who's been getting a lot of buzz for good reason, for bringing the Astros from the bottom of baseball to the top. From your perspective, knowing him better than most, what kind of executive and what kind of person is he?
One thing that I think I always admire about Jeff is, with everything he does it's not on a whim and it's not gut feel. It's very well thought out. It's always with a plan, always with a strategy, and he arms himself with as much knowledge as possible before making any decision. With his engineering background, he's always trying to find a solution, trying to find the most efficient way to get to a certain goal. I think Jeff arms himself with differentiating opinions and he always has a plan in everything he does. So when he does make a decision, it's not because he's going on ego or going on gut. It's very well thought out and I think that's the best way to handle a game with so much variance. You make sure you don't get emotional, you don't make decisions based on emotion but rather as much information as you can gather. That's one of his greatest qualities and why I think he is where he is right now.
What was it like for you playing baseball back at Penn?
One thing I would take away from it is all the friendships I made. That's really what it's about. I would say almost all of the guys I played with I still talk to and a lot of them helped me get to the point where I'm at, whether it's directly with telling me there's a job opening or indirectly with advice along the way. That part's really cool. I think also guys who are able to get by with succeeding on the field and also balancing the whole education side of things, I think that translates to success in the job market in the real world — after you graduate the best four years of your life, essentially.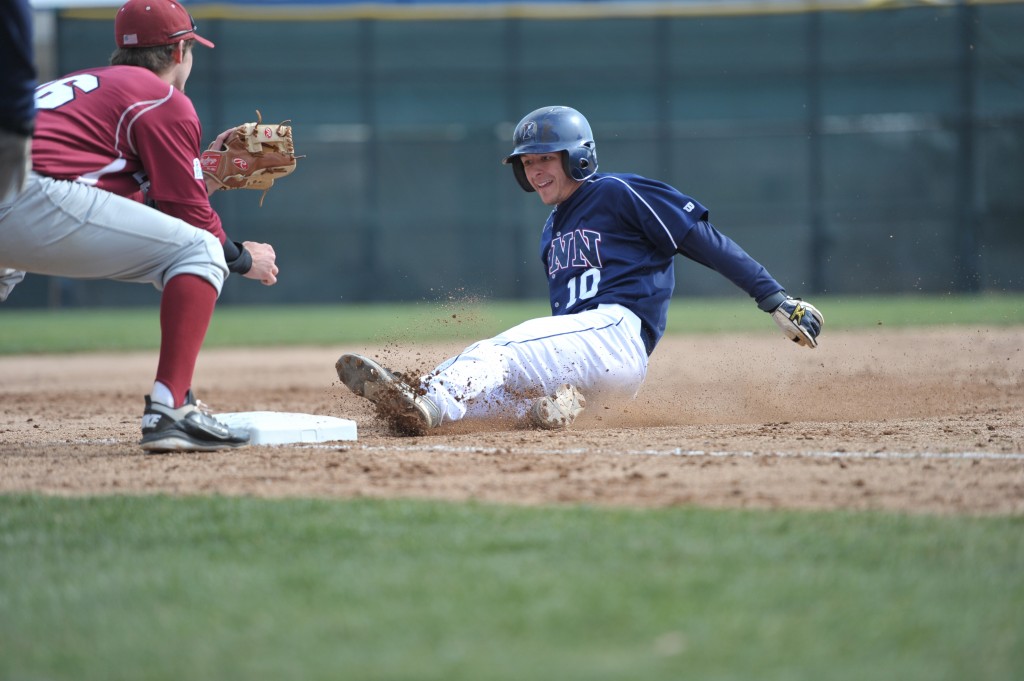 You worked in consulting right after college. What made you want to get back into baseball?
That's an interesting question. I did sponsorship and business consulting in a sports sector for four years prior [with Wasserman Media Group], so I wasn't too far away from the sports side. I've always had a passion for the game and I had a passion for getting closer to it. I think I was in a situation where I wasn't sure what my next step would be and I always had a feeling that I wanted to work in baseball and didn't know when the right time was. MLB created a mandate where all teams have to have a bilingual translator on the team, which was a good entry point for me to just be like, 'Well, let me give it a shot and see how it goes and see where it takes me. If not, I can always go back to business school or find another next step.' So I took a leap of faith and after eight months of being a part of the organization, I took this role. And a year after that, I'm part of a World Series championship organization. Some guys have worked in baseball for years and never reach that, so I'm very fortunate to have a little bit of luck on my side.
What are some long-term goals for you in baseball? Have you thought much about the future?
My old boss at Wasserman Media Group taught me: don't let your constant trying to figure out what you're gonna do down the road mar you from enjoying the present and focusing on the present. But long-term goals, I'd love to go back to business school at some point in my life. For the next year or two, I definitely plan on being with the organization and helping everything run as efficiently as possible and being a part of this team that has the chance to do a lot of special things. Me personally, I think business school will be on the horizon. If not, I'm always open to kind of figuring it out as I go along. I don't think a set path or anything like that is on my mind right now.
And maybe one more championship next year?
I mean, it hasn't been done back-to-back for a while. It's very hard to do. There's so much variance in the game and it's emotionally draining to do it back-to-back. But with the group of guys that we have, not only the quality of their character but their raw talent, I wouldn't be shocked if this team continues to have a lot of success over the next couple of years.
— Dave Zeitlin C'03