Monument Man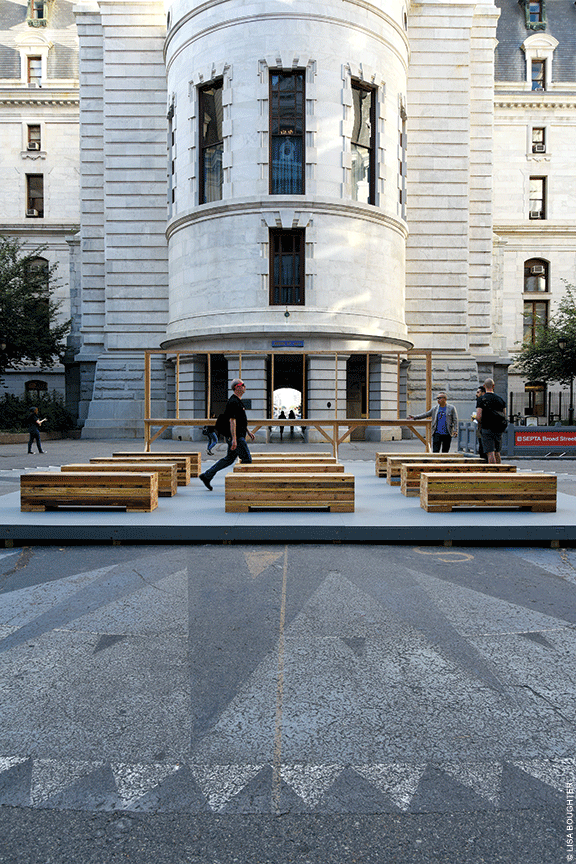 Philadelphia has a bell, a ghost house, a clothespin, and a city founder with a, er, distinctive profile atop City Hall Tower. It has an abundance of bronze men sitting atop bronze horses; it has Rocky and a whole lotta LoVE. But are any of them the right monument for the Philadelphia of today?
Ken Lum, professor of fine arts and director of the department's undergraduate program, doesn't think so. "I've often wondered if there's a hierarchy for who gets which kind of commemoration, like a statue or a plaque," he says. "That got me thinking about creating some sort of a festival of ambivalent markers or negative histories."
Lum, along with Haverford College faculty member Paul Farber C'05 and A. Will Brown, a curatorial assistant at the Rhode Island School of Design's Museum of Art, organized Monument Lab, a citywide exploration of the limitations and opportunities in creating relevant urban memorials. For Farber, the timing was perfect.
"Right now, Philadelphia is in the middle of two very strong narratives," he said when introducing the project in May. "All around us, there's an immense amount of new construction. At the same time, the city continues to face profound challenges and crises."
Funded by the Pew Center for Arts & Heritage, the Lab ran from May 15 through June 6 out of a shipping container set up in City Hall's courtyard. It incorporated both pie-in-the-sky proposals from local artists as well as input from the general public. But at its core—literally and figuratively—was an installation designed by Terry Adkins, a sculptor and professor of fine arts who died suddenly last year. "His work on history and memory inspired our team," says Farber, who has taught a course called "Memory, Monuments and Urban Space" at Penn.
When the curators invited Adkins to come up with the idea of the central monument—the one that would actually be built—he "returned with a great proposal that reflected the deep-thinking, emotional, empathetic man I had come to know," observes Lum. The deceptively simple work was based on the theories of Joseph Lancaster, an English Quaker who traveled to America to promote his notions of the ideal schoolroom, including its dimensions and layout. Adkins' sketch echoed Lancaster's church-like arrangement and featured 12 benches and the outline of a standalone blackboard, all crafted from recycled timber. It also offered a clear comment on Philadelphia's troubled school system, which has been stripped of its autonomy and many of its physical assets.
Situated in City Hall Courtyard, it would serve as silent testimony, a monument, to the place where parents, teachers, and students had demonstrated to protest school closings. And, added Farber, it would help activate a Philadelphia power spot that generally serves as a "space that's only moved through."
Then, two days after submitting the proposal, Adkins died of sudden heart failure. "We briefly considered abandoning the idea," says Farber. "But it was so poignant—and so relevant in presenting a dual history of innovation and loss. We decided instead to find some partners who could help us realize Terry's vision." At that point, Recycled Artist in Residency, an art studio that offers educational programs and exhibitions out of a waste-recycling facility in Northeast Philadelphia, fabricated and installed the piece.
The artist proposals for Philly's other squares, unbuilt and never meant to be realized, were on view inside the Lab. Alexander Rosenberg conceived of a virtual reality app that would provide a history of every memorial, architectural element, and piece of street furniture ever built or proposed for Rittenhouse Square. In Washington Square, "We the Weeds," imagined by artist Kaitlin Pomerantz GFA'16 and botanist Zya Levy, would have created a vacant lot and populated it with the detritus (stoops, door frames) of Philly's decaying row homes, all within the park.
Perhaps most ambitious of all, Zoe Strauss suggested a monument crafted of three 65-mile paths that spill out from Logan Square in a taunting echo of the "walking purchase," the historic land grab perpetuated on the Lenape tribe by the square's namesake, James Logan. Strauss and the others offered presentations on their proposals at the Pennsylvania Academy of the Fine Arts as part of a series of free discussions. Others were held in City Hall Courtyard and included author and journalist Nathaniel Popkin C'91 GCP'95; associate professor of English Salamishah Tillet C'96 G'04; John Jackson, the Richard Perry University Professor and Dean of the School of Social Policy and Practice; and Jane Golden Heriza, a lecturer at Penn Design and artistic director of the Philadelphia Mural Arts Program.
In her opening day remarks, Eugenie Birch, co-director of the Penn Institute for Urban Research, expressed high hopes for the project, which she called a "splendid, incredibly noble experiment," before continuing, "I would like to suggest that they think about how the monuments [they dream up] can contribute to global conversations around peace and conflict, climate change, and inequality."
It didn't really turn out that way. Of the 500 or so people who submitted ideas on forms provided by the Lab, a preponderance suggested creating a memorial to the 1985 MOVE tragedy. Others were traditional (a towering structure dedicated to Philadelphia Athletics' owner/manager Connie Mack) or symbolic (two dancing figures comprised of differently colored metal circles). One especially wicked drawing featured a wheeled coffin that declared "victory to the citizens—death to [city agencies] ZBA + L+I," accompanied by instructions that it be placed in front of "any ugly new building."
"People are smart," said Lum of the motley assortment of suggestions. "They know what's wrong with their city and they know who their unrecognized heroes are. They don't forget either." —JoAnn Greco