Meet Penn's Newest Recruit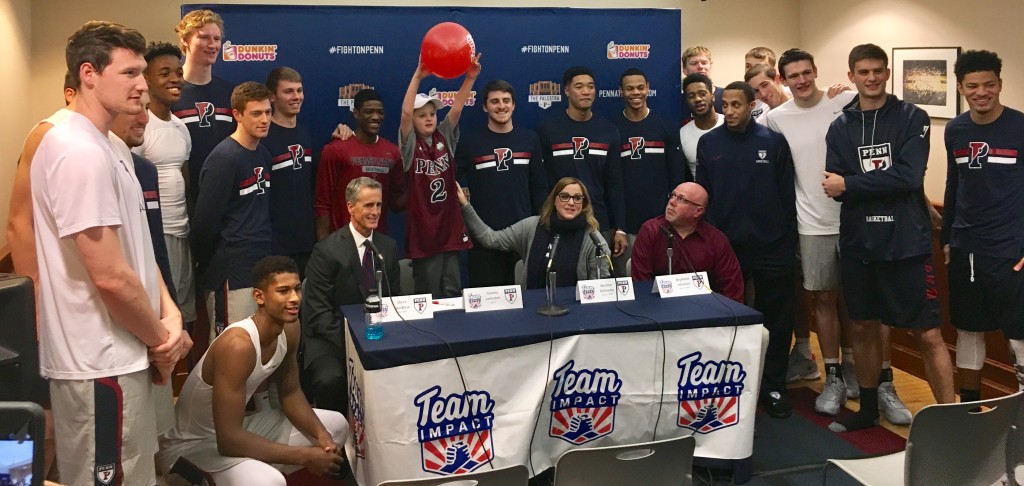 The Penn men's basketball home opener was a game to remember as the Quakers lost an exhausting double-overtime game to Big 5 rival La Salle.
And yet the most memorable part of the evening may have happened an hour-and-a-half before the game even tipped off. That's when head coach Steve Donahue held a "press conference" in front of the media to announce the program's newest recruit: 12-year-old Tommy Johnston.
A prized addition to the program, the Mount Laurel, New Jersey, native was diagnosed with Hypoplastic Left Heart Syndrome in 2005 and was connected with the Quakers through Team IMPACT, a national nonprofit whose mission is to improve the quality of life for children facing serious and chronic illnesses.
And Donahue made sure to lay out a warm welcome mat for the brave youngster.
"This program has had historic days—25 Ivy League championships, a run at the Final Four," he said. "Honestly, I think this may be the best day in the he history of Penn basketball."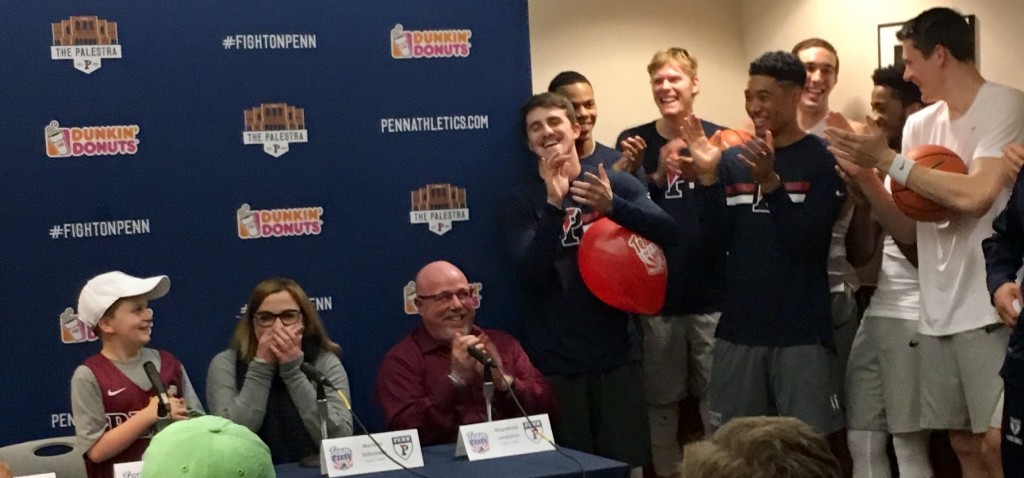 The Penn head coach admitted it was a tough recruiting process—"What kind of granola bar did he want?"—but they "eventually talked him into joining our program."
"We talk about grit in our program quite a bit—fighting through adversity, being poised and confident, that upbeat attitude," Donahue said. "No one displays that more than Tommy."
Tommy, who got to sign a "national letter of intent" and try on his new Penn jersey, also showed another personality trait: he wasn't shy.
Grabbing the microphone, the gregarious 12-year-old gave shoutouts to the Children's Hospital of Pennsylvania, his gym teachers ("for getting me good at basketball"), video games, and everyone for "being my friends and existing."
Then, after opening the floor to questions, he was asked who his favorite Penn basketball player was—to which he responded, "Well, myself, of course." He then started a "Let's go, Quakers" chant and closed the ceremony by asking, "When will this be on the news?"
[youtube height="HEIGHT" width="WIDTH"]https://www.youtube.com/watch?v=q8A5wPyi8T8[/youtube]
Tommy, who was introduced to the Palestra crowd before the game, got his wish as the signing-day ceremony was in fact included on the local news. But his inclusion on the team will last a lot longer than that as he's scheduled to attend practices, games, team dinners, and other events throughout the season.
As we've seen from the remarkable relationship between the Penn football program and Vhito DeCapria, though the Friends of Jaclyn Foundation, these kind of things can be very meaningful, and it's great to see other organizations involved in college sports. Since 2011, Team IMPACT has matched more than 1,300 children with more than 500 colleges and universities in 47 states, helping many kids gain much-needed camaraderie and support in trying times.
And for the college athletes, really, who wouldn't want a kid like Tommy around?
— Dave Zeitlin C'03