Making Universal Melodies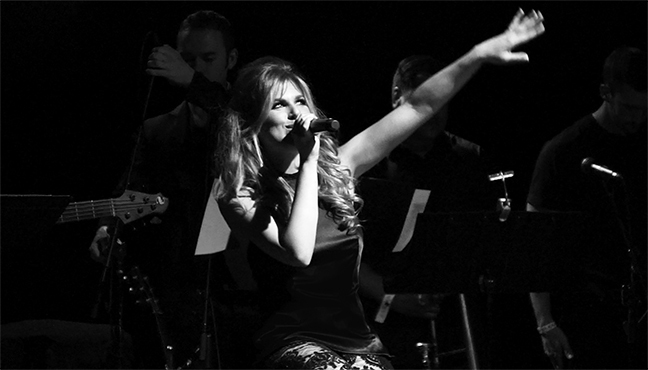 Carly Robyn Green C'05 happily admits it: a few words from Cee Lo Green changed her life—or at least redirected her music career.
When she met the singer in 2007—the two aren't related, despite their shared surname—she was one of the voices backing him up at the Grammys, where he was performing "Crazy." Backstage, Green told Cee Lo that she admired how he'd stayed true to himself, sticking with his sound and style even when it didn't get him on the radio. "You gotta just do what you love," he told her.
"He just said it so simply," Green says, "but that was a pivotal moment for me."
She'd been contorting herself to fit the pop mold for years by then, shoe-horned into it, she now suspects, by her age. But Green—known as Carly Greenberg during her Penn days—had always been drawn to powerful, lasting vocalists like Barbra, Whitney, Celine, and Mariah.
With Cee Lo's off-hand wisdom echoing in her ears, Green reinvented herself as an adult-contemporary singer—and that from-the-heart persona helped her land a gig opening for Wayne Newton in Los Angeles this past April, as well as performances at the Sundance Film Festival in January and, a month later, a solo show at Feinstein's/54 Below.
But that's only one slice of Green's tripart career. There are also the songs she's gotten onto 135 different TV shows—including Scandal, 30 Rock, The Real World,and every Kardashian reality vehicle—as well as those she's written for pop stars in Japan, South Korea, and Romania.
"I have three different careers in one," she says, "so every day in the studio is different."
Green grew up in the Philadelphia suburbs and started singing at roughly the same time she learned to talk. She'd roam the house with a toy microphone and run up to piano players at local restaurants, begging to perform with them. At age seven, she made neon-pink business cards that announced her as C.G. the Singer!, and by high school she was working with professional songwriters and performing around Philadelphia, even landing a residency at the Tropicana in Atlantic City.
When she got to Penn, Green didn't join an a cappella group or belt out ballads in musicals. Instead she recorded music downtown with Kenneth Gamble and Leon Huff, the producers behind the famous "Sound of Philadelphia." She also built an individualized major for herself that fused music, marketing, psychology, sociology, and communication.
"Music school really didn't enter my mind," she says, "which is why I wanted to create a curriculum [at Penn] that met my passion and allowed me to spread my wings my way."
Lecturer Anthony DeCurtis remembers Green from his Arts and Popular Culture writing class as "someone who had a sort of joie de vivre."
"She seemed to be enjoying herself and always had a big smile," he adds. "She was somebody who raised the energy level of the group."
When DeCurtis—a music critic and Rolling Stone contributor—sat in the audience at Feinstein's/54 Below this past February, watching Green's New York City debut, he saw "that same emotional generosity," he says. "You could feel that she was up there to entertain people and give them something."
On that cabaret stage, Green crooned classics like "Natural Woman," "I'll Never Fall in Love Again," and "La Vie En Rose," along with her own compositions. Her performance reminded DeCurtis of singers like Diana Krall and Carly Simon. "She was making intelligent decisions as an artist about how much force to use in her singing," he adds. "There were elements of restraint as well as power. She gets inside a song and she renders it."
Recently Green has been writingsongs with Broadway composer Frank Wildhorn (Jekyll & Hyde, The Scarlet Pimpernel), including her new single "What Love Is All About." She says the tracks are highly personal, and they're mostly about love—falling in love, getting a second chance at love.
She acknowledges that learning to write songs for international artists—most of which are translated into other languages—has influenced the compositions she writes for herself.
"Being exposed to music from so many different cultures has to impact the way I create a melody or the chords I'll choose—it has to," she says.
"What it's taught me is that a melody can be universal," she adds. "An American girl from Philadelphia writing for an artist in Romania seems wacky. But really, music can transcend borders. If it's a powerful melody and a strong message, it'll work, regardless of the language. That's so telling about the power of music in general.
"Timeless melodies and messages that are meaningful—that's what I love. I want my music to touch people and affect them and make them feel things."
—Molly Petrilla C'06