Love, War, and Cinema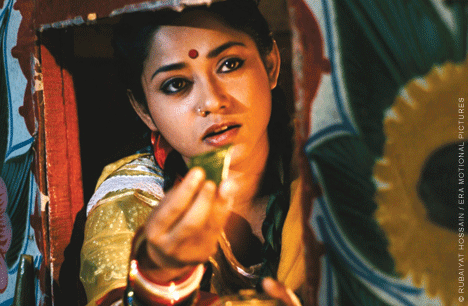 Class of '06 | In retrospect, Rubaiyat Hossain G'06 probably could have anticipated some backlash when her film Meherjaan premiered in her native Bangladesh.
After all, it tackled a very sensitive subject: Bangladesh's bloody secession from Pakistan in 1971, and the psychic collateral damage suffered by its civilians. But Hossain, who wrote, directed, and acted in the film, wanted it to champion love and the ability of feminine strength to overcome violence.
"There's a lot of mutual hatred between Bangladesh and Pakistan because of what the Pakistani forces did in 1971," she says. "And I felt that this film would be a way to overcome that hatred."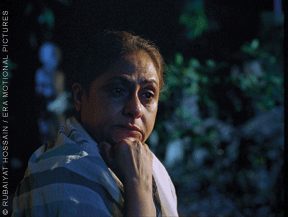 Hossain had been lucky enough to land two of India's biggest actors, Jaya Bhaduri and Victor Banerjee, for the starring roles. (How lucky? Hossain found Bhadhuri's press agent on Google and sent an email.) She found them "very encouraging of somebody very new, very young, making films with a message." So it was even more of a shock that her movie—made in Bangladesh—would cause such a furor among the critics that her distributors would pull it from all Bangladeshi theaters just a week after its release in January 2011.
Meherjaan follows three young Bangladeshi women who are affected by the 1971 war in very different ways. One, Meher, falls in love with a Pakistani deserter, and has to deal with the outrage from her family and her community when their relationship is discovered. Another, Neela, who has been raped by Pakistani soldiers, wants to reclaim her sexuality. And Salma, played by Hossain, is obsessed with romance and marriage and sets her heart on a young freedom fighter. ("I don't think I'll be acting anymore," Hossain says with a laugh. "It turned out to be a very challenging process, acting and directing at the same time.")
But some Bangladeshi critics felt that by not portraying the violence of war, Hossain was denying the brutality inflicted on the Bangladeshi people.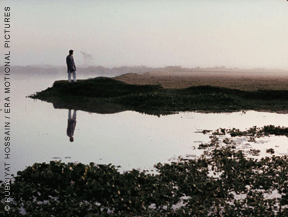 Much of their outrage was directed at the story of Meher's relationship with a Pakistani—even though it's based on the real experiences of a woman Hossain met while doing research for her master's thesis in South Asian studies at Penn, which explored Bangladeshi national narratives about women who were raped in 1971. (That degree complements her BA in women's studies from Smith, diploma in film direction from the New York Film Academy, and another master's in Oriental and Africana studies from the University of London.)
For her thesis at Penn, "I interviewed some survivors, and one of them had spoken to me about falling in love with a Pakistani officer who had actually saved her from being raped," Hossain recalls. "Here I had a story where two people came together just on the basis of humanity and compassion for each other—regardless of the war and the nation and the killing and all that was going on around them."
But in Bangladesh, the nation is symbolized as a woman—the motherland. And for some critics, showing a Bangladeshi woman give herself to a Pakistani man was, as Hossain puts it, akin to "giving away the nation itself."
"There was this taboo that was created around my work," she says. "People have written about my personal life, saying I've been with a Pakistani man—which is not true at all."
The critics were indignant about other things as well. Some were offended by Salma's relationship with the freedom fighter. ("People thought I was demeaning the character of the freedom fighter by having him 'submit' to this woman and get married in the midst of the war," Hossain says.) Others objected to Neela's defiant attitude, since traditionally, "raped women were expected to want to kill themselves."
But outside of Bangladesh, Meherjaan has won a slew of awards in a host of different countries, including Best Film and Best Feature Film at last year's Philadelphia International Film Festival.
Hossain is especially pleased with how her film was received in Pakistan. Critics "were talking about how they need to look back to the past," she says, "and be accountable for the past."
These days Hossain is working on her second film, Diary of a Housewife. This time, she's using distributors outside of Bangladesh. The film is also geared more toward a global audience—it's about Roma, a Bengali woman who moves to Massachusetts for school, marries a professor, and tries to be a good wife, even as she struggles to find her own voice.
Really, says Hossain, "it's about the modern South Asian woman." It's also about feminism and marriage—and once again, Hossain has approached it from a very academic angle. (Her film pitch even quoted French theorist Jacques Lacan.) The portrait of Roma's marriage, for example, draws from poet Sylvia Plath's relationship with writer Ted Hughes.
"Sylvia Plath was also obsessed with being a wife and having her own voice and being a poet at the same time," Hossain explains. "I think that's a big struggle for a woman."
Despite all the accolades for her first film, Hossain can't fully savor them as long as her work is banned from Bangladeshi cinemas. She's been waiting for the right moment to release the DVD version.
"I also have a right as a Bangladeshi woman to have a voice and to exist," she says. "So I just have to keep fighting."
—Maanvi Singh C'13