Life Saver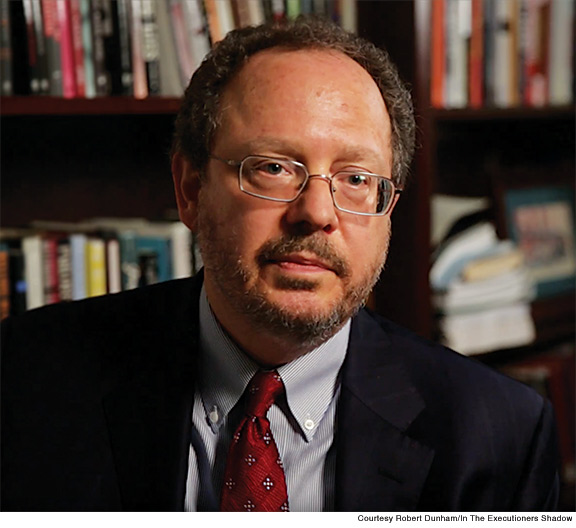 A death penalty expert explains what America is getting wrong.
---
First, there was the triple homicide. Then, while he was in prison, Benjamin Terry killed a prison guard with a baseball bat, shattering his skull.
Terry was sentenced to death.
On the surface, Terry was a murderer, plain and simple. But as Robert Dunham C'80 views it, when it comes to justice, nothing is plain and simple, even for a man who killed four people.
So four days before he was scheduled to be executed, Dunham—a nationally recognized expert on the death penalty who now serves as the executive director of the Death Penalty Information Center (DPIC), a nonprofit organization that provides information and analysis on capital punishment—argued that Terry shouldn't be put to death.
And he won.
"Why is it that in the United States—that prides itself on having one of the best criminal justice systems in the world—that we don't do everything necessary to ensure that we know the truth in capital cases when somebody's life is at stake? Shortcuts are inappropriate," Dunham says. "If you're going to give the government the awesome and unparalleled power to take the life of someone who is completely in the government's control, then you better make sure you're doing it right—and we don't."
Terry was already serving a life sentence for arson and murder when in 1979 he attacked and killed the prison guard. That put him on death row. About 16 years later, Dunham was the executive director of the Pennsylvania Capital Case Resource Center, charged with monitoring the status of all cases in the state in which a death sentence had been imposed. After learning about Terry's case, he recruited a Philadelphia law firm to argue the stay motion in front of the Montgomery County Court of Common Pleas.
At that point, there were multiple mental health evaluations. Based on further examination by a psychiatrist, it was discovered that Terry suffered from, among other issues, a dyssocial personality (characterized by chronic antisocial behavior and the violation of the rights of others) and also believed that the guards were injecting poison into his ankles to cripple him.
In addition, Terry—who had suffered a psychotic break in the past—had been receiving the wrong medication in prison. Had he been provided with the correct meds, he was unlikely to pose a danger to guards or other prisoners, according to psychiatric testimony at the retrial. It was enough to convince the court to overturn his death sentence in 1996.
"People sentenced to die in the United States are invariably poor, and many suffer from mental disorders that were never properly treated," says Sandra Babcock, faculty director at the Center on the Death Penalty Worldwide at Cornell Law School. "In advocating for these prisoners, we help expose the humanity of those who are condemned to die, and the inhumanity of the system that led to their death sentences.
"Rob has fought for the lives of individuals facing the death penalty for over two decades. He has promoted justice as a lawyer and an advocate for policy reform. In his current role at the helm of DPIC, he is helping to educate millions of people about the injustice of the death penalty in the United States."
Dunham, 60, has spent his career on this mission, having worked on death penalty cases as part of pro bono teams at several law firms and with public defender programs, before becoming executive director of the DPIC in 2015.
Although he never expected to be a death penalty lawyer, Dunham was always interested in social justice. In his high school yearbook, he predicted that he'd pursue a career in "public service or law," and at Penn he majored in philosophy with a concentration in ethics. Active with Penn's student-run television station UTV, along with the Daily Pennsylvanian, where he was a columnist, Dunham expressed his thoughts on the environment, criminal justice reform, and other social issues. "I went with the general idea that I wanted to use my knowledge to make the world a better place," he says.
After graduating from Penn, Dunham worked as a legislative assistant for Pennsylvania State Representative Robert O'Donnell in Philadelphia before making his way to Georgetown Law School. It was there he was assigned to write a section on the death penalty in the Georgetown Law Journal 's Criminal Procedure Project, developing an expertise in the subject. He then took the law school's death penalty seminar. "I found it interesting," he says.
Dunham's first case out of law school was pro bono for the law firm Schnader Harrison Segal & Lewis, representing a defendant who spoke no English and was illiterate in his native language, Spanish.
The man's lawyer presented no defense at the guilt stage or at the penalty phase, and even managed to convince his client to waive his right to present mitigating evidence, Dunham says. Virtually no issues were raised on the appeal, and the lawyer spent fewer than 40 hours on the post-conviction process.
"This death penalty trial took place the week of a [Democratic primary election for Philadelphia mayor], and on the Saturday before his death penalty trial, the lawyer was campaigning for office—he wasn't preparing to save his client's life," Dunham says.
So Dunham and his team investigated their client, learning that he was born with an umbilical cord wrapped around his neck, in a rural area of Puerto Rico. The midwife blew cigar smoke into his mouth to get him to breathe. "When he choked on the cigar smoke, it was the first sign that he was alive," Dunham says.
Dunham requested a brain scan, learning that the client showed significant oxygen deprivation across the brain. "Our theory was right," Dunham says. "We were able to have IQ testing done, and he tested in the intellectually disabled range."
His sentence was changed from death to life in prison.
That man wasn't alone. According to Dunham, the Pennsylvania Capital Case Resource Center and Pennsylvania federal defender capital habeas units have obtained more than 300 stays of execution and overturned more than 150 death sentences. And according to the Equal Justice Initiative, for every nine people executed in this country, one innocent person has been exonerated. "With that kind of error rate on guilt or innocence," Dunham says, "you would think that we'd be more concerned about getting it right."
— Danielle Braff