Letters
Blockchain explained, movie love returned, letters on (one) letter, and more.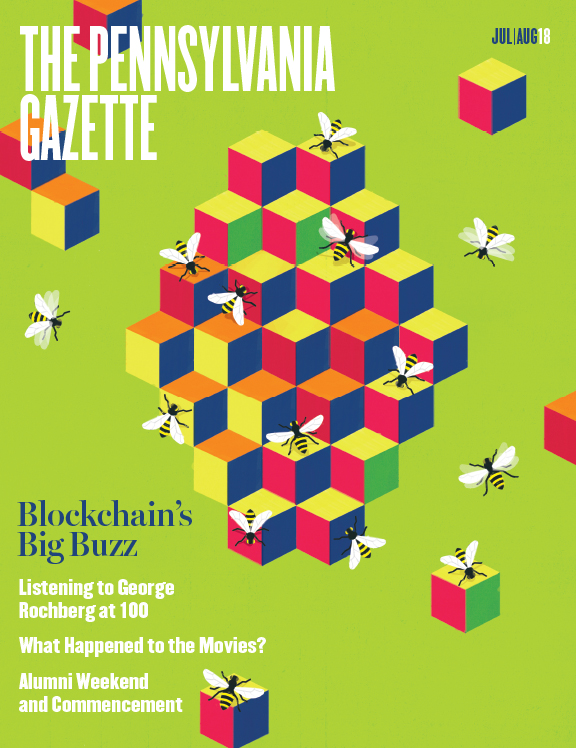 The Fog Has Been Lifted
Much appreciate Trey Popp's deeper view behind the mysterious blockchain curtain ["Blockchain Fever," Jul|Aug 2018]. The article provided a good picture of blockchain's origins, technical footing, practical and potential uses, and unknowns. It's still a bit opaque, but the fog has been lifted.
Stu Widman W'70, Chicago

One of the Best
Excellent summary of so many aspects of blockchain and cryptocurrency! I'm sharing it with a few hundred friends and colleagues.
One minor nit: Find a better example of third parties inflating transaction costs for small purchases. The mom-and-pop shops that mandate a $20 minimum for credit card swipes are not inflating the costs for anyone. They are struggling to still make a profit on tiny purchases when the credit card company inflates transaction costs too much.
Other than that, one of the best articles I've seen on the topic.
Fred Stluka EAS'82, Malvern, PA
(via website comments)

Straightforward, Comprehensible, and Balanced
Another reason to be a proud @Pennalumni—the most straightforward, comprehensible, and balanced blockchain article I've read: "Blockchain Fever."
Marc Vermut W'94, Los Angeles
(via Twitter)

Blockchain Could Protect the Vote
I read the article about blockchain security and thought immediately of its usefulness in preventing the hacking of US elections and securing the ballots as representing the will of the person who voted. In other words, I believe it is an urgent matter of homeland security that the blockchain software be mandated nationwide. I realize that such decisions rest in the hands of the individual states. However, if the blockchain software is mandated, the tables would be turned on those who falsely claim extensive voter fraud. They would be put on the spot to ensure the integrity of the votes by adopting the mandated blockchain software.
Using blockchain software to mitigate voter fraud or manipulation of votes would go a long way toward upgrading security of the voting process and, thereby, protect the First Amendment rights of individual voters to express themselves with dignity and integrity. I am certain that the retiring Justice Kennedy would support such a court finding, as he singularly cited individual dignity as of primary importance. The system, while not perfect, would present formidable obstacles to hackers, such as the Russians. If the ACLU and League of Women Voters, along with other advocates of protecting the constitutional rights of people in the US, were to take on the case and get it on a fast track, it would be a speedy remedy to the vulnerability of the vote nationwide.
David Herman G'71, Elkins Park, PA

Thumbs Up for Cort on Film
As a cinephile, I enjoyed reading Robert Cort's insightful article about the state of the film industry ["Our Love Affair With Movies," Jul|Aug 2018], though it was disheartening to have my impression of its diminishing focus on artistic merit confirmed by an industry insider like Mr. Cort. It was startling, though not surprising, to see the stark difference between the top-grossing films of 50 years ago and those of today, dominated by reboots, sequels, and pure escapist fare.
That's not to say I don't enjoy well-crafted confections about superheroes and space travelers—we can all do with a little distraction from stories about illegal aliens with stories about space aliens. But for every film about animated animals or costumed mutants, it would be refreshing to have an original, mature, provocative option in the vein of aDr. Strangelove or Chinatown or One Flew Over the Cuckoo's Nest.
Like the proverbial chicken and the egg, it's hard to know whether Hollywood is creating the preferences or merely responding to what a majority of viewers wants to watch. But if I were a studio executive, I would green-light a lot more of the film projects Mr. Cort aspires to produce. As it happens, I'm not a studio executive, nor do I have the authority to green-light anything. Nonetheless, I'd be more than happy to take a meeting with him.
David Wasserman C'91, Plano, TX

Still Watching
Kudos to Robert Cort for presenting an obvious truth that may not be so obvious to the millennial generation: Hollywood no longer speaks to our souls. Movies in the 21st century (not worthy of being called films for the most part) are vapid, superficial, and as my dad said once, just "lots of special effects," albeit expensive ones. I long for autumn, if only to get my fix of the two or three films a year worthy of my time and money. Please keep making them, Mr. Cort; I'll still be watching!
Xiomara Corral C'84, Jersey City, NJ

Movies Symptom of Larger Decline
Robert Cort's dissertation on movies, from his early appreciation of movies of substance back in the '50s and '60s to his current disdain for the flashy entertainment fluff presented today, rings a bell. Although I succumbed to silly cowboy stuff as a kid in the mid-1940s, when I entered my 20s, there were indeed some wonderful movies. I still think of Moira Shearer hurtling to her death at the finish of The Red Shoes or Audrey Hepburn lighting up the screen in Roman Holiday.
However, although I acknowledge Cort's troubled overview of the screen today, this may be part of a larger malignancy in our current culture, the culture of the superficial, rather than substance. I worked for Louis Kahn for six years and watched him struggle to develop an architecture of substance. Today I'm unimpressed with the unending presence of an architecture of superficial shapes. The automobile industry has succumbed to what I would brand superficial slop styling. Note the word styling, rather than design. Children seem to be tethered to their superficial computer games by what I label horizontal gravity. And a surprising number of adults seem to be tethered to the little superficial entertainment devices they hold in their hands.
Hopefully there are more Robert Corts, men and women who struggle against the odds to enable a culture of substance with values that exemplify not only the visual but social standards as well.
David Karp Ar'59, San Mateo, CA

Make That Poitier–Steiger
I enjoyed Robert Cort's account of his lifelong intimate relationship with film. However, I had to pause and reflect when he referred to the film In the Heat of the Night as one of the transformative pictures of 1967–68. I choked when he erroneously called this classic the "Steiger–Poitier film."
Regardless of Steiger's well-deserved Oscar win, Sidney Poitier was the lead star of this film. This fact is confirmed in the image of the movie poster that accompanied the article, where both actors' names are above the title, but Poitier's comes first. Poitier had, of course, won Best Actor honors previously, for his role in 1964's Lilies of the Field.
Some may ask, "What's the big deal?" Well, would anyone refer to Casablanca as the Bergman–Bogart film? I think not. Even in light of the fact that Bergman was a three-time Academy Award winner, as compared to Bogie's single Oscar, no one in their right mind would suggest it was her picture.
We must all be aware of such microaggressions when it comes to race, regardless of how unintentional the author's faux pas. Even Steiger's being considered in the Best Actor category, as opposed to Best Supporting Actor, raises the question of whether this was due to the powers of that era being uncomfortable with the idea of a major white star being positioned as a subordinate nominee to the major black star. After all, Poitier's character Virgil Tibbs was the proverbial "fish out of water," which is the basis of the story, not the "southern bigoted sheriff" in a southern town played by Steiger. Microaggressions, even those buried in our deepest subconscious, are real and impactful. Be aware.
Jim Scott G'98, Mt. Laurel, NJ

Affirmation Is Not Enlightenment
Thank you for printing Nina Martin's letter, "Peddling Propaganda," and know that she speaks for many alumni who see attending Penn today—and unfortunately so—as a "terrible waste of our money" ["Letters," Jul|Aug 2018]. The culture makes it sadly almost indistinguishable from Berkeley with acceptable conversations re equality and diversity being about race, gender, and behavior, so long as everyone thinks the same.
Hopefully Penn's leadership can find its way back to a place where insightful, spirited, and yet respectful investigation of differing opinions and ideas was the welcomed norm. Affirmation is not enlightenment.
Bruce Bergwall C'80, Newburyport, MA

Compelling Story
I really liked Nina Martin's letter. Thank you for having the courage to publish it. Her background of fleeing the zealots in Iran and being raised in socialist England and immigrating to America in 1983 was one of the most compelling stories I have heard about how fortunate we are to be Americans. The freedom all Americans have living under our Constitutional Republic is unusual in the history of mankind.
Hope we don't mess it up!
Neal Hunt WG'68, Raleigh, NC

Kudos and a Complaint
Kudos to the Gazette for printing Nina Martin's long letter on the left-wing path of Ivy League schools.
P.S. Please have printers put some ink into presses. Tough to read at 92.
Oleg Dudkin ME'48, Berwyn, PA
Lifelong Love and Admiration
I've just finished reviewing our Jul|Aug 2018 Gazette. Of particular interest was Kara Bown's "Introduction to Shakespeare" ["Alumni Voices"]. Let me take you back to 1946 and this Wharton student's entry English class in College Hall under the direction of Professor Harbeson. He might have been a one-man Broadway show in dealing with Shakespeare. The voice, the tenor, the intensity, the color, the humor provided me with a lifelong love and admiration for all things Shakespeare.
At 92, looking back at the wonders of the University of Pennsylvania, there is, obviously, consistency. Over the decades you have stayed true to your course. Thank you.
Lou Silberman W'49, Palm Desert, CA

Generation of Termites
In "Racial Rapport 101" ["Gazetteer," Jul|Aug 2018] Lini S. Kadaba writes, in part:
"On this afternoon, teachers at the Benchmark School, a private school outside Philadelphia, are undergoing an atypical sort of training: role-playing a discussion … between two students—one an African American girl, the other a white boy—during a unit on the American Revolution.
"The teacher playing the part of the black girl points out that whether Washington treated his slaves well is beside the point. 'They were property,' she says …
"The exercise is part of Howard C. Stevenson's efforts to teach racial literacy."
No, it's not. It's part of Stevenson's efforts to teach PULP (progressive, utopian, liberal, parasitic) Fiction; to undermine the character, intellect, and purposes of the Founding Fathers; to deny the human freedom, ingenuity, and prosperity unleashed by our Constitutional Republic and capitalist economy; and to grow yet another generation of termites to chew away at the hull and masts of America's Ship of State.
Stu Mahlin WG'65, Cincinnati

Against Avoidance
Instead of emulating Howard Stevenson's sound policy, as described in "Racial Rapport 101," of putting students in "the position that stresses you the most, so you're better prepared for it," schools today issue trigger warnings. This approach is undoubtedly well intentioned, but it has unintended consequences that will become more apparent in the years ahead. Although Stevenson focuses on racial stress, what he does has direct application to all controversial issues.
Walt Gardner C'57, Los Angeles

More Regulations Needed
The article "Confronting Media Illiteracy" ["Alumni Profiles," Jul|Aug 2018] about the work of Erin McNeil C'88 is well worth reading twice. It explodes upon the media in a very direct and professional manner. The Gazette often has an article that explodes one's thinking about something that is possibly at the root of eroding our society. I see children and young people having access to material I can't believe. My grandchildren, ranging in age from 15 to 21, cannot survive without the cyber media. I believe this is responsible for degrading many of the values we once held high. We need to have more regulations against making killing look like fun and making heroes out of terrorists, etc.
Good luck, Erin. Keep on your path because we need angels for this type of action to become fruitful. It is easier to entertain than it is learn the right way.
Gerald F. Feeney D'59, Sarasota, FL