Jul | Aug 2018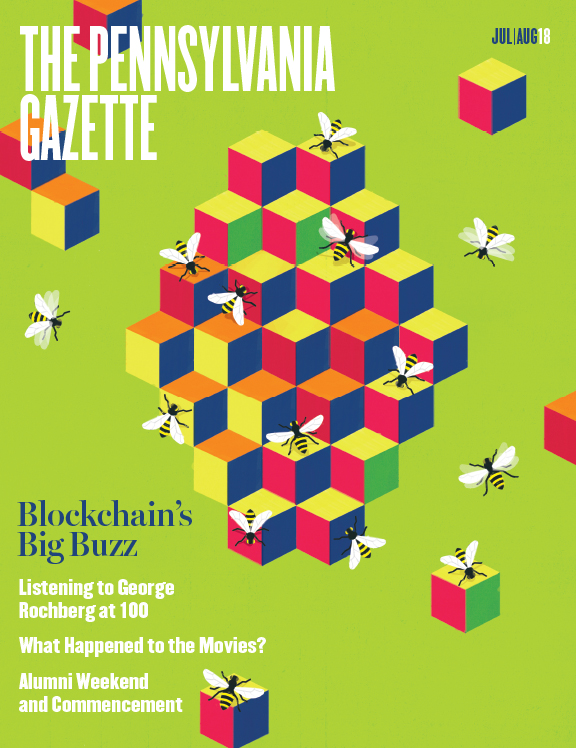 Jul | Aug 2018
Volume 116, No. 6

---
FEATURES
Blockchain Fever
Cryptographic sorcery, entrepreneurial zeal, and utopian dreams have gripped a striking number of Penn students and alumni this year. Why are people so excited?
By Trey Popp
Alumni Weekend 2018
Photos from the festivities.
By Addison Geary
Our Love Affair with Movies
A movie producer and Class of '68 alumnus recalls the cinematic passions of his senior year—and offers some advice on rekindling the romance for today's audiences.
By Robert Cort
The Philosophical Composer
In the year of his centenary, a look back at the music and thought of American composer and Penn faculty member George Rochberg G'49, who first embraced 12-tone music and serialism and later rejected avant-garde styles as a form of "self-extinction."
By Dennis Drabelle
---
DEPARTMENTS
From the Editor | Building blockchains, making music, loving films.
Letters | Seligman, Quaker Notes, a Munger story you've never heard.
Views
Notes from the Undergrad | "This wonderful sound. This crackle."
Alumni Voices | The power of query, in class and in life.
Elsewhere | An architect explores Mexico's early churches.
Expert Opinion | Deferred dividends.
Gazetteer
Commencement | Mitchell reports: "You never finish becoming."
Mental Health | Prolonged exposure therapy can help sexual assault victims.
Awards | 2018 President's Engagement and Innovation Prize winners.
Libraries | H. Carton Rogers III closes the book on a 43-year career.
Heard on Campus | On a humorous note, Beethoven.
Arts | Sachs Program's public launch.
Civil Society | GSE's Howard Stevenson on teaching racial literacy.
Student Athlete | Lina Qostal C'18's quest: play tennis professionally.
Sports | Women's track & field sets records, lacrosse standout Zoe Belodeau.
Arts
Painting | Allison Zuckerman C'12's "grotesque but beautiful" figures.
Exhibition | Middle East Galleries trace humanity's "journey to the city."
Books | Fantastic, flawed, forgotten Mr. Fox. The Man Who Made the Movies.
Alumni
Lauren Kurtz L'10 G'12 defends climate science and climate scientists.
Jennifer Clair C'94's cooking class is available for take-out (as a book).
Erin McNeill C'88 champions "media literacy" legislation for schools.
Bon Ku C'95 is bringing a design mentality to improving healthcare.
Old Penn | Masters of music, 1977.