It's All About the Club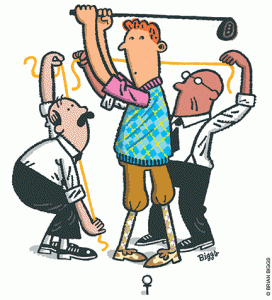 Class of '82 | It's a gripe as old as golf, and Keith Bank W'82 was no more immune to it than anyone else who's ever duck-hooked a tee-shot deep into the woods: These clubs are killing my game!

So, like countless duffers before him, he set out to do something about it. He got fitted out for a new set of sticks at a big-box retail store, and then hit the links. It did not go well. Bank, a venture capitalist with a specialty in early-stage technology investing, is actually a few steps up from the average Saturday-morning hacker. He has come within one stroke of par on his best day. But his new clubs were taking him in the opposite direction.
When his frustration sent him to an Arizona specialist for answers, he found out why. "They checked out my clubs," Bank remembers, "and said, 'We hate to tell you this, but even though you were told you were fitted for stiff shafts, you have women's shafts in your clubs.'"
Which is part of the reason Bank ended up as chair of Club Champion, a custom club-fitting company that launched in 2010 with aggressive plans for national domination. The longer answer is that Bank was doing what comes naturally to him—finding an industry on the cusp of a technological tipping point, or in need of more business savvy, and hopping on board as an angel investor or board member. He has done that sometimes on his own and sometimes through his investment firm, KB Partners, involving himself in enterprises ranging from women's-apparel manufacturing to electronically focusing eyeglasses to the 1991 feature film Heaven is a Playground.
With Club Champion, Bank has found a way to unite two passions.
"I was really a football/basketball/baseball player growing up," he says. "But I've had 11 orthopedic surgeries. So I'm a little bit of a bionic man now, and golf is about my speed."
That may be putting it mildly. Bank has played 49 out of the top 50 courses in the United States. (He's still trying to figure out a way into Augusta National, home of The Masters.) And he's quite serious about shaving strokes off his handicap.
"For the longest time, manufacturers would come up with head style, or a shaft, or whatever—but there wasn't the ability to mix and match to customize something to the level we do" at Club Champion, Bank says. "We can create literally 10,000 combinations. Not only do we carry all the different shafts, but we carry them in all different lengths and flexions, too."
Ten-thousand combinations sounds pretty impressive. But they don't mean a thing if one doesn't fit your swing. Club Champion's pitch is that their experts can use a "three-dimensional phased array Doppler radar that was originally developed for use in military projectile and missile tracking" to pinpoint the optimal combination of club head and shaft for anyone who walks in.
Since there's only one way to test such a claim, the Gazette scheduled an appointment at the company's Philadelphia-area club-fitting studio, which opened in 2012.
Your correspondent brought his vintage set of Ping Eye-2 irons, a Nike Sasquatch driver mail-ordered through eBay, and an ancient putter that provoked genuine wonder from "master club fitter and builder" Steve Harrow. A computer wired up to a TrackMan Doppler radar measured the trajectory, speed, and spin of about 15 golf balls as they flew off the face of my six-iron and smacked into a projection screen that simulated a flight path. The machine's accuracy was easy to corroborate, in my case; every single shot landed left of center.
Once he'd established a baseline, Harrow laid out a rationale that would guide his guesses toward a club better suited to my swing. Ball speed was not an issue, he said; mine was only four or five miles per hour slower than what a typical touring pro does with a six-iron. But my trajectory was a good six degrees higher, and my spin rate was off the charts. No wonder every shot I hit is a moon ball.
For the next hour, Harrow cycled through a variety of club heads and shafts. I swung and swung. The computer measured and measured. And little by little, the flight path on the projector screen straightened out, until it actually seemed as though this might be making a real, if modest, difference.
Then we turned to my driver, which I hate. Progress on this front was faster, and dramatic. Harrow hadn't been able to "find any extra yards" for my six-iron—which didn't really concern me, since distance has never been my problem. But in fewer than 10 minutes he landed on a driver head and shaft combination that had me belting tee shots right down the pipe—35 yards past my Sasquatch's landing zone.
Custom club-fitting was novel to me, but it isn't exactly new. Bank and his partners, who started their company by acquiring a small Chicago-area specialty business, think the industry is ripe for a national chain with topflight management.
The "mom-and-pop" outfit they purchased "didn't have a lot of systems in place, and I'm not sure if they knew if they were going to make money or lose money each year," Banks notes. "The industry is predominantly made up of similar kinds of people. They're very talented equipment junkies. They know how to build and fit clubs. But they don't come from the same type of discipline from a business perspective. When you bring entrepreneurial and business discipline to something that historically has been driven by history and tradition—and hobbyists and enthusiasts—I think there's definitely some improvement."
Club Champion recently expanded from Chicago and Philadelphia to Houston and Atlanta. Bank aims to continue rolling out nationwide. Your correspondent, meanwhile, aims to find $595 in the Gazette's couch cushions by summer's end, to buy those 35 extra yards off the tee. —T.P.