Islamic Chaplain: Fight Hatred With New Narratives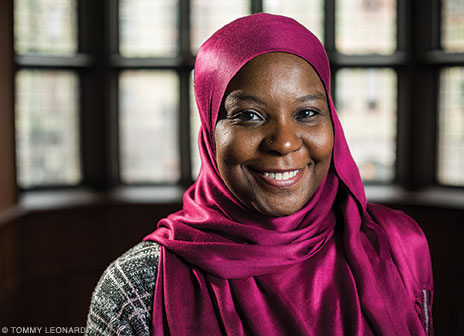 Coping with terrorism and racism is tough for adults. For college students, it's tougher. And for Muslim students, it's almost impossible, says Kameelah Rashad C'00 GEd '01, Penn's Islamic chaplain and an advisor to the Muslim Student Association (MSA). Though college is an opportunity for many young adults to figure out who they are and what they might become, Muslim students are being told, by some politicians and segments of the media, that they are violent, misogynistic, and not American.
The recent uptick in attacks planned or inspired by ISIS has converged with the ongoing presidential primary campaign to amplify Islamophobia, Rashad says, but the message is not new. Penn's current undergraduates belong to the 9/11 generation; they have grown up with terrorism and Islamophobia. "Suspicion from the outside world is what Muslim students have internalized," she points out. "This has been the environment for their entire lives. Every day, we're being scrutinized because of our religious, racial, and cultural identities."
Due to their visibility, women who wear hijab often bear the brunt of that scrutiny. Du'aa Moharram, a freshman in the Nursing School, is one of them. "Some days, I pray to God to get me to my dorm safely," she says, confiding that people on the street stare at her with suspicion that sometimes deepens into open contempt. Two young men shouted "ISIS" at her on campus. And on the train to Penn after winter break, Moharram says, a man stared at her with such hatred that she feared for her safety.
These are examples of what Rashad calls "micro-aggressions" that constitute a pervasive discrimination against Muslims. Lamis Elsawah, a freshman engineering student, agrees. "Many parents are telling their daughters that's its okay not to wear hijab, especially after terrorist attacks, because they fear for our safety," she says. "Girls all around this country are taking off their hijab because they are afraid."
But isn't everyone afraid of random acts of violence? Perhaps, Rashad responds, but Muslims have a double-edged fear of terrorism. "You could potentially be a victim, but also be seen as the perpetrator," she explains. "That's different than preparing for an active shooter at a public school. It's thinking that people are going to be afraid … but afraid of me."
Being the object of fear can be a new experience for international students who come to Penn from Muslim-majority countries where Islamophobia doesn't exist. "One student from Afghanistan told me that he didn't know that in the US, you'd be looked at with suspicion just because you are brown, have a certain name, or wear a beard," Rashad says.
That's doubly true for black Muslims, Rashad says, who as members of two marginalized communities face "many assaults to both of our identities." Further complicating matters is what Rashad calls inter-Muslim racism. She says that it's not uncommon for Middle Eastern and Southeast Asian Muslims to look down on black Muslims from sub-Saharan Africa and the United States. "The reality is that there is still so much anti-black sentiment," Rashad says. "If you are black, you are considered less than. Many people assume I don't pray enough, or that I'm not Muslim enough. Or they will use the N-word. It's heartbreaking."
For students who feel isolated by the hatred and intolerance around them, the MSA is one shelter in the storm; Elsawah and Moharram say that they have family-like bonds with their MSA friends. Rashad says that other religious leaders on campus, including Penn Hillel president Katie Hartman, a College junior, have voiced support for Penn's Muslim community, as have President Amy Gutmann and Provost Vincent Price.
Yet even such supportive sentiments present a sort of Catch-22 for Penn's Muslim students, because regular articulations of concern can be exhausting to some of its recipients. "After a terrorist attack, people say, 'How are you feeling?'" Elsawah remarks. "What do they expect me to say? [I wish they'd] ask me in a way that doesn't imply that I'm the person at fault, or that my religion is to blame for the actions of an insane person."
Of course, "How are you feeling?" is typically a well-intentioned question. So is "Where are you from?"—a query that nonetheless impels Moharram to go into a detailed, defensive explanation of her ancestry, when the simple answer is: New Jersey.
Rashad understands all of this perfectly, and she has a way to change it. "Don't isolate," she says. "Engage."
Rashad wants the Muslim students she counsels to combat Islamophobia by creating new narratives for themselves. "Every successful minority in America has done that," Rashad says. "How do people tell the stories of who they are? How do you have conversations with young people so they see their stories as valuable? Talk about yourself in the affirmative, in the positive." It goes to self-respect, Rashad says, and that leads to inclusion—eventually. American history features a long procession of communities that have faced discrimination, including Jews, Italians, Irish, Vietnamese, and LGBT people. "How have they dealt with marginalization?" Rashad asks. "Are they problem-saturated stories or are they stories of resiliency? How do people thrive in spite of the problems that they hone in on?"
If this seems like a Herculean task, Rashad is well placed to tackle it. Raised in a close-knit, civically active Muslim community, she is proud of her race and religion—and her identity as Brooklyn-born New Yorker. "You can't tell me that I don't belong in America," she says. "I am America!"
She also has two master's degrees, in psychology and counseling. "In terms of understanding who I am, where I grew up, and how I see the world, I felt that psychology was a great complement to religion," she says. "It grounded me in an understanding of how to approach people who are different from me."
She's taken that approach throughout her career, working at the City of Philadelphia's department of behavioral health and Penn's Institute for Urban Research. Along the way, Rashad identified a lack of mental-health resources within the Muslim community; to combat that, she established the Muslim Wellness Foundation in 2011. She brings that psychological emphasis to her chaplaincy at Penn, which she began in 2013. "These students are the next generation of leaders, both of America and Islam," she says. "They have to be equipped with the skills to be able to talk about who they are in confident ways. My goal is for them to graduate from Penn empowered to do that."
Moharram and Elsawah share that desire.
"Silence is too often seen as acceptance," Moharram says. "So if I want things to be different, I have to be part of that change."
Elsawah points out that one change will come in November: "This is the first Presidential election in which many of us can vote." Then she laughs. "Yes, we can."

—Melissa Jacobs C'92