Innovation in Action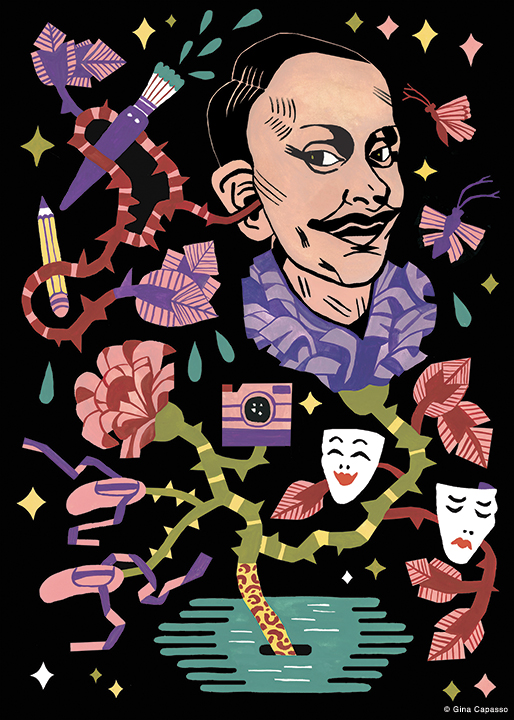 Sachs Program launch features 23 arts grants and John Waters.
---
"My whole life is a trigger warning," cracked filmmaker, visual artist, and author John Waters near the beginning of a 90-minute reminiscence/stand-up routine about his long career of outraging, delighting, and grossing out audiences. The "icon among iconoclasts" (as Penn President Amy Gutmann called him in her introduction), and the creative force behind such memorably weird films as Pink Flamingos, Female Trouble, Hairspray, and Serial Mom, was the featured speaker at the public launch of the Sachs Program for Arts Innovation in April.
"We are celebrating art today and all through the future of the University of Pennsylvania," said Gutmann. "What does celebrating art mean? It means honoring those who take bold creative risks, who defy conventions, and who employ what is creative in the human spirit to bridge differences."
Strolling the stage of the Annenberg Center's Zellerbach Theater, Waters shared memories from his controversial films and his experiences hitchhiking cross-country for his book Carsick. Other asides along the way included advising the elderly to "say yes to drugs"; hailing the civic activism of the high-school shooting survivors in Parkand, Florida—while expressing sympathy for "bad kids" who have lost their lock on rebellion to "honor roll" types (he recommended they "take a shit on Wayne LaPierre's lawn"); calling Donald Trump W'68's presidency a "shithole" and noting that he had hated Bill Cosby "before the rapes"; offering his definition of a "platinum gay" man as one born by Caesarean section; and sharing his admiration for William Castle, whose low-budget films featured many gimmicks—"Emergo," "Illusion-O," "Coward's Corner"—of his own invention. Waters, who portrayed Castle in the recent TV series Feud,called him a "role model."
But if Waters was the marquee name, the true main attraction came earlier, with the announcement of the program's first round of grants in teaching, making, and presenting art. And the death of Keith Sachs W'67 in March ["Obituaries," this issue] meant that the occasion also functioned as a tribute to the longtime Penn supporter and modern art patron who, with his wife Katherine Sachs CW'69, established the program with a $15 million donation in October 2016 ["Gazetteer," Jan|Feb 2017].
Provost Wendell Pritchett Gr'97, remarking that the couple had first met at Penn, spoke of their common belief "in the power of contemporary art to bring people together, to stir the spirit, and perhaps above all to surprise … and force us to toss aside our expectations and preconceptions of what art was and imagine what it could be; how art could be different from what had come before; and connect ideas and elements and materials in surprising new ways."
The Sachs Program is "the embodiment of that vision," he added, and will connect arts education, instruction, and exhibition across campus, the region, and beyond, as well as "forge connections with our entire academic and research enterprise in what I can guarantee will be surprising ways."
The grants were announced by vice provost for faculty Anita Allen, who chairs the Provost's Arts Advisory Council, and John McInerney, the Sachs Program's founding executive director. McInerney—formerly vice president for marketing and communications for the Greater Philadelphia Cultural Alliance (and before that director of marketing for the ICA)—joined in expressing gratitude to "Kathy and her dear departed husband Keith" for making possible a "watershed moment for the arts at Penn," adding: "tonight you are seeing the first results of this groundbreaking gift."
Twenty-three grants were awarded for 2018, totaling $123,000.
Among the winning proposals was a class called August Wilson & Beyond, designed to bring multi-generational West Philadelphia residents and Penn students together to talk about the African-American playwright's work, "culminating in an original theatrical performance"; a course in which Penn students and Philadelphia high schoolers will collaborate on a fictional film drawn from "their own lived and observed experiences with trauma"; a program at ICA that will train student docents in Visual Thinking Strategies, an approach designed to build "critical thinking and communications skills by asking open-ended questions about contemporary art"; and a "Nursing Story Slam" event organized by the School of Nursing, in collaboration with Penn Medicine and First Person Arts.
More details on these and a full list of grants can be found at sachsarts.org/grants.
"There really is no precedent for what Keith and Kathy have created, blending arts engagement and arts education at Penn in fascinating and unexpected ways," said Gutmann. "This visionary gift will touch countless lives. We've only just begun to see some of that with the [first round of awards]. We remember and we pay tribute to Keith as we fulfill his dream of teaching, creating, and presenting art at Penn and beyond; making art an integral part of a Penn education; and recognizing how important it is to uplift the human spirit."—JP