Hall Call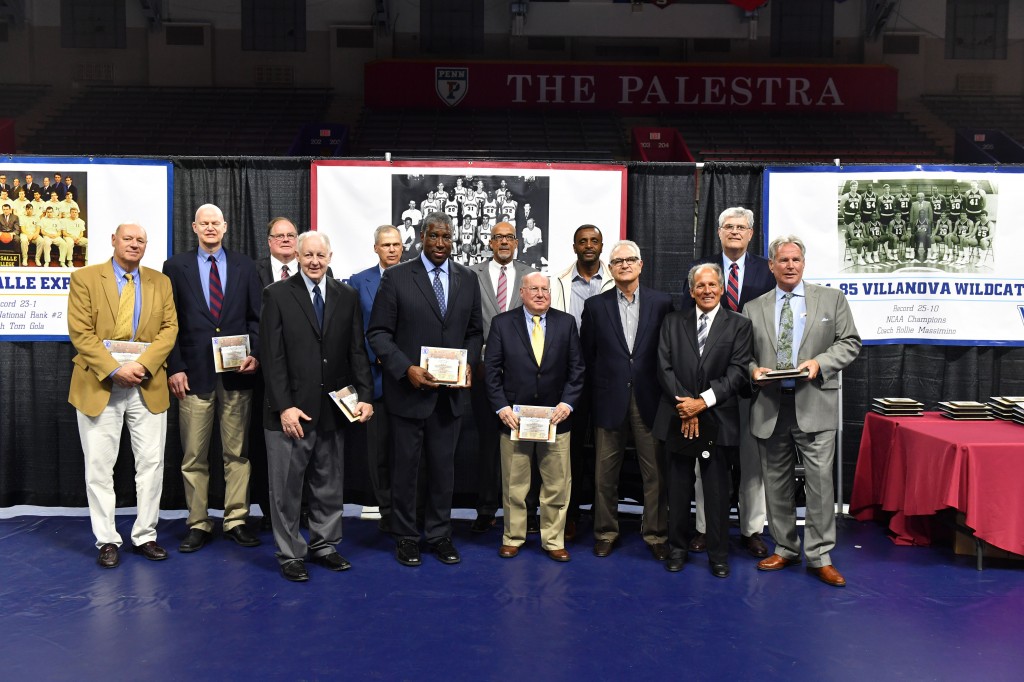 On his first day of college, Dave Wohl C'71 wanted to find a pickup basketball game.
On the urging of a friend, he ended up at the Palestra, playing alongside members of the men's varsity basketball team. Soon, he was going back every day.
Wohl was recruited to Penn to be a quarterback for the football team but was having so much fun playing basketball that he realized he wanted to change course. When he told this to a football coach — that he was quitting the team to play basketball — he was kindly asked if he was out of mind. Then, he was told, "Son, this is going to be the biggest mistake of your life."
"I always enjoy that when I think back to it," Wohl said. "It turned out to the best decision of my life."
Wohl recounted that story during a speech at the Palestra earlier this week as he and his old teammates from the famous 1970-71 Penn basketball team were inducted into the Big 5 Hall of Fame.
It was part of a special ceremony for the Big 5's 60th anniversary in which the best teams from each of the Philadelphia schools through history took their places in the Big 5 Hall of Fame — the first time that teams, instead of players, were honored with such a distinction.
The idea was the brainchild of Steve Bilsky W'71, the current executive director of the Big 5, former Penn athletic director and one-time backcourt mate of Wohl during Penn's perfect regular season in 1970-71 — a remarkable feat I wrote about in a magazine feature five years ago.
Before the ceremony, Bilsky was thrilled that such a large crowd came to the Palestra to see the 1970-71 Quakers join the 1968-69 La Salle, 1984-85 Villanova, 1987-88 Temple and 2003-04 Saint Joseph's teams as this year's Hall of Fame inductees
And he was especially thrilled that nearly everyone on his old Penn team was able to be there for the occasion, including the entire starting five of Bilsky, Wohl, Bob Morse C'72, Corky Calhoun C'72 and Jim Wolf W'71, as well as key reserves Craig Littlepage W'73 and Alan Cotler W'72. (Another important player, Phil Hankinson W'73, passed away in 1996 but his brother was there to accept the honor on his behalf.)
"This is the first time we've all been together in 40-something years," Bilsky said. "I don't think the entire team has been together since the last game."
That last game, sadly, is one that every Philadelphia basketball fan remembers well — the one in which Penn's perfect season ended at the hands of rival Villanova, one game from the Final Four, by a shockingly lopsided 90-47 margin.
Bilsky pointed out that no one on the team "talks about it very much" but that "everyone in the world talks about it," saying he's asked about almost every day even while living down in Florida.
Wohl — the general manager of the Los Angeles Clippers who's been in the NBA for over 40 years as a player, coach and executive — called it a "wound that never heals," especially since he knows in his heart that Penn had a great shot to beat UCLA in the NCAA finals and win it all had they advanced past that round.
Still, the fact that Penn ascended to the No. 3 national ranking is still a feat Wohl and his teammates take enormous pride in. And the idea that an Ivy League team would win every game in the regular season — and then, 45 years later, make it into the prestigious Big 5 Hall of Fame — remains a cause of awe and disbelief.
"We had a coach [Dick Harter Ed'43] who had a dream he could put a national title contender together for an Ivy League team," Wohl said. "How crazy is that?
"It was just a wonderful team. We all look back at just an ideal situation where everything was about winning and helping each other. And it's great to relive those moments with the guys."
— Dave Zeitlin C'03