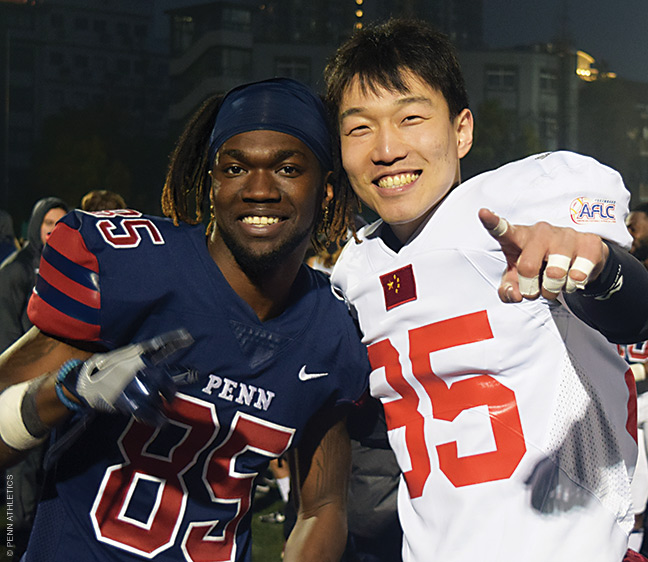 How the Penn football team ended up playing a game in China.
---
On the first day of 2018 preseason camp, Penn football player Sam Philippi was expecting to mainly hear encouragement from coaches, perhaps a rundown of goals for the upcoming season. It's fair to say being told about a 7,000-mile trip with more than 100 of his teammates to the world's most populous country came as a shock.
"When they first told me, I was confused," Philippi says. "I was like, 'Wait, they're taking us where? How?' I didn't think it was possible to actually do something like that with an entire football team."
Yet from March 3 to March 10, the Penn football team—all of the players and coaches, plus some administrators—embarked on what head coach Ray Priore calls a "once-in-a-lifetime experience" in China, marking the program's first official international trip in its 143-year history. How it all came together—without so much as a missing piece of luggage—remains a feat on par with any big win for Priore, who admits to being "nervous every step of the way."
Priore first got wind of the unique opportunity about a year ago from his friend Jim Margraff, a coach at Johns Hopkins who had taken his team to Italy through an organization called Global Football, which bills itself as the "world's largest exporter of American football since 1996." Founded by former Notre Dame quarterback Patrick Steenberge, Global's mission is to spread the sport by organizing games and events in countries not typically exposed to American football. When Steenberge mentioned to Margraff he was interested in bringing a team from the historic Ivy League to China to mark the 150th year of college football as well as the 40th year of US–China diplomatic relations, Margraff referred him to Priore, with whom he coached at the University of Albany in the mid-1980s. (Margraff, who was supposed to go to China with the Quakers, died suddenly in early January, adding an extra layer of emotion for Priore during the trip.)
Priore took the idea to athletic director M. Grace Calhoun, who says she "perked up right away" because she's "gotten a deeper appreciation of the University's work" in China. "It just seemed like a perfect opportunity to be a part of that increased Penn exposure and impact in China," says Calhoun, who obtained support from University leaders and then worked with the development staff to raise the necessary funds from donors.
There was still a lot to do from there, with players needing to secure their passports, visas, and necessary vaccinations, while participating in multiple workshops organized by Penn Global about Chinese culture and what to expect. "We all know the fallout when bad things happen," Priore says. A 2017 incident in which several UCLA basketball players were arrested in China for shoplifting is one glaring example. "Let's be on the positive side of it. And there was so much good that came out of it."
The trip, which coincided with Penn's Spring Break, began in Beijing, where the group visited historic sites including Tiananmen Square, the Forbidden City, and the Great Wall of China. "The Great Wall is a great wall," Priore says. "And we didn't take the pleasure cruise." Indeed, some players flaunted their competitive instincts, racing to finish the eight-mile, six-hour journey first. (Philippi, though, brought up the rear, snapping photos while soaking in the history of one of the wonders of the world. "That's probably something not a lot of people ever get to see.")
While in Beijing, the Quakers also held a practice at Beijing Olympic Park and conducted the same kinds of team meetings that normally mark on-campus spring training camp. That helped prepare them for the culmination of the trip in Shanghai (where they also did some sightseeing after arriving via high-speed bullet train from Beijing) when they competed in what was dubbed the "Penn–China Global Ambassadors Bowl." Playing against an all-star team representing the American Football League of China (AFLC), the Quakers won easily, though the final score mattered little in the end. "To be blunt, I've never seen a team lose 85–0 but still see so much joy on their faces after the game," says Philippi, a senior who will return for a fifth year after missing the 2018 season with an injury.
The Quakers indeed met surprising enthusiasm for a sport whose popularity lags far behind basketball, soccer, and more individualized sports like badminton and table tennis. Before the game, the players put on a clinic for eager kids—the highlight of the trip for many of the Penn students, particularly freshman Travis Wang, who spent time growing up in Hong Kong and Taiwan (and helped serve as a translator). "It was really cool seeing kids in China enjoy playing the game of football and seeing their faces when they're running around and we're coaching them up on drills," says Wang, adding that many of the pupils asked him how he ended up playing college football in the US.
Even though they were on the other side of the world, the Quakers felt connected to home in many ways. One of the few American-born players on the AFLC team, Jarred Evans, grew up right near Penn's campus, and one of the youth teams at the clinic was coached by Penn alum Justin Chun GSE'16. In the week leading up to the game, some Penn students also visited the Penn Wharton China Center in Beijing and the 53rd Wharton Global Forum in Shanghai, where they met with University President Amy Gutmann. "It was an amazing, eye-opening experience for them to see the magnitude of that and realize the power of being in the Penn network," Calhoun says.
Though planning a trip for 150 people—not to mention a whole lot of football pads, helmets, and other equipment—is more complicated than, say, sending a basketball team to Europe (where both of Penn's men's and women's squads have gone in the past year), Calhoun sees a lot of advantages in forging more relationships in China. While accompanying the team on the trip, the athletic director did some fundraising of her own and hopes Penn Athletics can find some additional sponsorships there. This season, because of interest sparked by freshman Michael Wang ["Taiyuan Tower," Mar|Apr 2019], Penn also began broadcasting its basketball games in Mandarin. And the Quaker men's and women's tennis teams are scheduled to visit China in May, with Calhoun noting that she hopes to set up an endowment to fund even more international opportunities in the future.
"I would definitely love for this to be the start of something," she says, "instead of just a one-off trip." —DZ