From Penn Medical Labs to Paperweight Legend
Late at night, with only water bugs and some 700 cadavers for company, Charles Kaziun would fire up his torch inside the Medical Laboratories (today the John Morgan Building) and begin melting down pieces of glass.
He'd often work past midnight, coaxing paperweights and buttons out of colorful glass slivers and chunks. With tools he designed himself, he'd shape each work at the torch, shut off the flame, then dash downstairs to the basement so he could stick his work in the oven before it cooled off.
Today some of his glass pieces are in museums, some are in private collections, and some are being sold for more than $2,000 each. But it was during the five years he worked at Penn in the 1940s, toggling between his day job in the physiology department and his night work at the torch, that Kaziun established himself as a glass artist—and that he worked on secret wartime projects with another renowned Penn glassblower.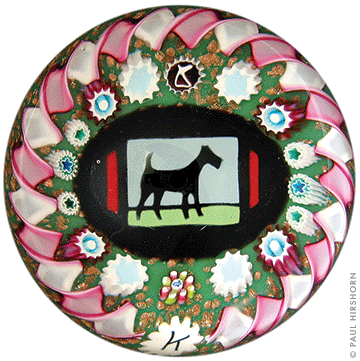 The son of Lithuanian immigrants, Kaziun grew up in Brockton, Massachusetts, in the 1920s. He discovered glassblowing in third grade, when his class watched a demonstration. After seeing a family of glassblowers explain their art at a fair in 1933, Kaziun began teaching himself the craft, using old colored glass bottles and a homemade Bunsen burner.
He trained in scientific glassmaking after high school, but soon left to open his own studio. By 1942, he'd begun reproducing antique glass buttons—miniature paperweights, essentially—for a local dealer while working on other art glass projects on the side. When James D. Graham spotted one of Kaziun's buttons and his seven-inch-tall emerald glass figurine, "Diana, Goddess of the Hunt," he invited Kaziun to come work with him at Penn.
Graham had been blowing glass at Penn for several decades by then. He became the University's official scientific glassblower in 1922—one of the first employed by a medical school in the country. (Though the art form seemed to be dying off by 1950, a spike in scientific research created demand for glassblowers like Graham in academe, industry, and government.)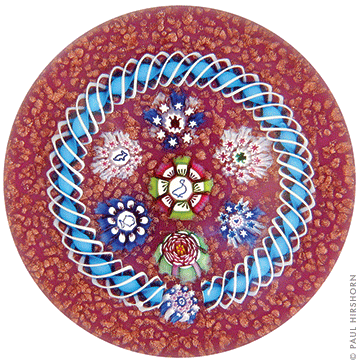 Any time Penn biologists, physicists, or chemists needed special and specific glass instruments to carry out their experiments, Graham created them. According to one report, he was so skillful that he could produce any equipment without mechanical drawings or blueprints.
In his 40 years at Penn, Graham crafted numerous instruments for researchers, including a 1/1,000-inch-thick glass pipette that reportedly enabled pharmacology professor Alfred Newton Richards—at Penn from 1910 to 1948—to discover the secret of kidney function.
When Graham brought Kaziun to Penn in 1942, the two became fascinated with a 1940 book called Old Glass Paperweights. Its pages showed weight after beautiful weight: flowers with dozens of individual petals, tiny bowls of fruit, intricate patterns and swirls and realistic snakes, all made from bits of colored glass melted and molded, then encased in a clear glass bubble.
Kaziun later remembered Graham saying, "Only the French could do this," as they marveled over the photographs. The comment irked him, and Kaziun shot back: "The French don't have a patent on brains."
He set out to rediscover the forgotten techniques of 19th-century France. Late into the night, inside the Penn labs, he'd experiment with making glass buttons, drawing on the European styles he'd seen in Old Glass Paperweights. One day it occurred to him: some of the collectors buying those buttons were pretty old. Their vision was fading. He decided to make the buttons bigger, at least an inch across, so their intricate designs would be easier to see. Before long, Kaziun's French-style buttons had become French-inspired paperweights.
Throughout his experiments, Kaziun found an enthusiastic mentor in Graham. He soaked up inspiration and encouragement as the expert glassblower nudged him along: "That's pretty good," Graham would say of Kaziun's latest effort, "but the French did such-and-such."
By day, Graham and Kaziun were involved in weightier glass pursuits. During World War II, they created precision vacuum gauges used in the top-secret Manhattan Project that produced the first atomic bombs. They also fashioned instruments for scientists at Penn and beyond, including researchers involved in producing penicillin and magnesium.
Fairly early into the five years he spent at Penn, Kaziun met Emil Larson, a prominent paperweight-maker in Vineland, New Jersey. Kaziun saw Larson's crimp rose weight—a realistic rose-top encased in clear glass—and decided to make his own version. It took him three years and some $3,000, but he eventually succeeded—and Larson immediately asked to buy the weight.
By the time he left Penn in 1947, Kaziun had become a skilled glass artist. He returned to Brockton to focus on his paperweights, yet kept his affiliation with Penn until 1962, creating vacuum gauges on a contract basis and returning to campus for several months every spring.
After that, Kaziun committed himself to making paperweights full time. He did so until his death in 1992, by which time he had been recognized as one of the world's greatest glassblowers. The Kaziun crimp rose became one of his most famous designs, and he was known for his intricate works and masterful use of color.
His weights now live in numerous museums and private collections, including the Museum of American Glass in Millville, New Jersey. But it was in that cramped, dingy Medical Laboratories room, alone and a few floors up from the cadavers, that Charles Kaziun first learned the secrets to making beautiful paperweights.
—Molly Petrilla C'06