From Disgusting Dough to Artful Cookbook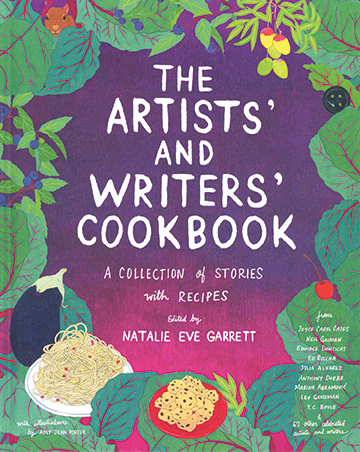 A few years ago, Natalie Eve Garrett GFA'04 came across an unusual cookie recipe that called for chickpeas instead of flour.
"I thought it was potentially gross and too health-foody," she writes, "but I loved the warning at the end, something along the lines of: do not try the dough, it is disgusting."
So she didn't. Not then, anyway. But the idea lingered, and six months later, she made those chickpea cookies. The result "changed my life forever," she notes. "I fixated on them, started writing and publishing my own recipes, and, in an oblique way, they even led me to create this book."
That would be The Artists' and Writers' Cookbook: A Collection of Stories with Recipes, illustrated by Amy Jean Porter and published last October by Powerhouse Books. As the subtitle implies, the stories and sketches by more than 70 writers and artists—ranging from Joyce Carol Oates and Roz Chast to T.C. Boyle and Paul Muldoon—more than share the billing with their recipes. (Muldoon's "A Recipe for Disaster" is actually a terrific poem that begins: "Take one pork cutlet,/ preferably from a pig that's been growth hormone-addled/ and shows evidence of low-dose antibiotics/ that's sometimes swept under the rug." Chast's "Dinnertime" sketches feature "Recipes from the 'I Really, Really Hate to Cookbook,'" such as "Leftover Jamboree" and "Dial Tone Special.") Others are more personal meditations on specific foods. Here is Garrett's own recipe.
---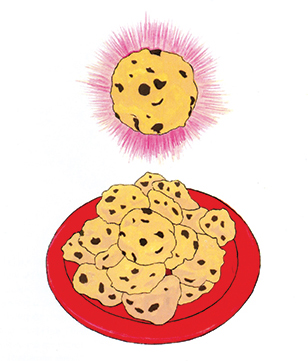 Natalie's Chickpea Chocolate Chip Banana Cookies
1 ½ cups chickpeas
heaping ½ cup peanut butter (or other nut or seed butter)
¼ cup honey
2 teaspoons vanilla
½ banana
1 teaspoon baking powder
heaping ½ cup dark chocolate chips
¼ teaspoon sea salt
extra sea salt for sprinkling on top
Preheat the oven to 350, then line a cookie sheet with parchment paper.
Measure out your chickpeas. If you're using canned chickpeas, dry them on paper towels first and peel them if you have the time. (The dough will be slightly smoother if you do, but they'll be great either way.)
Purée the chickpeas in a food processor fitted with a steel blade. Scrape down the edges, and blend for several minutes until the dough is smooth.
Add all of the remaining ingredients except the dark chocolate chips and extra sea salt and pulse until combined.
Add the chocolate chips and mix. The dough will be quite sticky now.
Spoon the dough onto parchment paper, making approximately 16 cookies. Flatten each cookie very slightly with a fork and sprinkle sea salt to taste.
Bake for 11-13 minutes.