Finally, an EPIC at Penn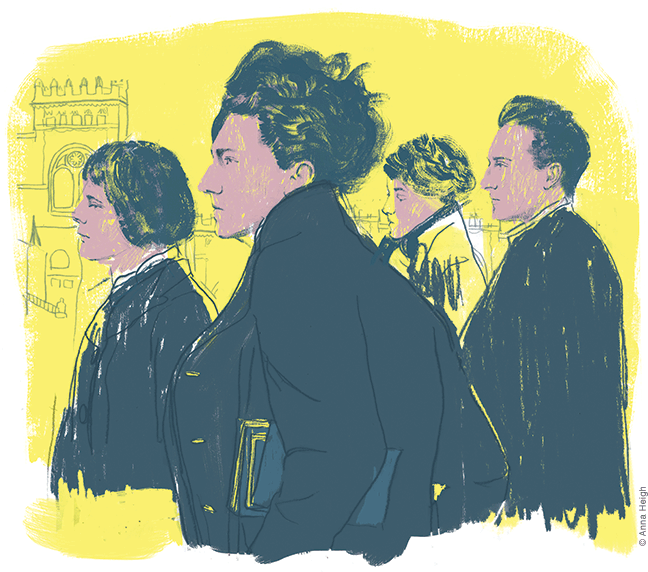 This year's Ezra Pound International Conference had a Philadelphia focus.
---
Ezra Pound C1905 G1906 did not always cherish his educational experience at Penn. Nor did the University cherish its most famous and controversial poet-alumnus. But the hugely influential Modernist is still in its debt, and not just for the classroom teachings and the deep friendships he forged there with William Carlos Williams M1906 Hon'52 and Hilda Doolittle CCT1909. Turns out he owes the University Library system for a long-overdue book by an obscure Greek author. But we're getting ahead of ourselves.
That elusive book—and many other choice tidbits—came to light in June during the 27th Ezra Pound International Conference (EPIC), held at the Kislak Center in Van Pelt-Dietrich Library. The weeklong event—"Ezra Pound, Philadelphia Genius, and Modern American Poetry: William Carlos Williams, Hilda Doolittle, and Marianne Moore"—featured scholarly presentations and performances, walking tours of Penn and relevant parts of Philadelphia, and visits to the poets' early environs. The tour destinations included Wyncote and Bethlehem, Pennsylvania, for Pound and Doolittle; Rutherford, New Jersey, for Williams; and Bryn Mawr College, which Moore and Doolittle attended as undergraduates.
The EPIC even offered a series of videotaped toasts to Pound's daughter, Mary de Rachewiltz, now 91 and living at Schloss Brunnenburg, the 13th–century castle in northern Italy where Pound lived briefly after his 1958 release from St. Elizabeth's Hospital, and which now houses the Ezra Pound Centre for Literature.
Full disclosure: the Gazette was only able to attend a few of the presentations. But what we saw was impressive.
"We set the bar higher, perhaps, than in the past, and I think people generally felt the papers were very good," said David McKnight, director of the Rare Book & Manuscript Library and the conference's main organizer. He also put together a temporary exhibit of first-edition books by the four poets in the Lea Library, starting with Pound's 1908 A Lume Spento , as well as later books from New Directions and some literary magazines from the era.
Emily Mitchell Wallace, a Modernist scholar and research associate at Bryn Mawr who once taught at Penn, said she was "delighted to see Poundians recognizing that the two 'girls,' like the two 'boys,' were also geniuses essential to Modern American poetry, and that understanding the closeness of the friendship of these four poets with one another enhances our understanding of the poems of any one of them individually."
The library at Brunnenburg is still filled with Pound's personal collection of books. It was there, three years ago, that one of the presenters—Claudio Sansone, a PhD candidate in the Classics department at the University of Chicago—"chanced upon a relatively unknown ancient Greek text called Alexandra, by Lycophron."
Lycophron was arguably "the ancient Greek author who is most like Pound," said Sansone, and Alexandra struck him as "the closest text to the Cantos that ancient Greek literature can offer us." Since that connection has been unexplored by scholars, Sansone was first "puzzled" and then "delighted" by his discovery. It was "particularly appropriate" to be presenting on that topic at Van Pelt, he added, since—"not to get anyone in trouble—Pound's specific copy of Lycophron was checked out of the University of Pennsylvania libraries on the fourth of April, 1939, and, clearly, never returned." Since the expat Pound only arrived in America from Italy on April21 of that year, "the book was likely passed on to him in the spring or summer of 1939 before he returned to Italy later in the summer." No one knows who checked it out for him.
The other 60-some papers, talks, and performances covered a broad range of topics relating to the four poets. Charles Bernstein, the Donald T. Regan Professor of English at Penn and codirector of PennSound, moderated the two opening plenary sessions. In "The Sound of Pound and H. D.," NYU's Richard Sieburth played and discussed some of Pound's dramatic recordings from the PennSound archive, while Simon Fraser University's Sasha Colby performed her quietly riveting one-woman play based on H. D.'s writings. In "The Sound of Moore and Williams," independent scholar Linda Leavell examined "Marianne Moore as Performer: Recordings from Harvard and San Francisco."
The EPIC's keynote address featured Edith Hall, professor of Classics at King's College London, who discussed how Pound's reciting of Euripides's poetry in the 1903 Penn student performance of "Iphegenia Among the Taurians" may have affected his own early poetry. (A "brilliant" talk, in Wallace's view.)
In "Pound and/or Franklin: A Reading of Canto 31," John Gery, research professor in poetry at the University of New Orleans, asked why Pound had ignored Franklin's life and thought in The Cantos, delving instead "so deeply into Thomas Jefferson and, even more prominently, John Adams."
Both Franklin and Pound spent their formative years in Philadelphia and were "clearly influenced by their 'education' and experiences there," Gery noted in his abstract. "But whereas Franklin went on to devote much of his life to the city and was probably more instrumental than any other individual in shaping its future … Pound left Philadelphia behind him, even as he arguably took with him Franklin's resourceful, autonomous, practical-minded, and far-reaching ingenuity in shaping the future of poetry and literary culture elsewhere, from London and Paris to Rapallo and Beijing."
---
For Wallace, being able to "add Hilda Doolittle to the roster of distinguished artists who have attended Penn" was "especially wonderful," since it was her scholarly detective work that made it official. Having tried for years to track down Hilda's transcript at the University Archives (her father, Charles Doolittle, was the Flower Professor of Astronomy at Penn), Wallace finally asked if there was a Penn transcript for Margaret Snively, Hilda's childhood friend. It turned out there was, she said—"and stuck to it in the file folder was Hilda Doolittle's transcript!" The fact that the Imagist poet had been enrolled not in literary studies but in the old College Courses for Teachers program doesn't change the equation.
Wallace has also lobbied the University for years to award Pound a posthumous PhD, and her most recent effort was denied by a Penn faculty committee. The backstory of Pound's unhappy experience with English professor Felix Schelling and professor-turned-provost Josiah Penniman is too long and tortured to recount in detail. (Pound was effectively pushed out of the graduate program after earning his master's degree in 1906, and his later efforts to get a PhD—first submitting his influential book The Spirit of Romance and later his Cavalcanti Rime—were brusquely denied. For more, see "Moderns in the Quad," April 1997.) Of course, Pound rubbed many people the wrong way, and after he left Penn his embrace of fascism and his anti-Semitism (for which he later expressed regret) did not help his cause.
But the EPIC itself was an important event for Modern poetry at Penn.
"I'm hoping that the legacy of the conference will be building a foundation for Modernism in the Penn library," said McKnight, and he and Wallace hope to install a plaque in College Hall 200 (the onetime chapel) noting that Pound, H. D., and Williams had all attended the University.
"Pound as the leader deserves much more," said Wallace, "and individually each of these poets deserves more."
But that's another story.—SH