Feats of Clay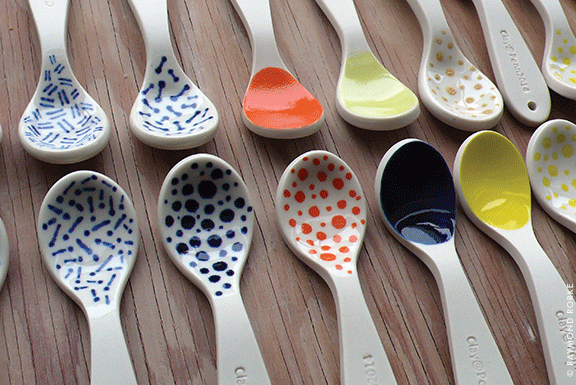 Clay is everywhere: the mud stuck in your boot treads, the mug that holds your coffee, the fillings in your teeth. It's an ancient vase behind glass at the anthropology museum; it's tomorrow's technology; it's mass-produced tableware; it's high art. You can't escape the stuff.
That was the idea behind the School of Design's "Clay@Penn 2014: Pervasive Clay," a recent exhibition at the Charles Addams Fine Arts Gallery of works by 13 regional artists, whose pieces ran the gamut from functional to sculptural to conceptual. In the domestic realm, studio potter Ryan Greenheck's luscious porcelain teapot exuded the gravitas of high-end craft. If you owned so gorgeous an object, it would rest in a place of honor, unlikely to be pressed into service brewing up batches of oolong. By contrast, illustrator Molly Hatch's clever, production-quality floral plates seemed just about perfect for serving kale salad at a summer garden party.
Liz Quackenbush's playful majolica hedgehog "Pouring Vessels" faced off against the elegant, functional dinnerware of Bryan Hopkins EAS'00 GEng'03. Porcelain urns by Jane Irish CGS'03, PennDesign's MFA program coordinator, appeared at first glance to reference 18th-century Limoges, though on closer inspection, their painted decorations turned out to be a Frank O'Hara poem or a discomfiting image of the Vietnam War.
Ruth Borgenicht's ceramic chain mail, presented in multiple scales from floor sculpture to jewelry-size, juxtaposed the strength of body armor against the fragility of fired clay. Raymond Rorke C'79's "Handhelds," a fantastical series of faux-utilitarian objects, seemed to have been unearthed by archaeologists from an alternate universe. "Egg Blot," a sculptural piece positioned on bathroom tiles, by Penn ceramics instructor Sumi Maeshima, simultaneously seduced and repulsed—a fascinating if uneasy marriage between art and craft.
During the exhibit, Clay@Penn hosted two "Clay Salon" reception-style evenings of informal talks in which gallery visitors rubbed elbows with scholars and artists. Experimental architect Jenny Sabin GAr'05 explained her revolutionary 3D-printed ceramic installation "PolyMorph," which investigates the ways in which the biological processes of morphing and developing can be applied to the static art of architecture. Ann Blair Brownlee, a curator in the Mediterranean section of the Penn Museum, spoke of the recursive image, painted on an ancient Greek vase, of a potter making a … vase: her own little "meta-cup" that gives historians a glimpse of the artist who painted the clay vessel.
At the evening's close, each Clay Salon visitor received a tiny porcelain spoon to take home. The spoons were originally intended as a metaphor, according to the exhibition's organizers, who made them by hand in the weeks preceding the exhibit. But they're also functional, perfect for a sugar bowl or your office yogurt snack. Tangible, symbolic, protean. That's clay.
—Karen Rile C'80