Family History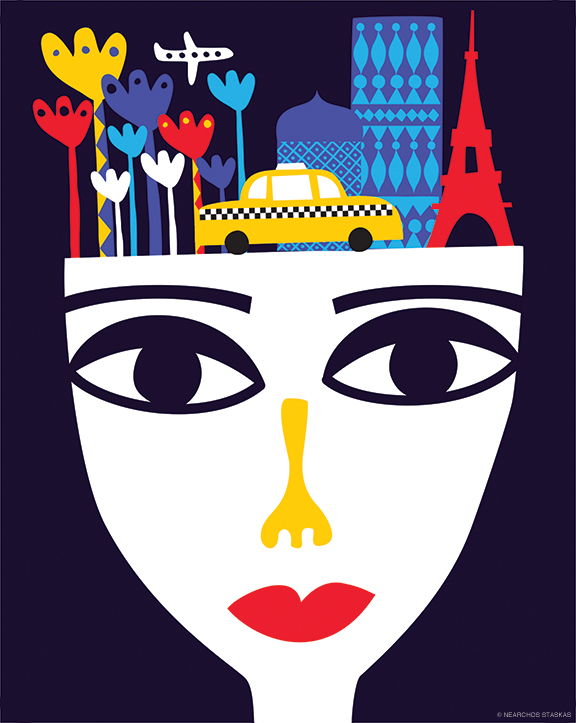 "I used to think of my roots as an immutable part of who I was. Now, I'm not so sure."
By Maya Afilalo | After my first dinner in Tours, my host mother wonders out loud whether she should have served a more authentic French meal. I say it was delicious, which is true—the dish, made of eggs, cheese, and tomato, tastes great, especially after a three-hour bus ride from Paris with only a stop at McDonald's. I have been quiet at dinner, but Dominique, her husband, and their four children don't mind. They've hosted college students like me for almost 10 summers, and they say most of their guests are shy at first. We eat outside at a wooden table, enjoying a gentle breeze that floats through the garden.
It doesn't take long before I feel at home with the Couriers. The boys have their own bathroom, and the girls and I somehow never need the shower at the same time. I mention offhand that at home I eat cereal in the mornings, and a few days later a box of Frosted Flakes materializes. One weekend, my host sisters and I watch The Sound of Music dubbed in French under the covers in my bedroom. I try to adopt a French demeanor—wearing a denim jacket and trading my Jansport for a shoulder bag purchased from a street vendor—though when I open my mouth my accent gives me away.
But my host family isn't my only family in France. My father was born and raised in Ivry-sur-Seine, a banlieue, or suburb, just outside of Paris. His parents were from Marrakech, Morocco, where my grandfather sold fruit and vegetables to the French army. My grandparents eventually moved to Algeria, and after the Algerian War of Independence they left for Paris, where my father was born. They settled in an apartment on a street whose name is so loaded with symbolism, it would be heavy-handed if it were fiction: rue du 19 mars 1962, the day France signed a ceasefire with Algeria and essentially lost the war.
Before he moved to the US at age 20, my father grew up in a high-rise apartment that now overlooks a busy road, a cemetery, and a video store. They were one of about half a dozen Jewish families in the neighborhood. This is where I visit my grandmother and my uncle, on a long weekend during my summer in France, 50 years after my grandmother moved there.
I arrive to the familiar sight of my grandmother leaning out the first-floor window of her bedroom, waiting for me. When I enter the small apartment, I am greeted by the sound of a game show blaring on TV (my grandmother is nearly deaf, but refuses to wear hearing aids) and the smell of Moroccan cooking—chickpeas, fish, phyllo dough stuffed with ground beef. The apartment is cluttered and essentially unchanged from previous visits with my father. My grandmother and uncle don't speak much English, and on past trips my father acted as translator. This time, we are able to speak without help.
Over the weekend, aspects of my family's life in Ivry that had previously passed somehow beneath my notice stood out to me. I had never perceived that my grandmother speaks French with a slightly harsh, Arabic accent. She rolls her 'r's, rather than producing the sound in the back of her throat. In Tours, locals boast about speaking the "purest" French, devoid of regional accents. My grandmother's speech is also peppered with Arabic phrases—one of her favorites is nabibesk, an endearment which my father translated to me as "May I die instead of you." When you sit down at her table, she will pile food onto your plate until you've had multiple helpings of every dish—saying you're full is futile. A striking contrast to dinner with my host family, where I took moderate servings of quiche or salad or roast beef and no one commented if I didn't take seconds.
My route to class in Tours takes me past crepe vendors, an H&M storefront, and cobblestone paths leading to a medieval cathedral. Many of the city's residents are white and Catholic, like the Couriers. In Ivry, most of the faces I pass belong to North African or East Asian immigrants, and on my way to my grandmother's I walk past several Chinese and Vietnamese grocery stores.
My father has wrestled with the question of his identity for his entire life. After graduating high school in Paris, he spent a year studying in Jerusalem. Then he landed in Cambridge, Massachusetts, where Julia Child hired him to do yard work because she liked that he was French. Eventually he moved to New York and married my mother. For each new place he lived, his sense of self changed.
"It was strange," he told me once. "In France, I was the Jew. In Israel, I was the Moroccan. In America, I'm the Frenchman."
After over 30 years in the US, in many ways my father has assimilated into American culture. He watches more NBA games than Champions League soccer, and when I was growing up, he made me chicken nuggets and mac 'n' cheese for dinner. He has only ever spoken to me in English. But the importance of his upbringing is still unmistakable. His wife, my stepmother, also comes from a Jewish French-Moroccan family, and they speak French in their home. Several years ago he moved from the Philadelphia suburb where I grew up to New York, and many of his friends there are from the Jewish French-Moroccan community.
In one of my classes in Tours, I learned the phrase français de souche. It can be translated several ways, but fundamentally it means "a native French person," or "of French stock." Français de souche is not a term the Couriers would ever use to describe themselves, but, having a long history of French nationality, they meet its criteria.
It wasn't until I went to France that I began to question my typical response when asked about my family origins, which included, "I'm half-French." Going between the Couriers' quaint row home and my grandmother's boxy, somewhat rundown apartment complex, I realized that my family is not "of French stock." Like my father a generation before, context changed my understanding of my identity.
But unlike my father, I have never felt pigeonholed because of where I came from. I am free to choose whether to emphasize my father's Frenchness or Moroccan heritage, my mother's Iranian roots, or both sides' Judaism. After I returned to the US, I began to say I was part French-Moroccan—not just French. Yet in France, my host sister jokingly referred to me as "mon americaine." There, my French-Moroccan and Iranian origins mattered less than in the States. I was the American.
I used to think of my roots as a fixed entity, an immutable part of who I was. Now, I'm not so sure. Who I am depends on where I am, not just where I came from. But this uncertainty doesn't feel like a loss. On the contrary, wondering about where I fit in each place I go—Tours, Ivry-sur-Seine, Philadelphia—has been more illuminating than being certain. The not-knowing is part of who I am, too.
Maya Afilalo C'16 graduated in May.