Disaster Control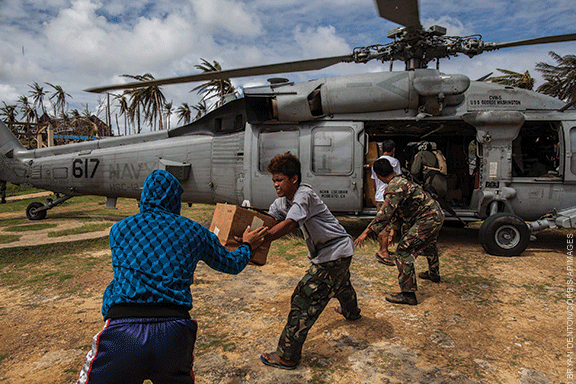 How to make humanitarian aid more humanitarian.
By Jessica Alexander | The November landfall of Typhoon Haiyan in the Philippines was one of the deadliest natural disasters in that nation's history, and it inspired a global outpouring of concern. From countless small donations of food to a massive influx of resources from aid organizations, the international response exemplifies the way the humanitarian aid system has come to operate. The pattern is familiar: disaster happens, the media jumps in, and the money starts flowing.
It's a natural impulse to want to help people after a catastrophe. Yet the question remains: Is this the best way to help people who are affected by recurring natural disasters?
There is much to celebrate about swift mobilization of generosity that marked the humanitarian reaction to Typhoon Haiyan, which appears to have been the strongest tropical cyclone ever to make landfall in recorded history. But it is becoming increasingly clear that this traditional, reactive approach to natural disasters, in which international actors swoop in to save the day, is neither the most effective nor even the most ethical way to carry out humanitarian aid.
To understand why, consider three other recent calamities that barely registered in the global consciousness.
October's Cyclone Phailin was India's largest cyclone in 14 years. The same day that storm struck, Typhoon Nari swept the coast of the Philippines with sustained gusts of 85 miles per hour. And one month before that, a 7.7-magnitude earthquake shook southwest Pakistan. Media reports of these natural disasters were relatively sparse, primarily because so few people were killed. In India, the government reported a death toll of 45 people; the Philippines recorded 20 fatalities; and in Pakistan—which in 2005 suffered an earthquake killing some 75,000—the death toll was 825.
These natural disasters have something in common: all three had the potential to be much deadlier. For instance, the 1991 cyclone in Bangladesh killed upwards of 135,000 civilians, whereas Cyclone Sidr in 2007 (of similar strength) killed less than a tenth of that amount. This drastic drop in casualties can be attributed mainly to the fact that the government and civil society groups worked to issue early warnings and evacuate at-risk communities. The success of this response reflects years spent developing community risk awareness, early warning systems, and disaster preparedness.
Another thing was remarkable about the response to these three events: not one of the affected countries requested outside assistance from international actors. This speaks to a trend in the way that aid is being delivered. Today, middle-income countries are better prepared for—and more equipped to respond to—disasters in their countries. The traditional international aid machinery is taking a backseat to local civil society groups, national disaster-management agencies, and the affected people's own responses.
In contexts rife with natural disaster, the ability of local actors to prepare for and respond to events in their countries is a positive development. As international aid workers, we talk about working ourselves out of jobs by helping to build the capacities of nations to respond on their own. "Resilience" is the buzzword in the aid industry these days as we recognize that if and when the international community comes in to respond, we should build up and encourage local resources so that we won't need to return the next time. (And there usually is a next time.)
We've seen this method work. After the 2011 floods in Thailand, many international aid workers felt their presence to be superfluous to the local response going on around them. This ranged from university students creating sophisticated maps of the affected areas, to private businesses delivering food and other necessary items quickly and efficiently. A similar situation occurred in central Java, Indonesia, in 2006, where by the time humanitarian aid began flowing to aid those affected by an earthquake, local communities already had websites set up outlining their needs. Indonesia's National Disaster Management Agency has made huge strides in preparing for and responding to domestic crises, and plays a leading role within the Association of South-East Asian Nations to coordinate preparedness and emergency response. While we still have a long way to go to achieve this for many countries, it's encouraging to see it working in some parts of the world.
Tropical storms aren't new to the Philippines. Upwards of 20 typhoons slam into the country every year, causing large-scale flooding and casualties. According to the Global Climate Risk Index for 2013, the Philippines ranks fifth in terms of countries most affected by extreme weather conditions. As a result, the Philippines has made efforts to formalize emergency alerts, develop and execute evacuation plans, and reduce the vulnerability of their citizens by integrating disaster preparedness into school curricula to educate students on risks. Indeed, these systems—the product of long-term planning and in-country disaster-relief infrastructure—went a long way to saving lives after Typhoon Haiyan.
There is no question, though, that Haiyan overpowered the Philippines. This was the strongest storm to come ashore in the country's history, bearing sustained winds of 190 miles per hour with gusts rising to an estimated 235 miles per hour. But that only underscores the fact that we need to get serious about supporting local response capacity and preparedness.
There's a strong economic argument for doing so. Budgets for international relief are finite. That's why building local resilience is crucial—not only for those countries that benefit internally, but for future humanitarian crises where governments need international support that can augment their own disaster-relief system for maximum efficiency. All climate-change indicators suggest extreme weather events are on the rise; the international community will not be able to respond to all of these, even if we had the resources.
There's a moral argument as well. As humanitarians, we have an imperative to do all we can to prevent and mitigate human suffering, of which working to reduce risk before a catastrophe plays a major part. Furthermore, local actors are able to respond faster, provide more appropriate relief due to their knowledge of the culture, and are, as citizens, more invested in long-term outcomes.
Still, efforts to prepare communities and national authorities for recurrent storms are too few and far between. The humanitarian aid system is set up to respond after a disaster takes place, not before, and the media reinforces this reactive approach. After all, it's far easier to have a photo-op of volunteers rebuilding a school that's collapsed than it is to show a school that hasn't collapsed because of its special reinforcements. And it's far easier for humanitarian groups to fundraise after a disaster has happened: the public seems more willing to make donations that help displaced people than those that help protect a water supply in case another storm hits.
This highlights the role donors have to play. Prevention and preparedness comprise just a tiny fraction of international aid: less than .5% of the $3 trillion spent between in 1991 and 2010 was spent on outfitting countries for natural disasters. If we want a system that allows governments to protect their citizens before a disaster even strikes, funding for these activities should expand.
In response to the Philippines, humanitarians should continue to shift from the reactive nature of their traditional approach—parachuting in after a disaster happens—to a longer-term engagement that will help identify future risks, and, where appropriate, help government and civil-society actors manage those risks better. Our role should not be long-term care, but any time we're saving patients but failing to set them up for recovery, we're not doing our job.
---
Jessica Alexander C'99 is the author of Chasing Chaos: My Decade In and Out of Humanitarian Aid (Broadway Books, 2013). Follow her on Twitter: @jessalex811