Constructing a New Kahn
Bythe time Nathaniel's My Architect was released in 2003 and sparked new interest in the memorial, a movement was growing to take back the site and build something else on it. In October 2004 a concerned neighbor and philanthropist named Jane Gregory Rubin asked Cooper Union to mount an exhibition with the implicit idea of kick-starting a fundraising drive.
"It was really a last-ditch effort to say, if we don't do this, this [site] is going to be given away for some other purpose," says Pollara, who was then working in Cooper Union's architectural archives. She co-curated the exhibition, "Coming to Light: The Louis I. Kahn Monument to Franklin D. Roosevelt for New York City."
The exhibition did its job. The late Arthur Ross W'31 Hon'92 gave the first $2.5 million, and an article in The New York Times prompted the Alphawood Foundation to give $600,000 in seed money—then, later, $10 million. In August 2006, FDR Four Freedoms Park asked Pollara to head the project.
"It was really unclear whether we would be able to actually pull this off—for financial and political reasons, and regulation reasons," says Pollara, noting that Roosevelt Island represents a "very complicated jurisdictional problem" for builders. The remarkable William vanden Heuvel raised roughly two-thirds of the $53 million budget from private sources, with another $12 million coming from the city and $6 million from the state—a "staggering" achievement, Pollara says, especially in a time of economic collapse.
There were still lingering issues related to the park's design, including the ramps and other proposed changes for handicapped accessibility.
"There was a lot of back and forth as to whether this was being completed the way it should have been," says Rubenstein. He had left Mitchell/Giurgola by then and gone out on his own, but when Sue Ann Kahn approached him in 2008 to help out as an unpaid consultant, he agreed.
"There was a sense that things were getting watered down in terms of the detailing—subtly, but significantly," he adds. "And without anyone realizing they were doing things in error, the new set of specifications had an awful lot of things that were not the way that Kahn would have done them. There was no one in that [Mitchell/Giurgola] office who knew anything about Lou Kahn, outside of looking at pictures."
On March 29, 2010, construction began on what is said to be the heaviest stone-setting job ever undertaken in New York City. (The granite blocks were too heavy for the Roosevelt Island Bridge, and had to be ferried to the island from northern New Jersey.) Pollara has praised her "passionate and dedicated construction team" for executing the plans to a tolerance of one-eighth of an inch, but it wasn't exactly a painless process.
"There were so many times at the weekly construction meetings where the guys would say, 'Well, it doesn't matter, because you won't see it,'" recounts Pollara. "Finally I said, 'The next person who says that is fired. I'm done hearing that. You do know the difference.'"
Take the massive granite columns. A granite expert hired by Mitchell/Giurgola recommended making the pieces square and having the same finish on all four sides, so that if there was a problem with one face, it could be turned around while the crane was moving it. "That got written into the spec that was about to go out for bid," says Rubenstein. But the original project plans had called for those faces to be an inch apart—"honed, rather than sawn or flamed or so forth, because Kahn knew that they would take the light and do something absolutely magical with it. So we said, 'No, you can't do that, and you have to go back on this.' That was the beginning of understanding that there were lots of little bits and pieces of stuff that had not carried through from '74."
One of the most delicate issues concerned inscriptions. Not only had designs been drawn up showing the words from Roosevelt's speech written on the walls of the Room, but at one point the names of major donors were going to be inscribed in sensitive locations as well.
"I queried people [from Kahn's office] who had worked on this," says Whitaker. "One said, 'The whole point was not to have inscriptions. So it's not even worth doing if you're going to do that.'" He also found notes from a meeting in which Kahn himself had said that any inscriptions from the speech would "best be displayed around the sculpture," not the "columnar masses" of the walls.
"If you look at the drawings from 1975, the back side of the sculpture niche is the only place where any text was to be inscribed," says Pollara. "So thankfully Bill and Nathaniel made a very clear case that that was not the right thing to do."
The inscriptions were dropped—but only at the last minute, and not without blowback. Two of the biggest donors, the Alphawood Foundation and the Reed Foundation, sued for breach of contract and at the last minute tried—unsuccessfully—to halt the dedication ceremony. Part of the suit has been settled, and the names of major donors will be near the entrance to the park.
The ramps had been dropped before construction began.
"Thankfully we were able, at the 11th hour, to turn the design back to the original Kahn design and thereby preserve that very important experience of the Room," says Pollara. "I'm just thankful we didn't build the wrong thing. It would have been a complete disaster."
---
Of the unresolved issues at Four Freedoms Park,the most jarring is the entrance scheme. Visitors now have to go past the fenced-off Renwick Ruin and through a "no-man's land" controlled by RIOC to reach Kahn's masterpiece, explains Pollara. The problem is exacerbated by the fact that the original 13-acre site was "bifurcated when we started this effort," and there has been virtually no coordination between the two organizations. Though she found that frustrating at first, she now sees it as an opportunity.
"Now that we've got all this information [in the Architectural Archives], we can really go back and evaluate, and say, 'Look, let's try to build out the rest of the Kahn vision,'" she says. "It would be so wonderful to reestablish the grove of trees." (Ultimately, they'll need to coordinate with RIOC and Cornell University, which is putting together a master plan for its Cornell Tech campus to be located just north of the RIOC parcel.)
Pollara is also quite open to the idea of Pattison's canal—which, she points out, would be on what is now a flood plain.
"Right now we're undertaking to do some feasibility studies and some schematic programming and schematic design," she adds. "In my opinion there isn't any idea off the table."
Furthermore, since the original vision provided for a reception hall and facilities—first in the House within the Garden, then more vaguely in the Renwick Ruin area—Pollara adds: "We still need those facilities. We don't have certain things that we need out on this site to make it a sustainable destination. So the idea of going back to these original ideas and reintroducing them is a great place to start."
Which brings us back to the Architectural Archives. If you don't use the Kahn Collection for a project like this, says Whitaker, "why have this stuff in the first place? A collection like this is our cultural heritage. It's part of how we understand what it is to be a great architect, to make great architecture—and what Lou Kahn and his collaborators did to make it work."
"Bill was a bridge of interpreting," says School of Design Dean Marilyn Taylor. "He deserves incredible praise for his very quiet but learned and persistent application of what he knew to help us move through from what we had, to what should happen. And he's gotten acknowledgment for it, but maybe not enough."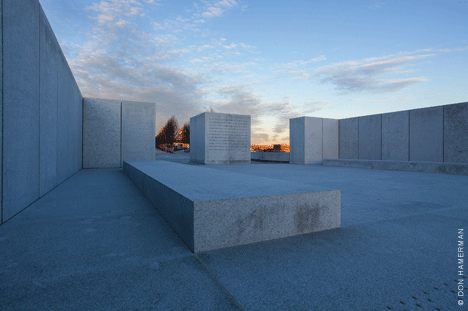 Back in the Architectural Archives, I ask Pattison how she felt that rainy day in October when, after all the dread and all the anxiety, she finally had a chance to see the memorial that Kahn had first envisioned, with her help, nearly 40 years before.
"Oh, amazement that this was built," she says. "Really astonishment. And going to the Room was wonderful." The sight of the great granite blocks, so artfully placed, suddenly made her remember Kahn's famous dictum: Consider the momentous event in architecture when the wall parted and the column became.

She was delighted to see that "the big moves are there—the arrival and the steps and then suddenly the perspective and walking through trees down to this wonderful thing," she adds. "It was marvelous, in the rain. It was beautiful, really. Bill gave a wonderful introduction and description of its making. And it was wonderful to see people from Penn, a couple of whom had participated and worked in Lou's office."
At the very end of our long interview, Nathaniel suddenly asks a question of his mother that pulls her up short. "Did you miss Lou, when you went to Roosevelt Island? Did you think about him?"
A pregnant silence follows.
"That's quite a question," she says. "I don't know really what I felt. I was just very anxious and very curious and very worried."
"Well, you were carrying that with you for him, in a way," Nathaniel suggests. "You were worried for him, too."
Harriet Pattison looks up then, and the little cloud of uncertainty that had been hanging over her dissipates.
"Well, when I got to the end, and people had disappeared, and I was right there, alone, I thought about him," she says finally. "There was nobody there then. And I felt wonderful. He did it."