Coming Full Circle in University City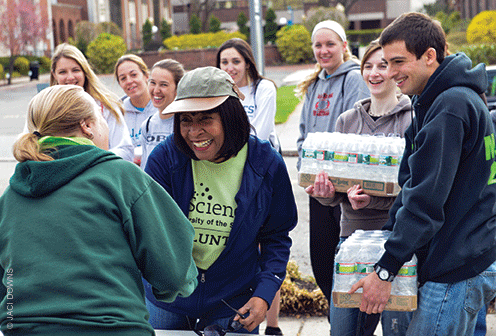 Class of '72 | The hallway outside Dr. Helen F. Giles-Gee CW'72 GEd'73 Gr'83's office at the University of the Sciences (USciences) is lined with the portraits of past presidents. It's hard not to notice that they're all white men. Which is why, when she became both the first woman president and the first African-American president in the university's 191-year history in July 2012, Giles-Gee pulled out of storage a painting of the first woman to graduate from the Philadelphia College of Pharmacy (as it was then called) in 1883, and hung it on her office wall.
USciences was already familiar territory for Giles-Gee, who took classes there the summer after earning her bachelor's degree in psychobiology from Penn. But, she admits, "the thought of coming back as president in the same building where I took those courses was amazing."
Located in University City, USciences was the first college of pharmacy in North America and now, through its five colleges, offers bachelor's, master's, and PhD programs, as well as professional and certificate programs. Yet many Philadelphians are barely aware of its existence. Giles-Gee aims to change that.
"I think the biggest surprise is what a well-kept secret [USciences] is," she says, having spent much of her first year as president visiting every office on campus—and listening. She took the same approach with students. To increase efficiency, she also spearheaded the restructuring of USciences' administrative organization.
Giles-Gee's goals include "being the best of our type of institution and supporting the region in terms of economic development." She regularly meets with Philadelphia Mayor Michael Nutter W'79 and her fellow Philadelphia-area college presidents to talk about the city's needs.
Being the first woman and the first African-American president at USciences didn't intimidate her.
"I've held a number of 'first' positions," Giles-Gee points out, including first African-American dean at SUNY Cortland and first African-American president of any higher-education institution in New Hampshire. But "in each case, I understood that I am a role model for those who come behind me and the exception from those who came before."
Giles-Gee has drawn on her three Penn degrees to build a career in higher education that includes a long list of academic and professional awards, including the National Award of Distinction from Penn's Graduate School of Education. A serious student from the get-go, she seemed destined for an academic future, even though she grew up in rural, segregated Bessemer, Alabama, where she had to drink at "colored" water fountains. But there were learning opportunities as well.
"Growing up in Alabama was restrictive, yet during the summer between my sophomore and junior years I attended National Science Foundation programs that enabled me to study physics, chemistry, computer science, and number theory taught by university professors from numerous institutions," she says.
Education was a priority for her parents, Foster and Nannette Giles, a steelworker and a teacher, and they worked hard to send their five daughters to a private Catholic school. Giles-Gee, the second oldest, says her older sister Barbara Giles Douglas MT'71 attended Penn for its medical-technology program. Giles-Gee had her sights set on the University of Chicago, but because Barbara had done well at Penn, her father told Helen and her younger sisters DeBorah Giles W'75 and Susan Giles C'77 that they were going there, too.
After enrolling in the old College for Women, Giles-Gee created her own major in psychobiology. She went on to earn a master's in science education (and later a PhD in measurement and techniques of experimental research), and plunged into teaching.
"The opportunity to teach students and make a difference intrigued me," she notes.
After becoming associate professor (and chair) of biology at Cheyney University, she served as executive assistant to the president at Towson State University, then as an associate vice chancellor at the University System of Maryland. That led to her becoming dean of the School of Professional Studies at SUNY Cortland and later provost of Rowan University.
In 2005, Giles-Gee became president of Keene State College in New Hampshire. There she led the development and implementation of a strategic plan, initiated a college-wide honors program, and developed a nursing program.
When a headhunter called about the USciences presidency, Giles-Gee decided the time was right to move on. "We had achieved our goals by the time I left," she says simply.
"What I thought made me a good fit [at USciences] was I understood what they wanted," she adds. "I felt that I could work with them to make it happen."
Clearly, change and growth are not concepts that Giles-Gee fears. "With each position I've held, I believed that I had the ability to change the world, one student at a time," she says. "As president, my impact is exponential."
—Samantha Drake CGS'06