Captain Noah and his Magical Ark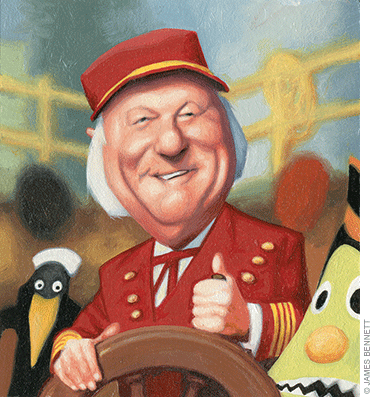 Requiem for a lost art form: the local daily children's show.
---
Reverend W. Carter Merbreier | We rode into children's lives on skates, bicycles, tricycles, and trains—and sometimes on horseback, though the galloping was only heard, never seen. We worked our wonders against canvas backdrops depicting ocean waves, Western plains, and snowy mountains, using homemade props of sails and saddles, teepees and storefronts. And now we are all gone. The hosts of locally-produced daily children's TV shows are a vanished tribe. We are gone from our stations, most of which have not a shred, not a prop, not even an old tape as evidence we were ever on the air. And we are gone from all the other places our small-scale celebrity once tried to enrich: the store openings and telethons for special-needs kids, the birthday parties and hospital wards—where any child could simply stand in line for an autographed picture or a quick, but real, conversation with Skipper Chuck, Cowgirl Sally Star, Mother Moose, or, yours truly, Captain Noah.
These men and women were indeed pioneers. I was truly lucky to be one of them.
In 1966, the Philadelphia Council of Churches invited all the clergy of their member churches to submit ideas for a Sunday morning public-service program to be broadcast on WFIL-TV. Unlike most contests, the winner in this case would receive no cash prizes, but would be required to bear all expenses for the props, guests, travel, costumes, staff, and scripts.
Unsurprisingly, there was very little competition. In fact, there was only one submission and therefore only one "winner"—and that was me.
I regarded TV then, and now, as one of the great modern tools—for the church in particular and society in general—for reaching children. Far more efficient and captivating than Sunday School, it provided an opportunity to reach millions of children, rather than dozens. So I proposed a program built around the colorful Biblical character Noah, with puppet animals to reflect unabashedly the inspiration and morality being taught in my parish's Sunday School.
With the help of a couple of church members and my daughter, Pam, I built a cardboard Ark. Unable to afford a professional puppeteer on my preacher's salary, I turned to my wife, Patricia, who hand-sewed all the puppets, and gave them their personalities, voices, and names. Then, with the support of the station's program director, Lew Klein, whom I bugged day after day, Captain Noah went on the air early Sunday mornings in late 1967.
We believed in what we were doing. We believed we were serving God by serving children. Our show, Captain Noah, presented illustrated stories from the Bible, and inspiring stories of people living the good, noble, and moral life.
Before long, with the tacit support of then-station owner Walter Annenberg W'31 Hon'66, I was offered and accepted a paid contract to host, write, and produce Captain Noah and His Magical Ark (in addition to the weekend public-service religious edition), an hourlong values-drivenchildren's television show that would air every weekday morning.
Unfortunately for me, the church of my ordination did not share my belief that this television commitment to children was a valid ministry and, in the vernacular of the church, I was "defrocked."
Nonetheless, what began as a Sunday morning religious fill-in that nobody else wantedbecame, for the next 27 years—with a daily morning audience share eventually reaching 57 percent—a benchmark in local children's programming.
Just about every good thing that has ever happened to me has been the result of doing something for which I expected no reward.
In a way, the children who tuned in got a chance to feel the same thing. At some point the Captain Noah show took on a second life as an art school and gallery. We had millions of young artists. Viewers sent in felt-tip and crayon drawings on construction paper, pencil-scribbles on flattened shoe boxes and food-stained lunch-bags, and in one case a decorated piece of plaster-cast that once adorned a broken leg. We hung them all, as best we could, with double-stick tape on a huge blue backdrop the camera would pan over each episode. It was rumored that if you missed your picture, it was because you hiccupped, or bent over to tie your shoelaces.
Some children even had their work displayed in the Philadelphia Museum of Art, with the likes of Picasso and Goya, as part of our children's art competition: "What Thanksgiving Means to Me." For a number of years several talented elementary-school children won cash prizes and scholarships to the museum's Saturday Art School, and had lunch on the Magical Ark set in Studio One. They also rode with Mrs. Noah and me on our Ark float in the annual Thanksgiving Day Parade.
At the start of one bitterly cold Thanksgiving day, I noticed that one of our artists, a little girl, had no gloves and was bravely waving to the crowds along the windswept parade route with her bare hands. Later, I saw that she was suddenly waving with a gloved right hand, and that Mrs. Noah was waving with a gloved left. When we got home, Mrs. Noah explained to me that she had "lost both of her gloves, somewhere." I never mentioned it again and neither did she.
It was all very special for our young artists, a few of whom, in spite of poverty and broken families, were able to find something positive in their lives to record in art for Thanksgiving. They dreamed of things their lives had not yet given them, and drew what they dreamed could be.
The Ark Art Gallery had a faculty of one: me. I still have the 26 original felt-tip-pen drawings I made to demonstrate how to use circles (circus balloons and clocks), squares (cars and aquariums), triangles (kites and evergreen trees), and squiggles (azaleas and water fountains). These 26 instructional pictures of mine are all that remain from the art-class and gallery segments of some 3,600 TV shows, though many children's pictures born from mine still live on, in frames or basement boxes—loved, protected, and sometimes even proudly displayed for children and grandchildren.
Our campus was Channel 6's viewing area. The student body hailed from tenements and townhouses, and represented every race and creed. There was no tuition, no grades, and no summer vacation. Graduation came whenever one of our students simply grew too old for Captain Noah's lessons, and moved on as a younger sister or cousin or neighbor took their place. As was meant to be on a children's show.
But I have come to believe that none of them forgot their alma mater. Even years after the show ended, the Ark Art School theme song followed Mrs. Noah and me wherever we went. Restaurant waiters, store clerks, the passing Lower Merion trash collection team: there was seemingly no limit to how far the lyrics had spread. Once, outside of the old Spectrum, we were regaled by a group of Pagan motorcyclists, all of whom were simply loyal alumni grown older:
Send today, send right away,

Send your pictures to dear old Captain Noah

Your colored pic, will do the trick.

Send your pictures to dear old Captain Noah,

We'll hang them high, in the TV sky."


Sure, it's a corny song. It drove the crew crazy. But it continues to identify a generation of children, all of whom graduated magna cum laude from Captain Noah's Magical Ark, sailing a fanciful sea of children's imaginations and dreams.
---
W. Carter Merbreier CCC'50 went off the air in 1994. He still answers to the name Captain Noah. He recently finished a book titled Walk Carefully with Tigers, which he hopes to have published this year.