Birdie Brothers
By Dave Zeitlin | With six holes remaining in the 2015 Ivy League Men's Golf Championship, things looked bleak for the Quakers. But co-captain Austin Powell C'15 had one thing to say to head coach Bob Heintz, just before Heintz headed over to another part of the Saucon Valley Country Club course in Bethlehem, Pennsylvania.
"As a senior," Powell told his coach, "I'm not gonna go down without a fight."
By the time the two reconvened, they were celebrating Penn's second improbable Ivy League title in the last four years, as the Quakers completed a thrilling comeback that Heintz would later call "a minor miracle."
"I mean, you can't even write stuff like that," the Penn coach says. "It just all came together."
True to his word, Powell led the charge with birdies on four of the final six holes, including a pivotal one on the 17th. Ben Cooley C'15, his fellow captain, also notched four birdies on the back nine as the five-man Penn team shot a one-under 287 on the final day of the three-round tournament to edge Princeton by one stroke and earn the conference's automatic bid to the NCAA Golf Championship.
Penn's win marked just the third one-stroke victory in Ivy championship history—and it came after the Quakers trailed the rival Tigers by four heading into the final day.
"Looking back on it, it's like, 'Holy cow, how did that happen?'" says Powell, who became the first Penn golfer to be named Ivy League Player of the Year.
Powell is no stranger to thrilling finishes. As a freshman, he was part of the five-man Penn team that overcame a whopping 16-stroke deficit on the final day before defeating Dartmouth in a playoff.
But, in many ways, this one was sweeter for Powell, who got to finish his exceptional college career on the national stage, where the Quakers finished 14th in their NCAA regional in Noblesville, Indiana.
In his final round as a Quaker, Powell shot a 2-over-par 74 while Cooley carded a 72, the lowest round by a Penn player all tournament. Heintz admits that he "got a little choked up" as he watched them both finish.
"They came in sort of like the dynamic duo four years ago," says Heintz, who took over as Penn's coach when they were sophomores. "It was fun to watch them grow up before my eyes. They both became leaders."
Heintz, who spent six years on the PGA tour, says Cooley and Powell "have a lot of the tools required" to compete professionally, which both players have discussed with him. Much of that belief stems from watching them lead the Quakers to an Ivy title a year after they finished last in the same tournament, marking the only worst-to-first turnaround in conference history.
"I kept pounding [into] them that they were dangerous and that they could really scare people," Heintz says. "I just kept saying that until they really believed it. And then it came true."
"We hadn't really ever put a round like that together in the last two years," Powell reflects. "We knew we were talented enough. But we hadn't all clicked. That's what you need in college golf: every guy playing well at the same time."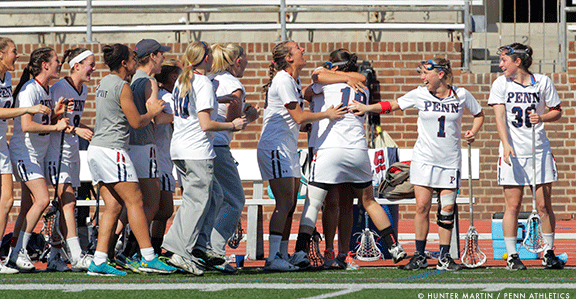 One Streak Ends, Another Continues for Women's Lacrosse
By most standards, qualifying for your ninth straight NCAA tournament and winning a game while you're there would qualify as a very successful season.
But in the case of the women's lacrosse team, which has set a higher bar than any other athletic program at Penn, there was still a layer of disappointment after the Quakers saw their streak of eight consecutive Ivy League championships end at the hands of rival Princeton.
It was especially difficult for head coach Karin Corbett, who believes her 2015 squad was one of the most talented ones she's ever assembled.
"It's a hard pill to swallow," Corbett says. "But, you know, [Princeton was] better. And they deserved it. It's just hard when you know you had a strong team—where in past years you kind of just plugged away and pulled it through with not as much talent as this year."
The Quakers certainly showed how good they were throughout the season, compiling a 14-5 overall record, their only losses coming against teams that finished the season ranked in the Top 10. Their sole defeats in Ivy play were to Princeton, which beat Penn in both the regular season and Ivy Tournament title game before advancing all the way to the NCAA quarterfinals.
The Quakers, meanwhile, earned an at-large bid to the NCAA tournament, beating Albany in a first-round overtime thriller before losing to a powerhouse Syracuse squad that went all the way to the Final Four.
In the final Intercollegiate Women's Lacrosse Coaches Association (IWLCA) poll of the season, Penn was ranked 13th in the country. But the Quakers just weren't quite as good as Princeton, which, according to Corbett, will be "the team to beat" next year.
"Those were some of the most disappointing games of our season," says standout attacker Tory Bensen C'15 of the losses to the rival Tigers. "Those games really stung. But it wasn't for lack of heart. It wasn't for lack of effort. I think our team showed a lot of character."
Bensen certainly did, overcoming a torn ACL in 2012 to finish her career with a flourish, tying Penn's single-season record with 58 goals. Junior Nina Corcoran also set a Penn record with 40 assists, and seniors Meg Markham C'15 (defense) and Lucy Ferguson C'15 (goalie) both racked up a slew of postseason accolades after spectacular careers.
And despite failing to win the Ivy League in their final year, the seniors still took a lot of pride in continuing the Quakers' NCAA tournament run, which is currently the sixth-longest active streak in the country.
The Ivy championship streak was fun while it lasted, too.
"It's amazing to be reminded that we were part of such a strong legacy and part of this dynasty," Bensen says. "Even though it wasn't carried on this year, it's still something I'm really proud of, and it's definitely one of my best accomplishments at Penn."
Dave Zeitlin C'03 writes frequently for the Gazette.