At the Intersection of Art and Finance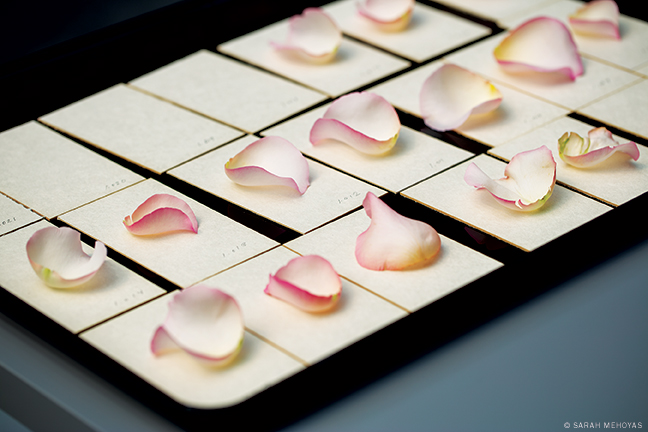 Sarah Meyohas C'13 W'13 is an entrepreneur with a knack for finance, an eye for opportunity, and a taste for unconventional beauty. Her artwork (sarahmeyohas.com) has been featured in outlets ranging from The New York Times, artnet, and Fortune to PBS and CNBC, and she has transformed most of her New York apartment into a gallery for other artists.
For "Stock Performance," Meyohas traded stocks on the New York Stock Exchange over a 10-day period last January, buying little-known stocks whose prices she could move with her trading, then transforming their fluctuations into art, drawing black lines on white canvases. She sold 10 of the resulting works for $10,000 apiece. No surprise that the French-American Meyohas earned a bachelor's degree in finance from Wharton (and another in international relations from the College) as well as an MFA from Yale.
Two years ago Meyohas created an in-your-face digital currency called "BitchCoin" (a play on Bitcoin), selling 200 coins to fund a limited-edition release of one of her photographs. (A single BitchCoin sells for $100 and is currently redeemable for 25 square inches of chromogenic photos—value that will rise and fall depending on the market for her work.) The first photo, "Speculation," features Meyohas kneeling before a yellow backdrop—naked save for a long necklace of lush flowers, her body framing a square infinity mirror whose ever-smaller reflective images appear to disappear between her legs. "After all, the exchange of women is a concept that is mightily alluring," she told The New York Times. "A likeness of the female body is still exchanged, but the currency is now feminized." Meyohas says she created BitchCoin to claim a stake in the supply, demand, and price of her own work.
Her most recent work, "Cloud of Petals," is set in an Eero Saarinen-designed Bell Works office building in Holmdel, New Jersey. It featured a 40-person team, 10,000 roses, and the legacy of the building itself, which was completed in 1962 and served as a hotbed of technological innovation until the breakup of the Bell system in 1984. Having faced an uncertain future, it's slowly being converted into a residential-commercial hybrid.
In one week-long installment, 16 men sat at a series of work stations in the main atrium, dressed in an anonymous uniform of black pants, black shoes, white short-sleeved shirts. The men—most provided by a temp agency—worked 9-to-5 for five days. They carefully pulled off the petals, photographed each one, and from every rose tagged one petal they considered to be the most beautiful. Those chosen petals were taken to a separate room to be pressed and labeled, thus creating a physical subset of the 100,000 digital images.
Meyohas says she created the scene to play with notions of human versus mechanized labor, human subjectivity versus precision—and the transformation of rose petals into pixels.
"Roses are like love," she explains. "But then there's this cold, mechanical aspect of it where the flowers are dead and it's just about picking them apart to make pictures."
Meyohas' vision for "Cloud of Petals" includes essays, gallery exhibitions, and a film. Last August a crew documented the 16 workers and organizers, as well as Meyohas and her mother, who flew in from France. Clad in a white T-shirt, jeans, and white Converse sneakers, the diminutive Meyohas bounced ideas off crew members, fielded questions, and spoke to a select audience of outside observers.
She hopes that analysis of the digital images will uncover patterns in the petals' colors, shapes, and contours, and inspire conclusions about beauty, the nature of work, and the visibility of human labor.
But she's also open to whatever ideas come into her head along the way.
"This piece is conceptual, but I come to the decisions intuitively, by gut—and I kind of trust my gut," she says. And she has found that realizing her artistic vision leaves little room for compromise.
"There are always roadblocks in the way, but when it's something I feel strongly about, there's no negotiating," she says. "It's a risk, but at the same time, it's like a necessity—I have to do it. That's what happens when I get ideas."
—Samantha Drake GGS'06