'A wonderful livelihood'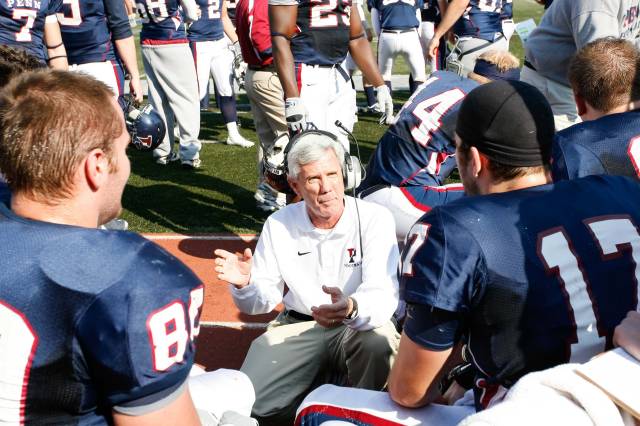 Larry Woods wasn't sure what to expect when he was hired as an assistant football coach at Penn in 1994. He certainly never expected to stay on head coach Al Bagnoli's staff for more than two decades as the quarterbacks coach, or to help the program capture nine Ivy League championships, or to coach record-setting QBs like Billy Ragone C'13 (who just wrapped up a standout career in which he won three Ivy titles), Mike Mitchell W'03 (the 2003 Ivy League Player of the Year) and Gavin Hoffman W'01 (the 2000 Ivy League Player of the Year).
But, much to his own surprise, Woods was able to accomplish all of those things – making him feel very good about his decision to retire, which he announced earlier this month. Recently, the Gazette caught up with Woods to discuss his 21-year coaching tenure at Penn, why he decided to walk away and his future plans.
Why did you decide that now was the right time for you to retire?
I've thought about it long and hard. I've been a college football coach for 31 years. I've been here with Al for 21 seasons. And it's just time. I feel like I want to do something else. It's probably an energy level thing. There's so much involved in this game that's changed an awful lot. On the recruiting front and with summer camps – it just gets tiring after a while. It's a great profession and I've certainly made a wonderful livelihood doing it and I've thoroughly enjoyed the experience at Penn. But I just feel like it's time to step away from it. I don't quite have the energy and the passion that I had a while ago. And I feel the program needs more of that than I can give after 21 seasons.
Looking back at your time at Penn, what are your best memories?
I think there are several things. My first year here with Coach Bagnoli was 1994 and that was my first championship season. That one was special because it was the first one of the new tenure here. The 2003 championship was a pretty special one because, in my personal opinion, it was done in such a dominant fashion. We had won back-to-back championships and I don't want to ever say any season was easy but we were such a dominant team from the beginning of the season to the end of the season. Conversely, the 2009 championship was a good one because we ended up having to play four different quarterbacks at some point during the season because of injuries. So from a personal standpoint, that one was pretty special and unique. And then the 2012 championship was a pretty special one as well, because it was the most recent one and because that season had sort of teetered. At midseason, it could have gone either way and I think it was a testament to the kids' resilience that they fought through when things got a little tight. Billy Ragone had such a good year in 2012 and then he got injured in the third quarter against Harvard and it really set the stage for a storybook ending for Andrew Holland, the backup quarterback who came in and played the fourth quarter against Harvard and won and then ended up playing the game of his life against Cornell in the last game of the season. I hesitate to highlight any one two or three because it seems each one is unique but those are the four seasons that stick out.
Is it nice to leave at the same time as one of the best quarterbacks in Penn history in Billy Ragone?
I don't think that was really anything that weighed into it. It wasn't, 'OK, two fifth-year guys are gone, I'm going to have to start from scratch now because there's not one quarterback coming back with any significant amount of playing time.' That really didn't factor into it. It was more my personal feeling on how I felt and the job that I could do. There's a lot of young talent at the position here now and I'd like to think I helped, in some very small and insignificant way, develop that talent to the point that it's at right now.
What was it like coaching Gavin Hoffman and Mike Mitchell back to back?
That was a pretty good run of things! We won the championship in 2000, we lost to Harvard in 2001 and then won the championship back-to-back in 2002 and 2003. And as I was reflecting back – this was something that had not crossed my mind in a long time – but we were seven points away from winning four consecutive championships and having the player of the year at quarterback at the front end and having the player of the year at quarterback on the back end of that four-year run. That would have been really special.
They were both very, very talented. They were direct opposites of each other in a lot of ways. Gavin was a real student of the game from the time he came in here. He came in here with a Division I mentality. He had transferred from Northwestern and really came in knowing how to play the position and, more importantly, how to prepare to be a starting quarterback. Mike came in with a lot of hoopla – he was a highly recruited player out of high school – but he was just the opposite. Not that he was not a student of the game because he was – but where Gavin was a very serious quarterback, Mike was sort of this laid-back, carefree, if-I-make-a-mistake-it's-no-big-deal [kind of guy]. He really, in a lot of ways, had the best mentality you could have to play the quarterback position. He had a great personality and he had a short memory.
Do you wish Penn and the rest of the Ivy League teams could compete in the FCS playoffs?
Yes. Honestly, I do. I certainly think a good number of our teams that have won championships could have been very, very competitive in the 1-AA playoffs. Would any of those teams been good enough to go to the finals or be fortunate enough to win a 1-AA championship? That I don't know. But I do know that some of those teams I was involved with here certainly would have gone in and be competitive. And it would have been fun to be able to challenge yourself at the highest level of 1-AA.
What can you say about Al Bagnoli as a football coach and a boss?
Honestly, I can't say enough. He gave me an opportunity 21 years ago when I left Brown to come here. I honestly didn't foresee the opportunity to stay here for 21 years. I thought it would be a place I'd come work for a couple of years and see what would happen. He's had an incredible run, an incredible level of success, and he took a chance on me and gave me an opportunity in 1994 to come here and be an assistant coach. And I have not regretted a moment's time I have been here in 21 years. He's been a great mentor to me, he has guided me through this profession and he's allowed me to be my own person. He's not a guy that ever felt he had to micro-manage the coaching staff. He gives you the resources that you need to be successful and then he lets you go and coach. As long as you're doing a good job and he feels you're doing the right things and you're working hard, he pretty much leaves you alone and he handles the big items that a head coach has to handle. And he has great perspective on things. We work hard and there are periods of time during the season and in preseason camp when we know we have to grind and put the hours in and we have to work hard – and then there's times when he's telling us to get the hell out of the office to get home and see our wives and kids. It really made for a special work environment for me. I can't say enough about him as a boss, as a mentor and as a friend. He's been the best guy I've been associated with in this professional in 31 years of college football coaching.
What do you have in store for retired life? Do you still plan on going to Franklin Field on some Saturdays in the fall?
The first thing I'm going to do is go home and hug my wife and walk the dog. What I would like to do is stay at Penn and I would like to stay in an administrative capacity long term, if I can. I'm going to stay with the football program in an administrative role through the summertime. I have no on-field responsibilities once spring ball started. I'd like to stay in some capacity. Penn is my home. I've been here 21 years. I met my wife here. I love where I live. I love the commute in. I love what Penn is about. And I would like to stay here. I'm going to weigh some options and see if I can find something administratively that I can do. I'm young enough where I still have some good years in front of me and some good years of work left in me, and if I can find my way to stay here at Penn I'm going to do that.
– Dave Zeitlin C'03