A Star Is Born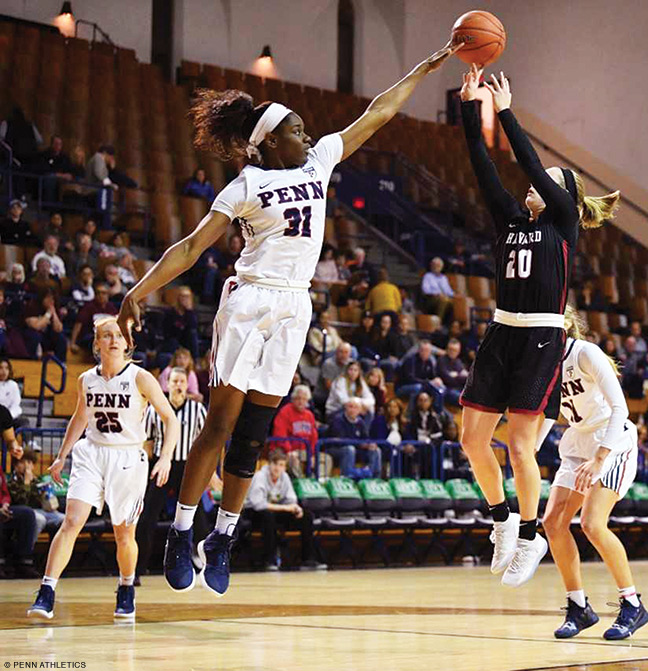 Led by Eleah Parker, Penn turns rebuilding season into championship one.
Coming into the season, after four top players graduated, Mike McLaughlin was unsure how his team would come together. "We didn't know who we were," admits the Penn women's basketball coach, noting that an August trip to Europe exposed some glaring holes. "But once we got into the preseason," he adds, "we just started to grow."
What followed was what McLaughlin called "one of the most satisfying years I've had since I've been at Penn" as the Quakers systematically dismantled opponents—along with the idea that this would be a rebuilding season. At the center of it all—literally—was 6–foot–4 sophomore center Eleah Parker, who stepped into a starring role and guided the Quakers to a piece of the regular season Ivy League championship (their fourth in the last six years) and 24 total wins (which matches a program record).
"From where we started to where we ended, it was probably the biggest growth of any team I've had," says McLaughlin, who wrapped up his 10th year as Penn's head coach and 24th overall. Nobody embodied that growth better than Parker. As a freshman in 2017–18, she showed glimpses of potential, earning Ivy League Rookie of the Year honors. But this season, she improved her fitness level and mental game, figuring out more ways to stay involved even on off nights. "The game slowed down a little bit for her and she was, at times, completely dominant," McLaughlin says.
Parker led the team in scoring (15.1 per game) and rebounding (9.0) and the whole league in blocked shots (3.2), earning the Ivy League Defensive Player of the Year, Big 5 Player of the Year, and a unanimous spot on the All-Ivy first team. In other years, these accolades may have been enough for her to join the ranks of Penn's Ivy League Players of the Year. But that honor went to Princeton junior center Bella Alarie for the second straight season.
Alarie, who will return to Princeton next year amidst considerable WNBA buzz, has helped raise the profile of the Ivies. But McLaughlin, the Ivy League and Big 5 Coach of the Year, was proud that Parker took the ball "right at her" in a 66–60 win at Princeton in early January. It was an equally exciting moment for Parker, who embraces the new rivalry between the two 6-foot-4 stars.
"Coming off last year, when we lost to them three times, it was on our minds that it had to be different this year," Parker says.
Alarie and the Tigers got their revenge at the Palestra in late February, notching a win that prevented Penn from claiming the Ivy title outright and led to the two rivals sharing the crown with 12–2 marks. The co-champs then met in the finals of the Ivy League Tournament, where Princeton outscored Penn by 14 points in the fourth quarter for a 65–54 win and the Ivy's automatic berth in the NCAA Tournament.
While Penn's offense dried up at the end of that game, the program went on the offensive afterwards, sending out a widely seen tweet advocating for an NCAA at-large berth due to its RPI of 52 and a defense that ranked top 10 nationally, among other factors. McLaughlin knew it was a long shot—the Ivies have almost never been a two-bid league, for men or women—but felt it was needed. "I guess we're frustrated that we're still trying to prove to everybody that this is a great basketball league," says McLaughlin, pointing out that the conference was rated 11th in the country this year after being closer to 30th when he first arrived a decade ago. "That's a story that I don't know if the league is promoting enough."
In the end, the Quakers settled for a WNIT berth (their seventh straight appearance in a postseason tournament), beating American in the first round before getting eliminated at Providence. The fact that it was their third consecutive weekend traveling to New England played a big role in the loss, according to McLaughlin, who notes, "It was a great run. We just ran out of gas in the end."
The Quakers should be able to build on their success next season, although they will have to replace second team All-Ivy selections Ashley Russell (a do-it-all guard McLaughlin calls one of the "best winners" he's ever coached) and post player Princess Aghayere. The biggest reason for optimism is the continued evolution of Parker—a player so talented she drew interest from major programs such as Duke, North Carolina, Michigan, and Michigan State before deciding to take the Ivy route.
"I would say after two years, what we thought was possible for her, I think it's all come true," McLaughlin says. But he quickly adds that there's still a higher level she can get to in her final two years—which Parker hears often from him. "It excites me too," she says, "just to know there's still room for me to develop and to be able to leave a legacy for the program."
Roller coaster season for men's hoops
For any casual fan, it might seem hard to fathom how a team could go 4–0 against city rivals in the highly competitive Big 5 before winning just four of its first 11 games in the Ivy League. At the very least, it surely seemed like a sudden dip for the Penn men's basketball team following its first Big 5 title in 17 years.
Perhaps the least surprised person was head coach Steve Donahue, who insisted throughout the season that the 2017–18 Ivy champs were simply going through a few growing pains in a much-improved league. "It was a roller coaster, for sure," Donahue admits. "But I think the injuries probably caught up to us and we started going with some younger guys that probably ran out of gas in the league. And the league is, by far, the best it's been since I came here [as an assistant coach] in 1990."
For Donahue, that made it all the more rewarding when the Quakers won their last three league games, including a home sweep of Yale and Brown on the final weekend of regular season play, to secure the fourth and final spot in the Ivy League Tournament. Following the dramatic clincher over Brown on March 9, Donahue praised the players for remaining loose in practice even as the odds of making their own league tourney a year removed from playing in the NCAA Tournament dwindled. "It was almost like, This is the story. We're going to write it differently this time. But we'll be there."
As the No. 4 seed, the Quakers were actually favored against top-seeded Harvard in the first round of the Ivy tourney—an indicator of how much parity there was in the league. But Penn's momentum stalled in a season-ending 66–58 loss, despite 25 points from junior forward AJ Brodeur.
Brodeur had a remarkable season, leading the Quakers in scoring (17.6 ppg), rebounding (8.3) and even assists (3.6). So did classmate Devon Goodman, who upped his scoring total from 3.8 points per game last year to 13.9. But those two players, along with senior guard Antonio Woods, logged a ton of minutes, with Donahue admitting the team didn't have as much depth as he would have liked as freshmen Michael Wang and Bryce Washington saw their playing time plunge after blistering starts. "The league was ready for them," the Penn coach says.
With an offseason to improve and heal, Wang and Washington could rejoin the starting lineup alongside Goodman and Brodeur next year, while key players Ryan Betley and Jelani Williams return from season-long injuries. That, along with an impressive incoming freshman class, will likely give the Quakers more talent than they've had in a long time. Still, Donahue is wary of replacing the defense, leadership, and intangibles that seniors Woods, Jake Silpe, Max Rothschild, and Jackson Donahue provided as they helped turn around a program that had been floundering when they first arrived on campus.
"I'm looking for that in recruiting, those types of personalities," Donahue says. "But I also know those guys are very special. They set the bar and we have to make sure we maintain it." —DZ
---
For an oral history on the 25-year anniversary of Penn's last NCAA Tournament win, see "It Was Like Living In a Dream".